This is the first of a two-part series breaking down Team Canada's World Juniors roster. The focus of this one is the forwards, and the second part will take a look at the team's defencemen and goaltenders.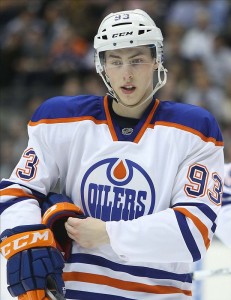 As the holiday season rolls around each year, there are two events on the minds of Canadian hockey fans. First, of course, is usually Christmas. And in a real close second, the world juniors slot themselves in.
This year's tournament will be a little different than most for Canadian supporters. Not only is the NHL lockout putting a different spin on the tournament, but the time difference has dramatically changed. In recent years, viewers in North America have been watching the games during primetime television. Such is not the case this year, as Ufa, Russia isn't exactly near Alberta or New York.
Though live games will be broadcast during the middle of the night on this side of the planet, the calibre of hockey remains the same, if not even better this year. Thanks to certain players taking part in the tournament, when in most years they would be playing professionally, there will be numerous NHL-ready talents taking part.
With those thoughts now also in your mind, let's take a look at the forwards Canada will be sending in search of gold at the World Juniors.
Forwards
Up front, it all starts with Ryan Nugent-Hopkins. Shortly after Hockey Canada named the final roster, it was also announced that the Nuge would be the team's captain. Nugent-Hopkins was on track to win last year's Calder Trophy as the NHL's best freshman before an injury cut his season short. The Edmonton Oilers youngster is coming down from the American Hockey League's Oklahoma City Barons to take a shot at fulfilling a lifelong dream.
Jonathan Huberdeau is considered one of the most NHL-ready players on Canada's roster. The third-overall selection of the Florida Panthers in 2011 would likely be in Sunrise right about now if not for the lockout. Huberdeau has starred for the QMJHL's Saint John Sea Dogs for a few seasons now, and is expected to play a leadership role for Canada. An injury limited him in last year's tournament, but he'll be looked to for offensive sparks on the international-sized ice surface.
Mark Scheifele and Ryan Strome give Canada two more forwards who probably wouldn't be here if the NHL season was in session. Scheifele's a first-rounder of the Winnipeg Jets from 2011, and Strome was a New York Islanders first-round pick in the same year. Strome has been leading the Ontario Hockey League in points nearly all season. Scheifele is also among the top-ten scoring leaders.
Boone Jenner of the Oshawa Generals puts up great numbers in the OHL, but will likely be used as an experienced, defensive-minded veteran. Jenner is one of four returning forwards on Canada's roster, and one of five who had a good chance at making the jump up to the National Hockey League this past October.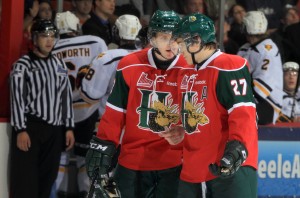 Moving on to the popular draft-eligibles, Jonathan Drouin and Nate MacKinnon both forced their way onto this team. MacKinnon is the favourite to go first-overall in the 2013 NHL Entry Draft. He's been under the media spotlight since he was in elementary school, and it doesn't appear as though the attention will be slowing anytime soon. Drouin has been rocketing up draft rankings all season, and has a good chance to go in the top-five of the draft.
J.C. Lipon's essentially the opposite of the Halifax Mooseheads' dynamic duo. Having gone through the draft and not being selected, Lipon's used to flying under the radar. Coming into camp, he wasn't expected to make this team, but ended up stealing a spot. Watch all three of these draft-eligbles; they have the ability to sneak up and take over a game.
Skill isn't expected to be a problem for this team, and the fact that Charles Hudon and Ty Rattie aren't being talked about very much proves it. Hudon, a Montreal Canadiens prospect, has excelled internationally for Canada. During the summer's Canada-Russia Series, Hudon was one of the team's best players. Rattie was cut from Team Canada last season, but the St. Louis Blues draft pick was determined to not let it happen again. Both these wingers have dynamic offensive talents.
Anthony Camara, Phillip Danault, and Brett Ritchie round out Canada's group of forwards. Grit and physicality aren't the focus of this year's team. Fortunately for these three young men, they can all play with passion at both ends of the ice. Camara and Ritchie both play in the OHL for the Barrie Colts and Niagara IceDogs, respectively, and Danault plays in the "Q" for the Victoriaville Tigres. Ritchie has been having a fantastic season with the IceDogs playing alongside Ryan Strome. Camara has been terrific on a Colts team that is also home to Mark Scheifele. Danault is the captain of his club team, and is averaging well over a point-per-game. All are 2011 NHL draft picks.
Rise and shine, Canada. Given the offensive talent on this team, they should be worth getting up bright and early for.
_____________________________________________