There's no shortage of praise for Pittsburgh Penguins head coach Mike Sullivan these days. And, deservedly so.
Sullivan has been a savior of sorts in Pittsburgh. He took over a team with a multitude of issues, none more surprising than their inability to generate offense. In fact, while its hard to imagine now, the Penguins were a bottom-five team in goals-for earlier this season.
Upon his arrival, it was quite obvious what he planned to do right out of the gate. The formula wasn't complicated or overly complex but instead, it was actually fairly simple.
He wanted to play to Pittsburgh's strengths.
We can re-hash all of the numbers that reflect the difference in how the Penguins approach opponents now but at this point, you can find that information almost anywhere. You'll find examples of how the Penguins overwhelm the opposition with speed, creating space and scoring chances for their all-world talent. They simply dominate all facets of the game and when it comes to puck possession, they've been a very greedy team over the last three months.
There's one aspect that hasn't been talked about enough, though.
Jim Rutherford Has Built a Contender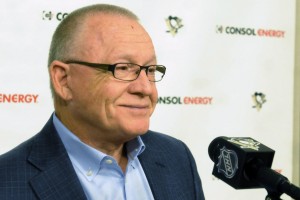 Rutherford has patiently built one of the strongest Penguin teams we've seen in recent memory. No longer are they a team that will limp into the playoffs and be expected to turtle to a mightier opponent in round one. They've won six in a row against divisional opponents and for the moment, sit in second place in the Metropolitan.
A far stretch from where they were in mid-November.
The NHL season is a marathon. Rutherford knew that he didn't have to sprint, make decisions that would destroy the future of this franchise and while he showed a ton of patience, he added a few key pieces that allow Sullivan's group to do what they do best.
Skate. Overwhelm.
Rutherford turned Rob Scuderi and $1 million in retained salary into a top-four defenseman with Trevor Daley. Daley has six goals and 18 total points since joining Pittsburgh and hasn't been anywhere near the defensive liability many had him cut out to be prior to his arrival.
Then came Carl Hagelin, who the Penguins knew all to well from his time with the New York Rangers.
Hagelin, like Daley, provided a nitrous oxide-like boost of pure speed and explosiveness. When paired alongside Phil Kessel, it's an almost impossible matchup for opposing defenses. The two of them provide space for Evgeni Malkin when healthy by keeping defenders constantly on their heels and the results are in the numbers. (Courtesy of puckalytics.Com).

That trio accounts for 59.8-percent of shot attempts while on the ice and score at a pace of nearly five goals for every 60-minutes of play. Kudos to Rutherford for seeking out a deal that sent a struggling David Perron to Anaheim in order to add someone who is quickly becoming a pivotal piece to the Penguins' game plan.
Lastly, Rutherford sacrificed a third-round pick to add a 25-year old puck-moving defenseman with a ton of pedigree but a bad reputation around the league. So far, it's paying off.
Justin Schultz is finding his way in Pittsburgh, and I can't stress enough that this is an example of a player excelling in a situation more fit for his skill set.
Management and Coaching are Executing as One
When the 2015-16 season started, the Penguins were a mishmash of player types. In other words, they had an identity crisis.
Part of that identity crisis was due to contracts that rolled over from the Ray Shero era such as Rob Scuderi. Others were Rutherford's doing, Perron and Sergei Plotnikov were good examples of that. However, Rutherford stuck to his guns after watching young, fast teams like the Chicago Blackhawks and Tampa Bay Lightning battle in the Stanley Cup Finals last season and kept working toward getting faster.
Sullivan made it known early that the roster, as constructed, wasn't going to work with his system and both he and Rutherford went to work. That type of communication is something we never saw when Mike Johnston was manning the bench.
The result, as everyone will witness on a nightly basis, is a team that's built to play within the system they deploy. And, the Penguins are now the offensive juggernaut that many expected last summer.
Sullivan deserves a ton of credit. Outside of the tangible results we see in the numbers, he also brought a new mindset to a team that was so easily flustered in the past. The Penguins are a resilient group that's never out of a game, despite the score. That's coaching.
Rutherford should also get the credit that he's due. It takes a lot for a veteran GM to change his approach, which is exactly what has happened over the last year. He observed, learned, and executed a plan that's now in full swing.
Pittsburgh Penguins writer for TheHockeyWriters.Com and PittsburghHockeyNow.Com. Youth hockey coach, and student of the game.