Martin St. Louis has had a marvelous NHL career. On Wednesday when the Rangers travel down to Tampa Bay, the 39-year-old winger will face his former team of 13 seasons at home for the first time since his departure. The game, though, has potential to be far more than simply a return, for St. Louis now sits just two points shy of 1,000 on his storied tenure in the National Hockey League.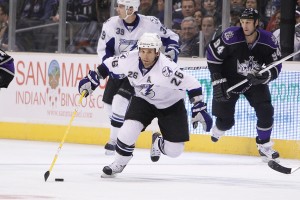 After spending four years at the University of Vermont, where he played alongside the likes of Tim Thomas and Eric Perrin, St. Louis began his professional career in the IHL with the Cleveland Lumberjacks. But after posting good offensive numbers with Cleveland during the '97-98' season, the Calgary Flames signed St. Louis.
Over the next two seasons, St. Louis bounced back and forth between the AHL and the NHL. It was starting to appear that his lack of size was going to be an issue, and team's began losing interest in the 5'8" winger. When he was finally released by the Calgary Flames following the 2000 season, he signed a deal with the Tampa Bay Lightning; the place he felt he would be awarded the most playing time.
To keep a very long story rather short, I'll resort to a cliché phrase regarding St. Louis' career, by saying that the rest is history.
The now 15-year NHL veteran has won the Stanley Cup, an Olympic Gold Medal, the Hart Trophy (NHL MVP), the Lester B. Pearson award (MVP as voted on by the players), two Art Ross Trophy titles (leading point scorer in the NHL), three Lady Bing Memorial Trophy awards (Most gentlemanly player), and also served as the Tampa Bay captain during his final season with the Lightning. Every one of those aforementioned honors came during his time playing in Tampa Bay.
There's no way around it; St. Louis is a decorated veteran who has had a splendid career. He gave as much to the Lightning organization during his time there as they gave him during the early days of his career when few believed in him.
However, when Steve Yzerman, who was the general manager for both the Lightning and Team Canada's Olympic squad, snubbed St. Louis by leaving him off of the original Team Canada roster, the relationship between St. Louis and Yzerman became strained.
Because of injuries, St. Louis did eventually get his spot on Canada's team in Sochi, but the damage between the Lightning captain and his GM was done. That, coupled with his desire to move his family closer to home in Connecticut, St. Louis demanded that he be traded from Tampa Bay.
And so, the captains of both New York and Tampa Bay swapped spots, as Ryan Callahan was sent to the Lightning in exchange for Martin St. Louis.
And just as Callahan returned to Madison Square Garden last week, St. Louis will follow suit this Wednesday.
But regardless of how he's perceived by the fans at the Tampa Bay Times Forum on Wednesday – booed with each touch of the puck, or given a standing "O" for all he brought to the organization – St. Louis has an opportunity to, in a way, bring his career full circle.
Tampa Bay was where St. Louis became not just an NHL mainstay, but where he grew to be a full-on star in the highest caliber hockey league on the planet. On Wednesday, with just two points, St. Louis can reach the 1,000 point milestone; one which only 80 players in history have achieved. How fitting that it could very well happen against the team that he had so much success with in seasons past.
Ryan Callahan may have scored twice in his return to Madison Square Garden, but Martin St. Louis has the opportunity to upstage that in a big way during his return to south Florida with the Rangers. A milestone is beckoning, one that Marty will presumably reach sometime in the near future, the only question is when exactly it will occur.
What a story it would be if he cracked the thousand point plateau against the Lightning, in Tampa. Not even Hollywood could script it much better than that.
It is sure to be an emotional night for Martin St. Louis, and you know he'll be hungry as ever come puck drop on Wednesday. If I were a betting man – which I'm not – I'd say he hits the thousand point marker, but that's why they'll play the game, I suppose.
Jake Gittler is now in his second season as a contributing member of The Hockey Writers. After spending the 2014-15 season working in Communications for Adirondack Flames of the AHL and covering the New York Rangers here for The Hockey Writers, Jake's coverage has been switched over to the Colorado Avalanche for the 2015-16 season. Jake can be reached via email at Jakegittler@gmail.com, or on Twitter @Jgittler_hockey.