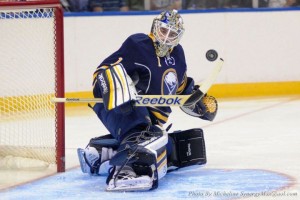 The goaltending dilemma took a new twist in Buffalo with the Sabres' 3-2 shootout win against the Ottawa Senators on Saturday evening.
In fact, head coach Lindy Ruff may have ignited a small spark that originated from a  minority of fans into a wide-spread blaze of a goalie controversy after his game-time decision to hand the starting reins to rookie standout Jhonas Enroth for the second consecutive game before their game in Ottawa that all-star goalie Ryan Miller was anticipated to earn the start by virtually everyone in the know around Buffalo.
The latest twist in the Enroth-Miller saga comes three days following a 3-2 loss to the Philadelphia Flyers on Nov. 2 where Miller was pulled after allowing three goals in just over six minutes to start the game and just one day following yet another stellar performance by Enroth in a 2-1 win over the Calgary Flames on Friday.
Enroth, who is still considered a rookie by NHL standards despite appearing in 14 games last season, has gotten off to a phenomenal start, posting a 4-0 record, .952 save percentage (SV%) and a 1.41 goals against average (GAA) in five games during this young season.
On the contrary, after beginning his season 4-1, Miller has encountered a string of games he'd rather forget, seeing his season totals in save percentage (.922) and goals against average (2.49) drastically dip during a four-game losing streak in which he had allowed 12 goals and appeared to some as lost at times.
To make matters worse, following Wednesday's loss to the Flyers, Miller uttered a few lines in his post-game comments that have since rubbed some Sabres fans the wrong way.
"They bought their tickets, they can do whatever they want," Miller said when asked how he felt about the home crowd booing him off the ice. "They cheer when I make a save; boo when I don't. Whatever."
This isn't the first time Miller has come under fire following post-game comments and his nonchalant attitude displayed following previous poor performances has often drawn criticism from media and fans alike in Buffalo.
Miller has been under every Sabres fan's microscope since he was awarded a five-year, $31,250,000 contract following the 2008 season. He lived up to the raise immediately by leading Team USA to a silver-medal finish during the 2010 Winter Olympics and was awarded the Vezina Trophy after posting a .929 save percentage and 2.22 goals against average in his 41-win campaign in 2009-10.
Along with the accolades came the inevitable pressure of maintaining his elite goalie status and leading the Sabres to the city's first ever Stanley Cup. He achieved neither during the 2010-11 season, ranking T-21st in goals against average (2.59) and T-17th in save percentage (.916) in just 34 wins, falling well short of the numbers highly paid goaltenders are expected to produce.
Miller immediately was faced with questions from fans regarding his ability to achieve those goals in the future.
But a take-over from new owner Terry Pegula and the team's wild run to clinch the seventh seed in the Eastern Conference helped Sabres fans all but forget about Miller's struggles for the time being.
During the playoffs, Miller was lauded for his exceptional performances in games One and Four against the Flyers in which his efforts almost single-handedly won the team both games. He was, however, blamed by many fans for the team's poor performances in the games the Sabres lost, and took most of the heat for allowing five goals in a dismal effort as the Sabres lost Game Seven to the Flyers, 5-2.
During the off-season, attention again shifted away from Miller as all eyes in Buffalo watched as Pegula spent an unprecedented amount of money for a Buffalo sports franchise in efforts to improve the team's shaky defense and improve the team's play in front of Miller.
Stars such as Robyn Regehr, Ville Leino and Christian Ehrhoff were all brought in on big-money deals, and the city was once again buzzing for their hockey team in hopes of finally making a run at the Cup.
With the increase of spending, though, came lofty expectations for the Sabres.
Once again, the pressure loomed large for the Sabres' star goalie.
To this point, albeit just 13 games into the 2011-12 season, Miller has once again failed to meet fan expectations.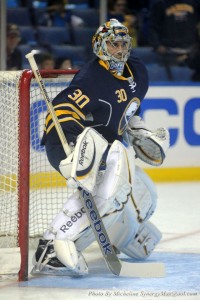 With every loss the former All-Star takes, more and more questions arise about Miller's mindset, attitude and ability to carry this franchise when they need it most.
And with the surprisingly superb play of Enroth, it would seem a controversy as to who is best to man the net for the rest of the Sabres' season is taking form.
Much of Buffalo finds themselves divided heading into the Sabres' next game against the Winnipeg Jets on Tuesday night.
Some believe the sample size of Enroth's play is still far too small to make a judgement of the magnitude continuously benching Miller would entail and that the team is ultimately still far better off with Miller considered the franchise's No. 1 option.
Others are growing tired of the type of attitude Miller displays, like those in his post-game comments from Wednesday, and feel as though as long as Enroth is playing well, Ruff should continue to keep Miller on the bench.
Despite where you stand on the dilemma, one thing is certain: Both Miller and the Sabres have a lot to live up to this season.
If Miller continues to struggle, matters will only get worse for a goalie that was not so long ago found himself on top of the world. Enroth's hot-streak will only further complicate the issue.
The biggest question that looms now is whether or not Miller will get the start on Tuesday in front of the same crowd that booed him off the ice nearly a week prior. Or will Ruff continue to ride the hot hand and shock everyone by starting Enroth again?
Only time will tell how everything will play out for a Sabres team that suddenly has many questions they'll need to answer if they wish to truly call themselves a Cup contender this season.
Author's Thoughts:
Ruff starting Enroth over Miller on Saturday certainly has blown the whole situation out of the water here in Buffalo. While many fans remain divided on the issue, I still firmly believe Miller sits head and shoulders above Enroth when it comes to talent. The decision to sit Miller in favor of Enroth was simply a testament to playing the hot hand.
Goaltenders in the NHL are incredibly streaky, and it is a huge luxury to have two players at the position who can fill in and play effectively when the other struggles. Ruff was merely using this to his advantage, and I personally would be shocked to see Miller not get the start in net against the Jets on Tuesday.
Miller has obviously encountered a slump early on this season, much like he did last year, and as long as he doesn't let the public opinion ruffle his feathers, he should be able to put his poor play behind him rather quickly. Then again, he hasn't exactly shown he's been able to handle pressure very effectively over the past year and a half and has often distanced himself from the Sabres fan base.
I think Miller is a guy who would rather remain out of the spotlight. Unfortunately for him, goaltender in the NHL is one of the most scrutinized positions in all of sports, paling in comparison only to quarterback in the NFL. In order to return to the Vezina-winning form everyone expects of him, Miller will have to put blinders on and grow some thicker skin. He still has the full support of the majority of fans in Buffalo, including myself, but if he continues down the path he's headed, that may change very rapidly.
In my opinion, there have been bigger factors that have contributed to the Sabres loses thus far than Miller's poor play and it's a no-brainer that he still gives this team their best chance to win in the long run.
Brandon Schlager is the Buffalo Sabres correspondent for The Hockey Writers. He can be reached by email: brandon.schlager@yahoo.com or you can follow him on Twitter for even more insightful Sabres coverage @THWGoldSchlager.