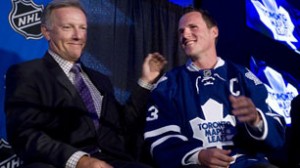 The Toronto Maple Leafs sit at the top of the Eastern Conference standings and, for the moment, it appears GM Brian Burke's plan is finally falling into place. The gamble he took on several players is finally paying off and while everyone has marveled at Phil Kessel's performance so far this season, the return to form of Dion Phaneuf cannot be overlooked either.
Phaneuf was fast on his way to becoming the most dominate defenseman in the NHL before his play slipped in Calgary in his fourth season. A trade to Toronto in 2009-10 did not immediately help, but during the second half of last season he showed signs of the player he was early in his career. In 33 games from Feb. 1 through the end of the season, Phaneuf had seven goals, 19 points and played to a plus-6. Compare that to his first 59 games where he only had three goals, 21 points and was a minus-10 and there was clear improvement last season.
But now he has ramped up his game to a new level and in 13 games has two goals and 11 points and is playing physical with 48 combined hits and blocked shots. Most importantly though, he is a plus-8 and has only been a minus in one game so far. The rest of the Maple Leaf defense still needs work, they are 23rd in the league in shots against (31.4 per game) and goals against (3.00), but it must be a comforting for coach Ron Wilson to know his captain can go out and shut things down when necessary.
And while Phaneuf is averaging the most playing time of his career (26:33), he is not alone. Twenty-two-year-old Luke Schenn is becoming a top defense-minded defenseman and is leading the Buds defense in hits and goalie James Reimer is 4-0-1 with a .912 save percentage. Their efforts have created the foundation to a solid backend which will go a long way towards ending their six-season playoff drought.
Across the country, Ryan Smyth is playing as good as he was when he was traded from Edmonton over five years ago and, like Phaneuf, is helping to create a solid foundation on which the Oilers can rebuild the franchise. Edmonton has averaged a 23rd-place finish in offense since the lockout which is right where they stand this season, so he doesn't seem to have improved anything. However, without his six goals in 12 games, they would be even further down the list.
Also in consideration is the fact Ales Hemsky and Ryan Whitney, two focal guys for the Edmonton offense, have played a combined six games. Hemsky can be a point-per-game player and Whitney can put up plenty of points from the blueline, so when they are healthy again, the Edmonton offense  will no longer be their Achilles' heel.
His veteran presence along with the youthful exuberance of a first line that averages 19 years old have given the fanbase something to be excited about, the same as in Toronto. Thanks to both players, each team has taken steps towards fixing a major problem area and they are finally headed in the right direction.