Follow Lukas on Twitter @LukasHardonk for more Leafs coverage.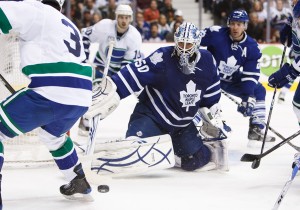 As the dog days of summer came to an end and September neared, you could not find a single hockey fan in Toronto that would tell you the Toronto Maple Leafs' playoff hopes did not rest on the shoulders of sophomore goalie James Reimer.
Last season, his first in the National Hockey League, Reimer posted statistics that were right up there with some of the best goalies in the league. His 2.60 goals against average opened eyes and his .921 save percentage was the best posted by a Leaf goalie in years.
With a 20-10-5 record in which he accumulated over 37 appearances, Reimer almost single-handedly led the Maple Leafs back to the playoffs after a rough first half. While the Leafs didn't make it to the post-season, they still finished with a respectable 85 points.
It's easy to see why everyone would say that the Maple Leafs would not make the playoffs this season if Reimer were to struggle or – even worse – get hurt. As it turned out, the latter happened just seven games into the season during a streak that saw the Buds go 5-1-1 to open the campaign.
When Reimer went down, it was first believed that he would return a few games later and continue on like nothing ever happened. While there was still some cause for concern, Leafs Nation could still breathe.
However, "whiplash-like symptoms" and "day-to-day" have since turned into "upper-body injury" and "out for the foreseeable future." This has really made people think and some are scared to think about what might happen next.
No need to worry, though. Jonas Gustavsson and, surprisingly enough, Ben Scrivens seem to have things under control.
A year ago, Gustavsson was coming off of an up and down rookie season. He made a lot of nice saves and had some strong performances in net, but he also struggled mightily at times. By the time the 2010-2011 season had ended, Gustavsson was third of the Leafs' depth chart behind Reimer and Jean-Sebastien Giguere, and he had also spent some time in the AHL with the Toronto Marlies.
This season, though, Gustavsson has proven that he is a better player. Don't let his .886 save percentage and 3.61 goals against average fool you; he has looked very strong in net and many of the goals he has allowed can be placed on the shoulders of the Leafs' back-end, which hasn't played very well aside from a few exceptions.
Scrivens, meanwhile, had never even started in an NHL game until Thursday night in Columbus when he made 38 saves and picked up the victory over the Blue Jackets.
Like Gustavsson, Scrivens' statistics can fool you. In his case, it's the amount of NHL games he has played: one. There is reason to believe in Scrivens as an NHLer, though. He played extremely well during the 2011 preseason before he was sent back to the Marlies, where he has also impressed.
In 33 games with the Marlies last season, Scrivens posted a .924 save percentage and a 2.33 goals against average, which put him seventh and 11th in the AHL respectively.
It's not just Gustavsson and Scrivens who have been great in Reimer's absence. Let's not forget about Toronto's forward group, whether it be the first, second, third or fourth line. From top to bottom, every Leaf forward has contributed in a positive way this season.
We'll start at the top, with the Leafs' goal scorers and play makers.
Phil Kessel is still the outright league leader in goals and points, Tim Connolly has four points in his first five games, and Joffrey Lupul is averaging 1.23 points per game.
On the second line, Clarke MacArthur has finally found his groove, Mikhail Grabovski has picked up where he left off last season, and Nikolai Kulemin continues to improve.
It's obvious that the Leafs' offence has been outstanding (second most goals in the NHL), but the fact that it has not dropped off over the last six games has been extremely beneficial to the Leafs.
On the bottom two lines, Matthew Lombardi and Tyler Bozak are off to great starts, Joey Crabb has two goals in as many games, Dave Steckel has been a faceoff win machine, Mike Brown is still the ball of energy he was last season, and Colby Armstrong is bound to return eventually.
The only big problem that the Leafs currently have is on defence. While players like Dion Phaneuf and John-Michael Liles have been key thus far, others have not been so lucky.
As long as the goalies continue to stand tall and the forwards continue to produce, though, the Maple Leafs have been and will be just fine without James Reimer after all.
Twitter: @LukasHardonk | Email: lukas.hardonk@gmail.com | Lukas' archive
For every Leafs article on THW, follow @THW_MapleLeafs on Twitter.
Lukas, a student at the University of Ottawa, covers the Toronto Maple Leafs on a part-time basis for The Hockey Writers. Contact Lukas at lukas.hardonk@gmail.com or follow him on Twitter, @LukasHardonk.