On February 19th my wife, myself and our two friends embarked on the five plus hour drive to Minneapolis to attend the Stadium Series weekend festivities featuring host Minnesota Wild versus the Chicago Blackhawks. I went as a fan, and had no press credentials. I had never been to Minneapolis and had no idea what to expect. All I knew was I had tickets to both the Alumni Game on Saturday and the main attraction on Sunday afternoon. Oh yes, and that apparently the slogan for tourism was "Minnesota Nice". I was skeptical, but here is what I found:
Friday Night Fun
The commute was uneventful until we hit downtown Minneapolis at 5 P.M. on a Friday night. Bumper to bumper traffic that rivaled Chicago. Except no honking horns and one finger salutes. After getting my new phone thanks to a pair of puppy dogs who weren't happy they couldn't join us, we checked in to our hotel and headed out downtown to explore and find a place for dinner. The city was clean and vibrant. Almost everything in Minneapolis is walkable, and we did it via the great outdoors since the weather was nice by late February standards. Apparently there is a series of connected pedways above ground, but no need for these during our stay. Despite all four of us being decked out in Blackhawks gear, nary a soul even whispered smack in our direction. I was beginning to think this Minnesota Nice thing was for real.
So what do Chicagoans do on a Friday night for dinner and drinks? Why an Irish Pub and fish fry of course. We walked into Kieran's  and never left. Live music, local micro beers on tap and a great whisky selection. The fish fry was outstanding! Staying related to hockey, the place was crawling with Blackhawks fans, all of whom behaved. Contrary to reports by locals, everyone got along great.
Waitress at a Minnesota establishment: "Blackhawks fans are by far the worst."

— Chris Kuc (@ChrisKuc) February 22, 2016
Spectator Plaza
The NHL set up Spectator Plaza just outside of TCF Bank Stadium and included interactive games for fans of all ages, live music and giveaways from NHL sponsors. Highlights included an autograph session by the great Mike Modano and several booths where fans could test their hockey sharp shooting skills. My personal favorite was the locker room stalls complete with team sweaters and full gear. Fans were encouraged to put the equipment on and take pictures. The Plaza was split about 50/50 when we were there, but again everyone was cordial. Surely things would change when the Alumni game started.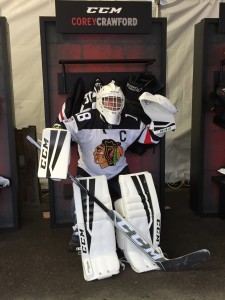 The Alumni Game
Approximately 50 former Minnesota North Stars/Wild and Chicago Blackhawks players and coaches took the ice to rekindle one of the most heated rivalries in hockey history. We took our seats, four of about 37,922 to do so on a perfect Saturday for hockey. A vast majority of the fans were from Minnesota, including most in our section. The Alumni game was about being a hockey fan, and thanks to a running clock, was good fun while not outlasting its welcome. As best I could tell, no players on either side were injured or dropped dead from heart attacks. The Blackhawks were soundly beaten in a harbinger of things to come, but we did not witness nor experience anything remotely close to hostility. In fact, everyone was darn right pleasant again. I still asumed Sunday's main event would be different.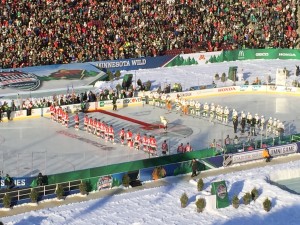 Sunday's Main Event
We arrived at Spectator Plaza at Noon and the place was jumping. Live music permeated the air alongside a great sense of anticipation. Tailgating was witnessed off in the distance, but most were busy snapping up souvenir blankets and hats. Nothing brings fans together like commiserating over $40 hats and $90 sweatshirts. As of puck drop it was still all lovey dovey, but I was confident things would get a bit more heated when the puck dropped.
As a side note, the NHL announced attendance at 50,426, just shy of capacity of 52,500. Interestingly, this was only the second time an NHL outdoor game did not sell out. Considering Minnesota is the self-proclaimed State of Hockey, I question how in the world the game didn't sell out. All 10,000 tickets allotted to the Blackhawks sold out, so you can't blame those fans.
As for the game itself, only one team showed up, and much to the delight of the home crowd, it was the Wild. The Blackhawks were pretty much embarrassed from puck drop.
Crawford: "It was tough, a little embarrassing out there to be honest, to have our fans come in and watch that." #Blackhawks

— Tracey Myers (@Tramyers_NHL) February 21, 2016
Despite the lopsided play and result, the fans in our section were good-natured and yep, friendly. While I heard reports that other fans were not so pleasant, I witnessed nothing even close to hostility. Heck, I think the Minnesota fans maybe even started to feel sorry for us Blackhawks fans. After all, we drove a long way and paid a lot of money to watch the Alumni put on a better show.
Stick Taps – Minnesota Does it Right
As I sit here writing this, I cannot help but glow over our experience. The public transit is clean, timely and very affordable. The dining and drinking establishments plentiful and excellent. The service everywhere fantastic. Sure the Blackhawks lost, but I honestly don't care. The biggest fear fans have when they travel is how they will be received. Granted, a lot of it has to do with how one behaves himself/herself. But let's be honest, there aren't many cities where Blackhawks fans are welcomed with open arms.
Minnesota Nice — yeah I'd say you all nailed it. Thank you for a wonderful experience. Stick taps to ALL in the State of Hockey.  See you in the playoffs.
Rick