New Year's Eve will play host to alumni games and the annual Canada versus United States battle at the World Junior Championship. That makes it all the more surprising that the marquee game Saturday might be a tangle between two expansion cousins, the Minnesota Wild and Columbus Blue Jackets.
Neither was pegged as a team to beat in the preseason and there were few circling the match on their calendar as must-watch TV between opponents that meet only twice a year.
2016 is filling the glass to the rim with surprises. Columbus is on a 14-game winning streak, which is tied for the fourth-longest single-season streak in NHL history. Meanwhile, the Wild are now on a 12-game streak. Both marks are franchise records and it's the first time the NHL has had two concurrent winning streaks of at least 12 games.
It goes without saying that it's the first time in NHL history that two teams on 12+-game win streaks will face each other.
#CBJ road numbers are ridiculous. Fewest regulation losses (2) and goals against (33) in 16 games.

— Tom Reed (@treed1919) December 30, 2016
Getting There
As the date approached, the possibility was noticed, but remained an implausible "what if." With both teams playing on Dec. 29, there was ample opportunity for either of them to screw things up and ruin a fun storyline.
Yet, the Blue Jackets handled the Jets to the tune of 5-3 and after exiting the first period carrying a 3-1 lead, the win wasn't really ever in question.
Boudreau:"It's not the Super Bowl, it's not the Stanley Cup, it's Game 36. It's got a good, little storyline. That's all it is" #mnwild #cbj

— Michael Russo (@RussoHockey) December 30, 2016
In St. Paul, the Wild were down 2-1 on Thursday against the Islanders. Then they proceeded to score the fastest three goals in team history. 80 seconds later and they were up 3-2.
The Islanders rallied, but the Wild ultimately came away with a 6-4 win, setting the stage for a historic match that under other circumstances most hockey fans wouldn't take much note of.
If #CBJ and Wild both win tonight, I dub Saturday's game the #Unsustainabowl

— The Azul Jackets (@AzulJackets) December 30, 2016
Spotlight on Redemption Stories
While the league might eat it up a little bit more if the stage was set with two teams carrying superstars and national audiences — Chicago v. Pittsburgh, say — this is a great showcase for some of the season's best storylines.
Out of Ohio, the team is bouncing back from what might have been last year's most disappointing season this side of Montreal. Coach John Tortorella entered the campaign amid a torrent of criticism following a horrid performance from Team USA at the World Cup.
Boudreau on #mnwild: "they have a will to win. They like this. I'm sure Columbus is the same way."

— Michael Russo (@RussoHockey) December 30, 2016
He started the season listed among coaches who enter the season on the hot seat. He couldn't be further from that criticism today.
Then there are guys like Cam Atkinson and Alexander Wennberg. Their careers looked like they could swing either way at the start of the season. But they've both proven themselves to be top players and critical to the Blue Jacket machine.
And in a season that features superstar rookies like Auston Matthews, Patrik Laine, Jesse Puljujarvi and Mitch Marner, Zach Werenski is making a case to be the sleeper Calder candidate that upsets the "generational talent" narrative. He's been outstanding.
On the other side, coach Bruce Boudreau is in his first season with a new team after getting the can in Anaheim. This is the third team he's coached to a 10-game win streak and he's the only coach to have ever done that.
A lot of the success can be hung on outstanding goaltending. Devan Dubnyk has the second-best save percentage in the NHL over the last three seasons combined, which includes time as a backup in Arizona. Yet, he's struggled to convince anyone that he's legitimately one of the NHL's best netminders. Now, his outstanding season has him at the front of the line for the 2017 Vezina and, if he keeps it up, could even land him in the Hart conversation.
During their clubs' respective win streaks:
Bobrovsky 12-0-0, 1.67, .941
Dubnyk 10-0-0, 1.67, .942#CBJ #mnwild

— Aaron Portzline (@Aportzline) December 30, 2016
Additionally, Eric Staal, proclaimed D.O.A. after a tough stint with the Rangers, has rebounded. He is leading the Wild in points with 30 in 35 games. He enters the last day of 2016 with a nine-game point streak and points in 11 of his last 12 games.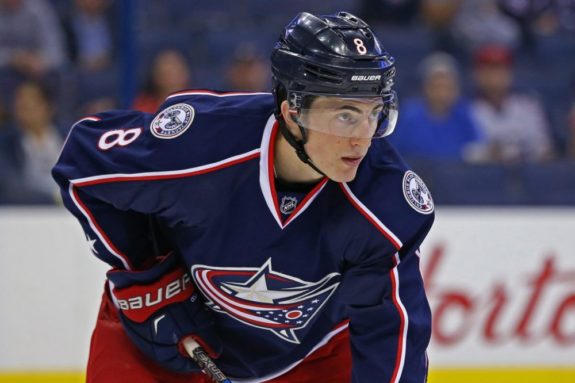 Changing the Story
For the Wild, it's a welcome inversion of how things have gone the past handful of seasons. Under coach Mike Yeo, late December into early January was the time known as "The Swoon." It's when the wheels would fall off the bus and the Wild would plummet down the standings.
Come mid-January they'd face impossible odds to make the playoffs and somehow they'd rally. However, it usually required a new goaltender — see: Dubnyk, Ilya Bryzgalov, or Darcy Kuemper making his name — and trading away a couple draft picks for rentals like Matt Moulson, Sean Bergenheim, David Jones, Jordan Leopold, Chris Stewart (who came back) or Jason Pominville (who never left).
So, eat it up. Fans complain that Stadium Series games are devoid of meaning. There is much pageantry, but at the end of the day, it's a regular season game with two points on the line.
The two days after this showdown are both highlighted by outdoor games. Instead of bemoaning a Centennial Classic between middling teams or a Winter Classic that once again features Chicago, who have played 16 of their last 84 games (19 percent!) against the Blues, enjoy the fact that there's a fantastic game between two hot teams accidentally placed on New Year's Day. One team is about to earn a historic win, even if they'll tell you it's just another two points.
Dustin Nelson writes about news and the Minnesota Wild for The Hockey Writers.