In last year's World Junior Hockey Championship, three Finnish stars combined for 44 points to propel their country to a gold medal. Perhaps no one realised just how important those guys were because Finland is a completely different team without them.
After a couple of heart-breaking losses to Denmark and the Czech Republic, the Finns found themselves staring down a must-win game against their rivals from Sweden. Things started out well, but they didn't end that way.
International Hockey's Best Rivalry
Canada/Russia has a tonne of history. Canada/USA has the most traction at the moment. But the rivalry between Nordic countries Finland and Sweden has been about as fierce as any in International hockey. Those two countries don't like each other. At all. And anytime they square off, we're in for a good match-up.
Finland's gold medal victory back in 2104 was sweet, but even more so because it was over Sweden. Last year, Finland had all the bragging rights because the Swedes didn't even medal. This time around, though, the circumstances are decidedly different.
Alex Nylander with the #TSNTurningPoint in Sweden's win over Finland #WorldJuniors pic.twitter.com/j9hHAyEHFC

— TSN (@TSN_Sports) December 30, 2016
Despite being the defending champions, the Finns don't have the firepower to repeat and have struggled to score. In their first two games, they looked sloppy and unfocused, but we knew they would be ready to face their rivals.
In the first period, Finland had jump and controlled a lot of the play. They outshot the Swedes and got the opening goal to go into the intermission 1-0. After that, Alex Nylander took over. The former eighth-overall pick scored two goals and added an assist to lead Sweden over the Finns, perhaps the final blow in a bad tournament.
Sweden played a methodical game. Even when they trailed, there was no panic, they stuck to the game plan and had their chances. Finland ultimately held the edge in shots but they couldn't break through goalie Felix Sandstrom. The turning point was the almost two full minutes of five-on-three power play time for Finland, that failed to convert.
We should have scored there, it would've been 2-0," Captain Olli Juolevi said. "But that's hockey. There's nothing to do about it. Of course I'm disappointed. I don't want to lose, ever."
Finland Looks to Avoid Relegation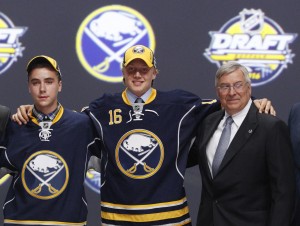 There are two scenarios that could play out for the Finns. If Switzerland beats Denmark tonight, then it won't matter what happens on Saturday, Finland will be last in the group.
If the Swiss lose, Finland has a chance to avoid the relegation round with a regulation win on New Year's Eve. There's more than just pride on the line for the Finns. Should they lose in the relegation round, they would be the first team in history to win the gold medal and then be relegated the following year, making history in the worst way.
It's amazing the difference a couple of games can make. If things play out in Finland's favour, they could be on their way to the Quarter-final with a chance to redeem themselves. But they could just as easily be forced to play a best-of-three series against the worst team in Group B to see who will be relegated.
Olli Juolevi was visibly disappointed following the game, but he knows they still have a chance, albeit a small one.
"I'll eat dinner, go to sleep, and we'll see what happens. Bigger miracles have happened. It's not going to be easy, but sometimes you're lucky."
They'll need luck on their side. But perhaps counting on the upstart Danes to win a game may not be the worst gamble. Denmark has the will to win games they have no business winning, and they're facing a much weaker Swiss squad than the teams they've already played. Team Finland will be watching intently on Friday evening to see what their fate will be. Hopefully, it will be in their own hands.