Well, that got out of hand quickly.
Let's face it. No one expected a team like Latvia to hang with Canada. After all, this is a team that lost to Canada 16-0 in their last and only World Junior meeting. The fact that Canada scored less than that might be considered a victory for the Latvians.
The first period was good for Latvia. They outshot Canada 10-9 in the opening frame. In a way, you could tell that Canada was taking their opponent lightly and not giving them enough respect. Even with that, Canada managed to exit the frame with a 3-0 lead off of goals by Matt Barzal, Nicolas Roy and Taylor Raddysh. Get used to hearing that last name.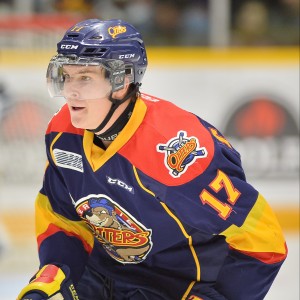 Making History
Raddysh scored the first two goals of the second period completing the natural hat trick. After the first goal, Latvia decided to switch their goalies as Mareks Mitens was pulled in favour of Gustavs Grigals.
That went about as well as the last time they did that. The Raddysh goals were followed by a second goal by Barzal, and goals by Anthony Cirelli and Michael McLeod. Those five goals were scored within five minutes of each other.
Renars Krastenbergs, who is eligible for the 2017 NHL Draft, scored to get Latvia on the board at the end of the period, a historic goal for Latvia at the World Juniors.
It was the first time the country had scored against Canada. Yes, the teams have only played twice, but you have to score against them before you can beat them. Hopefully, in the coming years, Latvia can continue to improve and maybe reach the level of Denmark and Switzerland.
The score was 8-1 at the end of the second.
Making History… Again
Two minutes into the third period, Raddysh scored his fourth goal of the game. That is something that only four players have been able to do for Canada at the World Juniors. He joins Mario Lemieux (1983), Simon Gagne (1999) and Brayden Schenn (2011) as the only players to score four goals in one game. The fact that he can say he's accomplished something Lemieux has is pretty cool.
Maple Leafs prospect Martin Dzierkals' strong play was finally rewarded as he scored one of the most beautiful goals of the tournament so far. The fact that he beat his 6'5″ Rouyn-Noranda teammate Philippe Myers to score must have made it better. Still, the score was 9-2 for Canada.
NO QUIT: Martins Dzierkals puts together a great effort to score Latvia's second goal of the game. https://t.co/zfo0AXVzkn pic.twitter.com/SdXJdTYQJn

— TSN Hockey (@TSNHockey) December 30, 2016
Julien Gauthier finished off the scoring, as he pushed the Canadians to double digits, with a final tally of 10-2.
Captain & Coach Speaks
Team captain Dylan Strome and head coach Dominique Ducharme spoke to the media after the game about the big game against the USA.
Strome
It's a rivalry that has gone back a long time. In a World Junior game, you think of Canada-US, you think of New Year's Eve. The story's there, we just got to write it. It should be fun and we're looking to add another in that storied rivalry.
Ducharme
It's going to be great playing against them. It's going to be a really intense game. It's going to be a good preparation for getting to the playoffs and starting. Those are the kind of games that are going to be played in the quarters, semis and finals. I think we're ready for that.
Canada will now prepare to face the Americans in their New Year's Eve clash to decide who will finish first in Group B. The Latvians will face Slovakia on Friday in a game that will all but decide who makes it to the quarters and who will go to the relegation round.