It's been awhile since the NHL saw a goaltender win the Vezina Trophy two seasons in a row. New Jersey Devils netminder Martin Brodeur was the last one to do it nearly a decade ago in 2006-07 and then again in 2007-08.
Expecting Braden Holtby to follow up his Vezina Trophy season with another one is probably asking too much, especially with Canadiens goaltender Carey Price back and healthy in 2016-17. He may not win the award again, but Holtby remains Washington's most important player, as he's carried the Capitals through the last month of the season.
Stellar December
Holtby has been good all season long, but he's been particularly spectacular this month. In eight of his 11 December starts, he's allowed two goals or fewer. In four of his 11 games, he's allowed fewer than 2 goals, including two shutouts.
After Thursday's game against the New Jersey Devils where Holtby yielded one goal in 65 minutes, he dropped his GAA to 1.79 and raised his save percentage to .938 for the month. Washington lost the game in a shootout, but not because of Holtby. He stopped 26 of 27 Devils shots.
The 27-year-old netminder's record isn't bad this month, but with those numbers, one would expect it to be better than 5-3-3. A sluggish offense and missed opportunities in shootouts has the winning at around .500 in December despite his stellar personal numbers.
Slumping Offense
With one game remaining this month on New Year's Eve, the Capitals are averaging just 2.54 goals per game. That's alarming for a few reasons.
First, it's led to four losses in the last five games. Since Dec. 17, Holtby has given up more than two goals in regulation once, yet the team has won only once. And that's not exactly how you would want to follow up a six-game winning streak.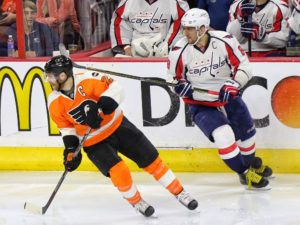 The winning stretch in the middle of December kept Washington within a few points of first place. But, the Columbus Blue Jackets and Pittsburgh Penguins continue to win, so the Capitals are falling behind in the Metropolitan race.
The biggest concern has to be the fact that Washington's power play has improved but the team's goals per game average has not. The Capitals' man advantage has been nearly 5.0 percent more successful in December than it was in the first two months. If even strength production stays the same, then the total amount of goals should go up.
Except Washington is actually scoring almost the exact same amount as it did when the power play was struggling. Through November, the Capitals averaged 2.52 goals per game and, as mentioned, in December they are averaging 2.54.
Scoring depth is an issue, but the stars aren't producing in 5-on-5 situations either. Alex Ovechkin, Nicklas Backstrom, and Evgeny Kuznetsov have combined to score three even-strength goals in 13 games this month. This has made Holtby's fantastic play all the more important.
Missed Shootout Opportunities
Despite the offensive problems, Holtby's winning record would look better if Washington had tallied a few shootout wins. The Capitals have two overtime victories and a shootout victory this month, but they also have three shootout losses.
Fans can't expect Washington to win every shootout, but with the best shootout man in the world, winger T.J. Oshie, the Capitals should win more than they lose. This season, Washington is 1-4 in shootouts.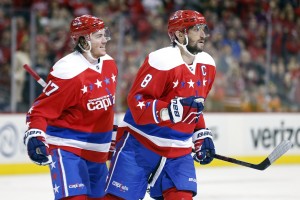 Oshie missed the first shootout loss this month due to injury, but he was the team's first shooter in the second two losses. He is 1-for-2 in those defeats.
If there's one weakness in Holtby's game right now, it's in the shootout. After Thursday's loss, Holtby has a .357 save percentage in shootouts. That's ranked 48th out of the 50 goaltenders who have participated in a shootout this season.
In fact, the only netminders with a lower shootout save percentage than Holtby, Sabres' Robin Lehner and Predators' Juuse Saros, have zero saves in eight combined attempts.
As rough as that is, the offense hasn't helped Holtby. Players not named Oshie are 3-for-12 (25.0 percent) in shootout attempts this season. That, combined with Holtby's struggles, have lost Washington valuable points.
But regardless of his shootout performances, Holtby is doing enough to win games in regulation. He is ranked fourth in GAA and save percentage in the NHL this month. The other three goaltenders just barely ahead of him have combined for 26 wins in December. Imagine where the Capitals would be right now without the play from their goaltender.