Let's hope the Minnesota Wild got some motivation from their shootout victory over the Phoenix Coyotes on Saturday night, because they're certainly going to need it this week. Here's what to watch for over the next seven days:
1. Tough Opponents
Minnesota starts their difficult week Tuesday night, when they play the Chicago Blackhawks in Chicago. The Hawks are currently sitting in second place in the Central Division, while the Wild sit in fifth. Regardless of how good Minnesota is, they're going to need to bring their best game to beat this team.
Unfortunately for the Wild, Chicago is just the first hurdle of the week. After facing the Hawks Tuesday, Minnesota heads back home to take on the Boston Bruins Wednesday night. Boston may be struggling right now, but don't let that fool you; This team will still be a difficult opponent for the Wild, especially since Minnesota will be playing on the second night of back-to-back games, as well as just returning from a road trip out West.
The Wild will finish the week on Saturday against the Nashville Predators, who have won seven of their last ten games. Good news for the Wild: both the Blackhawks and the Predators are in their division, so if Minnesota can manage to win both these games, the team could potentially make a jump in the standings. Yes, I know it's the middle of December and it's not really time to be worrying about standings, but still. It's kind of a big deal.
2. The Return of Marco Scandella
Earlier this season, Wild defenceman Marco Scandella was fined for an illegal hit to the head on T.J. Oshie. Apparently the fine wasn't enough, because Scandella did the same thing again last week to Brock Nelson of the New York Islanders. Scandella was consequently suspended for two games after this infraction. Losing one of their top defenceman hit the Wild hard, especially Saturday night when they were forced to play without Jared Spurgeon and Keith Ballard, as well as Scandella. The 24-year-old  will be able to return Tuesday and hopefully help push the Wild to a victory against Chicago.
3. An Appearance by Matt Cooke
According to Chad Graff of the Pioneer Press, Matt Cooke is nearing a return – to practicing, at least. Cooke has missed fifteen games so far this season due to a hip flexor injury, but is finally nearing a return to the ice. The Wild winger has practiced on his own for a week or so now, but looks to skate with his teammates sometime this week. Cooke's return would be a huge boost for the team, especially on the power play.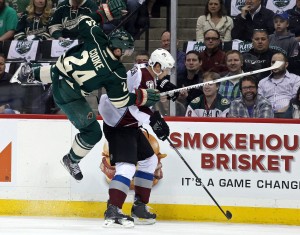 4. The Power Play
The power play has been an issue for Minnesota practically all season long. The team has the third-worst power play percentage in the league and entered Saturday night's game 1-44 on the PP in road games, which is the worst in the NHL. Needless to say this team is struggling to score 5-on-4.
Luckily for the Wild, Zach Parise managed to score a power play goal against the Phoenix Coyotes, possibly igniting some sort of power play spark. Who knows, maybe it was just a fluke PP goal, but I think at some point Minnesota has to realize just how bad their power play is and start putting some serious effort into it. They're getting chances, it's just a matter of making them work at this point.
Fluke or not, though, the team needs to find a way to put the puck in the net when they're up a man, especially if they are to find a way to win this week against tough opponents like Chicago and Nashville.
5. The Stomach Virus
Saturday night Jared Spurgeon was scratched from the game minutes before the puck drop. The key defenceman was apparently suffering from some sort of stomach virus, the same one that is said to have plagued Charlie Coyle earlier this week. This left Stu Bickel to fill in for Spurgeon, which didn't seem to be that big of a problem as the Wild found a way to manage with only 17 skaters. Nonetheless, the last thing this team needs is another sort of virus, so over the next week, let's just hope this doesn't spread as fast as mumps. Or just doesn't spread at all. Minnesota really can't afford to lose any more bodies.
Alli covers the Minnesota Wild and has been a contributing writer with THW since August 2014. She is currently a journalism and sports management student at the University of Minnesota. For all of your Minnesota Wild news and updates, follow her on twitter: @allibaker23