It is only December, but it is hard to believe the Nashville Predators will not be well represented in Las Vegas at the 2015 NHL Awards. While it is terrible entertainment for most viewers, Smashville could have a legitimate reason to sit through it all. The Predators' resurgence as one of the top teams in the NHL should certainly help gain favor from voters. Let's take a look at some of the Predators who could be award finalists.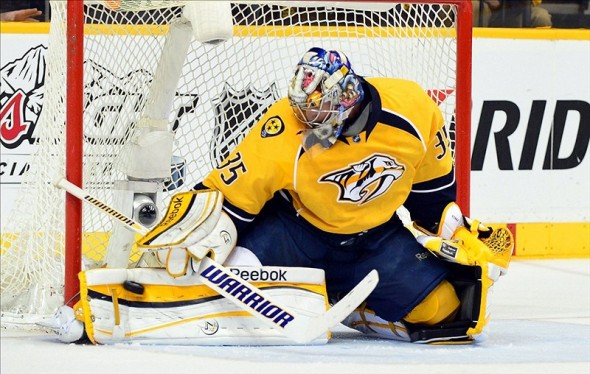 Pekka Rinne – Hart Trophy and Vezina Trophy
Pekka Rinne, 32, is at his peak performance since returning from hip surgery and being one-hundred percent healthy. The 6-foot-5 Finn's 19-6-1 record, 1.75 goals against average and .937 save percentage are all League leading in their respective categories. Rinne is on pace for 53 wins this season, which would break Martin Brodeur's single-season wins record of 48 set in 2006-7. His consistency between the pipes for the Predators should lead him into consideration for the Vezina, as the best goaltender, and Hart, the most valuable player to his team. If Rinne were to win the Hart, it would only be the eighth time a goaltender has won the honor and the last since Jose Theodore of the Montreal Canadiens in 2001-2.
Challengers for Hart: This is not an easy award to win by any stretch, but if Rinne was to mount a 53-win year, he would have to be the unanimous MVP, right? Anyway, Tyler Seguin, Evgeni Malkin, Sidney Crosby, and Jakub Voracek sit atop the League's leaders in scoring. It is early, but a safe bet would say Crosby will emerge as the scoring leader at the end of the year.
Challengers for Vezina: Ryan Miller has had a career resurgence in Vancouver, where the Canucks are among the League's finest in the standings. Also, Brian Elliott and Jonathan Quick have similar numbers to Rinne's.
Filip Forsberg – Calder Trophy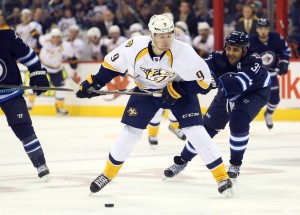 If the season ended today, Filip Forsberg would most likely be the franchise's first Calder Trophy winner. Forsberg leads the League in +/- at +24 and leads rookies in scoring with 12 goals, 17 assists. To have a true scorer at only 20-years-old is promising to the Predators for years to come. His play has allowed him to be on the top line with proven scorers Mike Ribeiro and James Neal, which is the third best line in the NHL.
Challenger for Calder: Calgary Flames' prized rookie Johnny Gaudreau is second on the list in rookie scoring, while Florida Panthers defenseman Aaron Ekblad is not too far behind. The challenge for most rookies is whether or not they can be consistent all season. Forsberg is older than the other two and has had past stints in the NHL. The odds of consistency are in the Ostervala, Sweden native's favor.
Shea Weber – Norris Trophy
A Shea Weber Norris nomination is a stretch at this point, but it is impossible to forget his elite play on both sides of the puck. While Weber's point production has dropped, he does rank as one of the best defensemen in +/- with a +13. Weber has 6 goals, 11 assists in 29 games. The captain's scoring production has dropped because he is no longer heavy relied on with the assets of Forsberg and Neal. Also, his scoring has taken a hit due to the loss of Patric Hornqvist, who was brave enough to screen goaltenders while Weber ripped slap-shots from the point.
Challenger for Norris: Mark Giordano of the Calgary Flames leads defensemen in scoring and has played a major role in the turnaround of his team this season. At this point, it seems as if Giordano is the most worthy recipient of the Norris, after getting shafted of a finalist nomination last season.
Peter Laviolette – Jack Adams Award
Nashville head coach Peter Laviolette has transformed a team that has not made the playoffs in two years to a team competing not only to win the Central Division, but win the President's Trophy. This rapid turnaround was unexpected by everyone in the hockey world. The up-tempo style Laviolette has brought to the table has been refreshing to not just the spectators, but more importantly, the players. The Predators are on pace for 113 points, the best season in franchise history.
Challenger for Jack Adams: After a pitiful 2013-14 season, Jack Capuano has the Islanders back on track. New York is just two points behind Metro Division leader Pittsburgh. Capuano has many of the same core guys this season, but the additions of goalie Jaroslav Halak, defenseman Nick Leddy, and 18-year-old forward Ryan Strome has boosted them to an elite level in the League.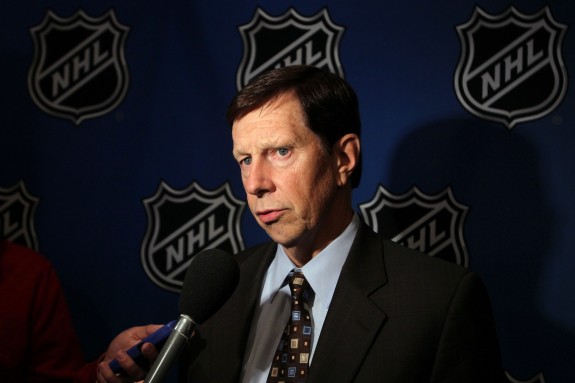 David Poile – GM of the Year
Sure, Laviolette will get the credit for taking the team in the right direction this season, but Predators general manager David Poile has prepared for a season like this the past two years. Poile was magically able to trade Martin Erat to Washington in exchange for Forsberg at the 2013 trade deadline; rid the organization of Matt Hendricks' awful four-year, $7.4 million contract in January 2014; trade David Legwand to Detroit for Calle Jarnkrok at the 2014 trade deadline; and sign Olli Jokinen, Mike Ribeiro and Derek Roy to one-year deals worth a combined $4.55 million this summer. Then on this past year's draft floor, Poile made an excellent trade for both teams sending Patric Hornqvist and Nick Spaling to Pittsburgh for James Neal. Poile built this year's team for Laviolette to win a Stanley Cup. And so far, so good.
Challenger for GM of the Year: While this may come from a biased view, there is no one that should come close to Poile for this award.
Colin Fitts is a Nashville Predators staff writer and is a credentialed media member of the Chicago Wolves. From Nashville, Tennessee, Colin majors in journalism and public relations at Columbia College Chicago. Follow him on Twitter, @FittsTHW. Email: 22fitts [at] gmail [dot] com.