Goalies in the NHL are the backbone of their teams. Elite goalies can take a team deep into the Stanley Cup playoffs, possibly even carrying them to a Cup victory.  There are examples galore to support this assertion. Go back to 2006 and recall the play of Carolina Hurricanes' goalie Cam Ward to witness a goalie carrying their team to victory. Not impressed with Cam? Then think back to Martin Brodeur and Patrick Roy and the epic battles they fought in 2001, and the collection of Stanley Cups each has acquired.  There is no question that elite goalies are a huge asset to NHL teams.
But $11,000,000?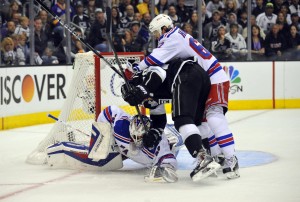 I was thinking about NHL goalies and their value to their teams and decided to see just how much these
guys are knocking down. I was somewhat amazed to find that the highest paid of all the goalies this season is Henrik Lundqvist. Spotrac.com has his $11,000,000 at the top of the base salary list of all NHL goalies in 2014-15. Not a bad day at the office for Henrik. But, according to our earlier premise of value to their team, can anyone argue that Lundqvist is not worth every penny to the New York Rangers?
While the Rangers did not win the Stanley Cup last year, Henrik Lundqvist was a key component of the team as they made it all the way to the finals to face the Los Angeles Kings. Of course, they had to beat the Pittsburgh Penguins before they got to the Kings, and this trip back to May 13, 2014 shows Lundqvist making his case for elite pay quite nicely:
As goalies go, Henrik Lundqvist is considered elite. He elevated the Rangers' chances at winning the Stanley Cup last season immensely.  He was rewarded with a new contract after the season for 7 years and $59.5 million. An increase of about $6 million a year was a statement by the Rangers that they valued him a great deal, and intend to keep him between the pipes for some time.
How's he doing with that fatter wallet? Well, you tell me. He is currently ranked 30th overall among NHL goalies in goals against average at 2.63, and 32nd in save percentage at .909 With a record of 11-7-3, his play thus far does not scream Vezina Trophy as it did in 2011-12. Larry Brooks wrote for the New York Post on December 2:
"…the first two months of 2014-15 haven't been close to good enough from Lundqvist, who has surrendered too many unsightly goals and has had way too many borderline nights for a team that isn't good enough to overcome mediocrity in nets."
Perhaps the Rangers' front office signed his new contract too quickly? Or perhaps it's not his fault as much as it is the team's that they are not doing as well of late. You tell me, is Henrik Lundqvist making too much?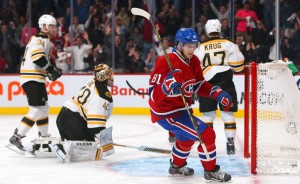 Help from Vezina
Henrik Lundqvist won the Vezina Trophy in 2011-12. It is the NHL's award for best goaltender. Tuukka Rask won it last season. He also won the Stanley Cup in 2011 as the backup to Bruins goalie Tim Thomas. He edged Thomas out the next season and helped the Bruins make it all the way to the Cup Finals again, eventually losing to the Chicago Blackhawks. He slots in at number two on our list of this season's highest paid goalies. While second among goalies at $7,500,000 per year, CapGeek.com ranks him only 21st among all salary leaders this season.
As what Weber is making is almost twice what Rask is bringing in this season, it almost makes Rask's salary seem small. (Not really.) At $7.5 million, Rask is paid very well to roam between the pipes for the Boston Bruins.
So how is he doing this season? Rask is 12-9-2 with a goals against average of 2.55 and a save percentage of .911. Both are 25th and 29th in the league respectively. His current stats might lead one to think he is not earning the $7.5 million. His perspective however, is not unlike that of other teams who are not hitting their goals for consistent success this season. Mike Petraglia of WEEI's Big Bad Blog has several comments from Rask in a great article about Boston's season, and how Rask sees things thus far:
"I mean if you look at the effort and you look at the plays we made, for the most part it was our style of hockey. I thought a lot of times we were the better team out there. So I guess you can take the positive but from a goalie standpoint, two deflections off of your own sticks and it obviously sucks. We just have to keep working and find ways to get those bounces our way, not against us."
Sound familiar Carolina Hurricanes fans? Bad bounces are part of every sport. In hockey, goalies can get eaten up by a crazy puck bounce. I'm torn on Rask at this point. Are his stats a reflection of his team not reaching their expectations? Or is he not worth the $7.5 million this season? How do you feel about it?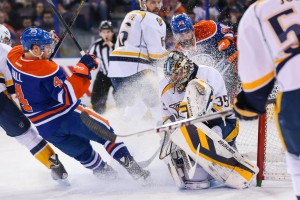 Pekka Rinne worth every dime
At number three on the list of highest paid NHL goalies this season is Pekka Rinne. He is making $7,000,000. He is in the second year of a 7-year, $49 million contract. At the quarter-pole of the season, I wrote on December 1st that I saw the Nashville Predators as having a legitimate shot at winning the Stanley Cup. Some of you were not convinced. Of course, anything can happen. But if I am to be proven right, the Predators will succeed in large part to the play of Pekka Rinne.
The San Jose Sharks won that game Saturday night, but Rinne was as good as could be expected. He is currently first in the NHL in goals against with an average of 1.75, and in save percentage at .937. Even fearthefin.com recognized Rinne's performance was special:
"…the Sharks managed to overcome a spectacular performance by Pekka Rinne to notch their sixth straight home victory."
Pekka Rinne is having a tremendous season. That is without question. Is he worth the $7 million the Predators are paying him? I'd say yes. How do you feel? Is he overpaid or worth every dime?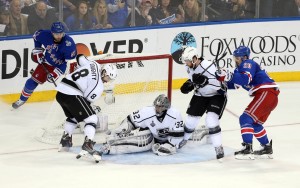 Hey, what about these goalies?
And before you yell, "What about Corey Crawford, or Marc-Andre Fleury, or Jonathan Quick or…?"
I'm not writing each of the goalies, just a few of the highest paid.
By the way, according to CapGeek, Jonathan Quick is also making $7 million a year and I do think he is worth the money. His play in Stanley Cup playoffs has been spectacular. He has been a Vezina nominee, and a Conn Smythe Trophy winner. He is currently 7th overall compared to other NHL goalies in goals against average – 2.16 and 4th in save percentage at .929. His Los Angeles Kings are not running away this season, but I believe that Quick gives them a shot to win each and every night.
 I like Pekka Rinne and Jonathan Quick. I think they are worth what they are being paid. Henrik Lundqvist and Tuukka Rask are two goalies who are making a lot and – especially in Lundqvist's case could do better. We will see as the season plays out who is "making too much" and who earned their paycheck.
Certainly NHL goalies are special and can put a team on their backs as Cam Ward did in 2006. The four highest paid goalies this season have a lot of eyes on them. Will one of them carry his team all the way to a Stanley Cup win? If so, nobody will ask, "Are these goalies making too much?"
I'd love your comments in the space below the article. Let me know how you feel about these goalie salaries.
Mark Shiver is a staff writer for The Hockey Writers  credentialed with the Carolina Hurricanes. You can follow him on Twitter @markshiver