Outdoor hockey is officially back in Minnesota, and the weekend Wild fans have waited for is finally here.
The 2016 Coors Light Stadium Series is only a day away, and the Minnesota Wild are ready to take on the Chicago Blackhawks in the team's first-ever outdoor game.
Preparing for the Stadium Series
While this game is definitely an incredible experience for both the Minnesota Wild and its fans, the Wild are focused on preparing for the Stadium Series like it's just another game.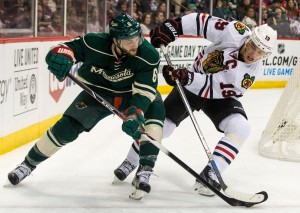 "It's always going to be different," Wild goaltender Devan Dubnyk said after the team's outdoor practice. "Completely new venue, security is higher, longer walks, all these different things." 
For Dubnyk, though, keeping things as normal as possible is key. "When you're playing a game that is this much different, you try to stick to your routine as much as you can, feel as comfortable as you can because everything is going to be a little different." 
Teammate and Minnesota captain Mikko Koivu echoed Dubnyk's thoughts: "The only thing that's different is you come here to this arena [TCF Bank Stadium]. But you try to keep a routine, prepare the right way…things like that. There's a lot more going on, especially before the game, but I think just stick to your routine and whatever you do," Koivu said after practice. 
Testing the Ice
The Wild's routines might be staying the same, but there's no avoiding the differences in the rink this weekend, although things seem to be going smoothly on the ice so far.
"It's different; it's outside," Charlie Coyle said about the ice. "They did a great job with it, putting everything together. We'll be able to tell a little more tomorrow. The ice is going to get chippy, 
which is expected, you know. But even the pucks on the boards, it's a different bounce. You've got to take those things into consideration and play around with it."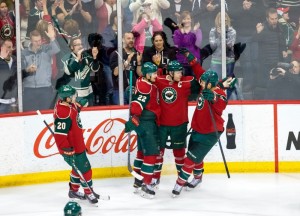 To Koivu, however, the ice didn't seem all that different. When asked how TCF's ice compared to the ice at the Xcel Energy Center, Koivu said, "Well we haven't been there for a while, so I wouldn't know."
 Perhaps the Wild's long Canadian road trip before the Stadium Series wasn't such a bad thing.
Regardless of the ice, the arena or the atmosphere, the Wild know this is just another game, and another opportunity for them to get back on track. Minnesota knows they're going to have to work hard Sunday afternoon to keep their three-game win-streak alive, but the team is ready to have fun and do what they can to pull out another two points.
"We're ready, we're focused, but we're going to have fun doing it. It's going to be more fun to win," Coyle said. I'm sure most of Minnesota would agree with that. 
The Wild take on the Blackhawks tomorrow at 2:30 p.m.