The next season of minor hockey is just around the corner, and players everywhere are preparing for the next steps in their hockey journey. For guys ages 15-17, the 2016-17 season has the potential to catapult them into a whole new direction, and that means they need to get noticed. It's during this time when exposure becomes the determining factor leading a minor hockey player to his ultimate destiny.
Among the plethora of tournaments flooding Southern Ontario each year, there's several that are gaining a lot of momentum. The Annual Toronto Titans International Prospect Tournament is one of these tournaments, and already the number of registered teams speaks volumes about it's growing popularity.
"There're more scouts than parents," said Eric Cella, Director of the Toronto Titans Hockey Club, and keeper of the tournament. The event consists of both the 9th Annual Minor Midget, and 5th Annual Major Midget tournaments, and runs from September 7-11, 2016 (minor), and September 22-25, 2016 (major). "Both tournaments have become really, heavily recruited," he added.
The minor hockey tournament is a month away, and teams from Michigan, Illinois, and New York have registered. "There's even one team from Kapuskasing, and that's a 14-hour drive," Cella told The Hockey Writers." Typically, the tournament gets teams from all over Ontario, but this year teams from Ottawa won't be participating. "Ottawa essentially combined Minor Midget, and Major Midget, and have a U18 league, which means they have 01s, 00s, and 99s, and possibly some 98s playing against each other."
Held at the Scotiabank Pond Arena in Toronto, as well as the Westwood Arena in Rexdale, "this year there is 53 confirmed teams for Minor Midget, and 36 teams for the Major Midget tournament," Cella continued. "We have worked hard to re-brand both tournaments, and since we took over the Minor Midget, it has grown from 40 teams to its current 53 teams, and the Major Midget has gone from 12 teams to 36."
http://gty.im/463855040
Scouts from the CJHL, OHL, CIS, and the NCAA are coming out to get a good look at this year's cream of the crop, and it's because the tournament draws in so many high-calibre players. "The last count I did had 41 different registered scouts from Junior, and College," said Cella. Last year, 113 club representatives came out to scout the minor hockey tournament, and that number includes team coaches, scouts, and general managers.
Cella's background is in business, "I was the VP of operations of a manufacturing company," he said. "I kind of run clubs like a manufacturing operation." Cella also serves as the General Manager of the Newmarket Hurricanes Jr. A Hockey Club, and volunteers his time as a Development Advisor with the Weston Minor Hockey League."I love the game. I live it, and breath it."
Minor Hockey Prospect Tournament Pays it Forward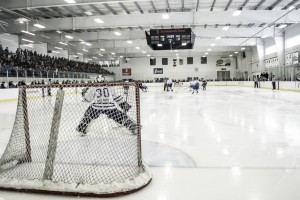 Very quickly into our conversation, it became quite clear that Cella has the inside scoop on Toronto's minor hockey scene. "There are three tournaments that scouts, teams, and coaches recommend," he said. "There's ours, the Silver Stick, and the Toronto Marlboro Holiday Classic," which is taking place from December 27 – 30, 2016.
Cella's tournament is the first of the three, meaning he sets the bar for the other two. "It's a bit of a fundraiser," he said. "We re-invest earnings to Grassroots, and helping players in need." One of the things Cella's been trying to do with the OHL is to generate more awareness about life after minor midget hockey. "We're trying to do a seminar, 'Life After Minor Midget', and 'Life After the OHL Draft'," he said. "The problem is, many believe that Minor Midget is the end of the road, and don't look past the OHL Draft. The majority of players will have to find a place to play after Minor Midget, even if they get drafted. Midget hockey is a great place for many of these players because it gives them a chance to mature, mentally, and physically. The GTHL has focused on strengthening the Midget Program, which has proven successful with two consecutive Canadian Midget Championships."
Cella believes that teaching players and their parents about the next steps in their minor hockey journey should start in Peewee. He also believes that the majority of players should play at least one year of midget. "A lot of people want NCAA scholarships," Cella said. "However, many parents are not aware of the reality of how it works. Those who do get drafted still have a long journey ahead of them."
Most scholarships are awarded after first year Midget, "typically out of the tier-two type leagues, such as the OJHL, but don't get executed until two to three years after high school," Cella continued. "They still need a place to develop. Minor Midget Hockey for me is the start for most kids' hockey 'careers'."
Cella also told The Hockey Writers that sometimes the top players may get a scholarship offer out of high school, but most players will have to play minor midget, and junior first. "A lot of U.S. Colleges want older players – even CIS," he said. "A lot of people go to University to play hockey after the OHL… Most of those players are 20-21."
Cella continued to say that very few 16-year-old players are getting scholarships, and if they do, "they still have to finish high school. At the end of the day, a lot of guys are dropping off after Minor Midget when they don't get drafted. The majority of kids are looking for a place to go, and many don't understand what their options are. Midget Hockey for most is a great option to continue pursuing their hockey goals."
Cella certainly has a heart for these kids and wants to help them better understand their options, make the right decisions, and help get them to where they want to be. His  efforts and words of wisdom have gone a long way in getting this tournament to where it is today. So if you've never attended it before, it's worth seeing what all the hype is about.
Toronto Titans International Prospect Tournament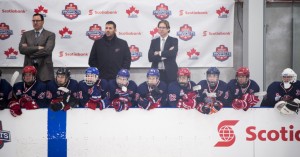 Minor Midget Prospect Tournament
September 7-11, 2016
Major Midget Prospect Tournament
September 22-25 , 2016
Scotiabank Pond Arena
57 Carl Hall Road
Toronto, Ontario
M3K 2B6
Westwood Arena
90 Woodbine Downs Blvd.
Rexdale, Ontario
M9W 5S6
*** Effective with the 2015-2016 season, a three-year pilot project for Midget AAA (encompassing players aged 15, 16, and 17 years of age) will run by the ODMHA.
During this three-year pilot, the OEMHL AAA League will suspend operations at the Midget AAA level.
Questions regarding Midget AAA should be directed to odmha@odmha.on.ca