Unlike their neighbours to the south, Team Canada came into the World Cup of Hockey with one goal in mind: win the whole thing. The Americans had been talking (and talking, and talking) about their desire to beat Canada, designing their roster to do just that. Unfortunately for them, that plan failed miserably. Team USA left a lot of skill at home and elected to go with "grit" and "toughness" in an effort to physically intimidate the Canadians, and beat them up on both the ice and the scoreboard. How did that work out for them? Well, not so good.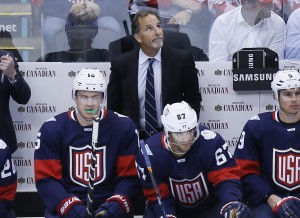 Canada's Skill Too Much to Overcome
Make no mistake, the US team wasn't filled with fourth line thugs by any means. They still had talented guys like Patrick Kane, Max Pacioretty, Joe Pavelski and Zach Parise. What they didn't have was a mobile enough defence that could effectively move the puck up to those guys. As a result, their transition game was lacking, especially so in their  game against Team Europe. Canada's own "fourth liner" Matt Duchene notched two goals, part of their three-goal outburst in the first period.
Team USA got off to a great start, scoring the game's first goal less than five minutes in. But Carey Price held down the fort after that, and the offence did the rest. Ultimately, the speed and depth of the Canadians, their ability to roll four lines all with legitimate threats, proved too much for the Americans. Canada let their foot off the gas and allowed a sloppy third-period goal to cut the score to 4-2, but it really wasn't that close of a contest. It wasn't as nasty as the first meeting between these two in pre-tournament action, a testament to Canada making some adjustments.
"If it comes to 100% skill, they win. 100% grit, we win." —T.J. Oshie, on all you need to know about USA vs. Canada #WCH2016

— luke fox (@lukefoxjukebox) September 20, 2016
Oshie's assessment sounded more like what they thought might happen rather than reality. Canada has plenty of grit. They played a chippy game. They also scored more, possessed the puck more, and defended better. They had a method and system set in place, not just to take down the US, but to beat all their opponents. And perhaps that was the biggest difference. All of the Americans' quotes weren't lost on anyone in that Canadian dressing room. They, just like the rest of us, were tiring of the "grit" talk.
Matt Duchene said that the Americans talking so much about "grit" fired them up.

— Shawn McKenzie (@ShawnMcKenzieSN) September 21, 2016
Talk about a plan backfiring. The Americans to a man took responsibility for not performing, though the sad thing for hockey fans in the US is that after the game John Tortorella said that he still wouldn't change the roster. I have a feeling he won't be the head coach of any international team anytime soon, so I guess we don't have to worry.
Canada Still Has Work to Do
Beating the US is always a good feeling. They are Canada's biggest rival after all. But this one game was a mere stepping stone on Canada's path to World Cup glory, and there's no time to rest on their laurels. The Canadians didn't start the game well and didn't finish particularly well. They were also dreadful on faceoffs, surprising considering the high-caliber centermen they have in spades. Although they clinched their spot in the semi-finals, they could still finish second in the group if they lose to the surging Europeans tonight.
"We weren't as good as we were capable of being" – Mike Babcock

— Аrpon Basu (@ArponBasu) September 21, 2016
There is slight concern over that game because it appears as though Mike Babcock is treating it as meaningless, even though it isn't. Corey Crawford is getting the start in goal, while Jake Muzzin and Claude are expected to draw into the lineup. They're still a talented group, but it certainly feels as though Canada is taking their foot off the gas big time. I understand wanting to give Carey Price a rest, and a couple of guys were banged up last night, but a loss will likely give them Sweden in the next round, a group that has looked dominant in the round robin.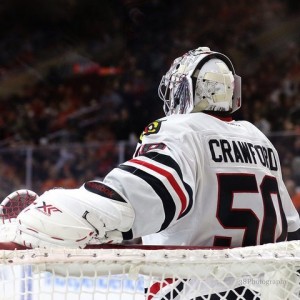 Crawford performed very well in his limited action at the World Cup, and he is more than capable of winning the game. It's more the fact that they have clearly looked beyond this contest, and a loss puts them in a much more difficult spot moving forward. Obviously, a few minor tweaks shouldn't send Canada into a tailspin, but I would argue that Team Europe is one of the best squads in this tournament, and they could very easily come in and take the game.
I hope that Canada has something left in the tank for tonight's game, because winning the group is a must to me, especially that it's 100% in their control to do so. Canada didn't play a perfect game by any means, and Babcock will no doubt address that in the coming days. Let's hope they're comfortably in first place by then. As for Team USA, who are firmly in the rearview mirror, this tweet from Phil Kessel sums up their situation perfectly.
Just sitting around the house tonight w my dog. Felt like I should be doing something important, but couldn't put my finger on it.

— Phil Kessel (@PKessel81) September 21, 2016
He's a Stanley Cup champion.
---
The Hockey Writers coverage of the World Cup of Hockey 2016 is being brought to you by PrimeSport, the official Fan Travel & Hospitality Package Partner of the World Cup of Hockey 2016.