Signed to a two-year deal worth $5 million on Tuesday, Ryan Strome is back with the New York Islanders. But what can they expect from the former first-round pick?
#Isles sign Ryan Strome to a two-year, $5 million deal.

— Arthur Staple (@StapeNewsday) September 20, 2016
Will they get the dynamic playmaker they had in 2014-15, or the inconsistent, sometimes dawdling winger that was clenching his stick too tight in 2015-16?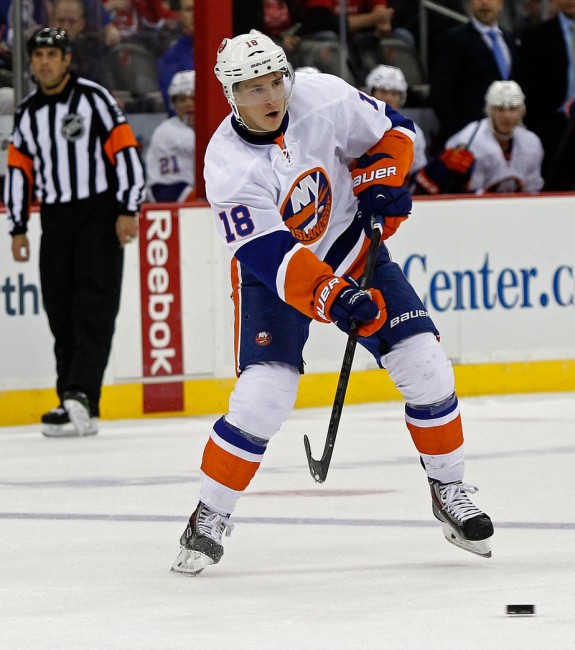 Regardless of which Strome the Isles get this season, he'll most likely be the team's second line center, which makes things a lot easier for two players in particular: Anders Lee and Brock Nelson. While many believe Nelson should center the second or third line, his shortcomings in the face-off circle and awesome wrist shot make him a much better winger. Strome's return takes a lot of the pressure off of Nelson to be a dynamic presence and instead allows him to spend more time in the offensive zone.
As far as Lee goes, Strome is the guy that can get him the puck and make sure he returns to 20-goal form. With PA Parenteau and Andrew Ladd most likely on the first line, Lee, who spent significant time with John Tavares over the past two seasons, will not be on a line with Strome and will be asked to perform at a similar level.
The question remains if Strome can be the center the team needs following the loss of Frans Nielsen via free agency this summer. However, while he won't replace Nielsen, Strome, along with Casey Cizikas, will be asked to step up their play at both ends of the ice. If Strome returns to the form he had during his 50-point rookie season, the Isles won't miss "The Great Dane" nearly as much as their skeptics think. Able to play the point on the power play and kill penalties, Strome has a comparable skill set to Nielsen and may even be a better offensive presence.
Last Season
Coming off a 50-point season in 2014-15, Strome's 28-point 2015-16 was a disaster. Although he often shared the ice with Tavares, Strome was unable to reproduce the type of offense that made him a pleasant surprise in his first full season with the team. His -9 rating was a cause for concern and easily one of the reasons why he was scratched from three postseason games last season.
Expectations
If Strome is the Islanders' number two center and he plays 18 minutes a night in all game situations, he will set career highs in all offensive categories. Although he won't hit the 60-point mark, expect Strome to score 20 goals and add 35 assists. With something to prove and with likely line mates, Nelson and Josh Bailey, in similar situations, this trio will have to prove that they are all grown up.