The 2015-16 season was one long roller-coaster ride for the Colorado Avalanche. Their abysmal start to the season, coupled with their embarrassing final stretch, was the difference between the playoffs and the golf course.
They've missed the playoffs the past two years and that's unacceptable for a team with this much talent. Semyon Varlamov was hung out to dry about every other game, as Colorado allowed more shots towards the net than almost any other team.
The poor defensive play, coupled with their top guns not playing to the best of their abilities on a consistent basis, created another disastrous season for the Burgundy and Blue. That isn't a good recipe for success, and was a big sign that things needed changing.
Avalanche 2015-16 Record:  39-39-4 (6th in the Central Division)
Offseason Moves
The Avalanche got down to business this off-season, tying down Nathan MacKinnon and Tyson Barrie to fresh long-term contracts. This means Colorado's core is now intact and signed for the foreseeable future.
They had a great draft, grabbing a number of potential future Avalanche players, including Tyson Jost, who was selected 10th overall. A lot of people are excited about Jost, with many comparing him to a young Jonathan Toews. That certainly would be nice, but let's not get ahead of ourselves just yet.
Colorado also got rid of a lot of dead-weight, particularly on the back-end, while also bulking up their AHL squad and overall organizational depth with a bunch of low-key signings. Here's how the Avalanche look heading into the 2016-17 NHL season.
http://gty.im/505036180
Key Roster Additions:
Joe Colborne
Patrick Wiercioch
Fedor Tyutin
Rocco Grimaldi
Mikko Rantanen*
JT Compher*
Nikita Zadorov*
Chris Bigras*
*These are basically to be considered new additions, as they are expected to fight for a full-time spot on the NHL squad.
Key Roster Losses:
Mikkel Boedker
Shawn Matthias
Nick Holden
Jack Skille
Nate Guenin
Brad Stuart
Zach Redmond
Key Organization Changes:
Eric Veilleux becomes the new Head Coach of the San Antonio Rampage, Colorado's AHL affiliate, replacing Dean Chynoweth.
Chris MacFarland hired to become Assistant General Manager with the Avalanche, a position he was already in with the Columbus Blue Jackets.
Nolan Pratt hired as an Assistant Coach. Pratt who played for the Avalanche winning the Stanley Cup in 2001, was the defensive coach for the Lake Erie Monsters under Jared Bednar.
Patrick Roy resigns out of the blue as Head Coach and VP of Hockey Operations.
Joe Sakic now runs the show as Executive Vice President/General Manager/Alternate Governor.
Jared Bednar, former head coach of the Monsters(Calder Cup Champions), hired as the new Avalanche bench boss.
Forwards
Projected Lines:
Landeskog – Duchene – Grigorenko
Colborne – MacKinnon – Rantanen
Comeau – Soderberg – Iginla
McLeod/Martinsen – Mitchell/Compher – Grimaldi/Compher
Nathan MacKinnon
Nathan MacKinnon must be chomping at the bit to get going again. With all the talk of Connor McDavid, Auston Matthews, Jack Eichel, and Patrick Laine, MacKinnon seems to have been forgotten by some. He's now proving that shouldn't have ever been the case, as he is arguably out playing these guys in the World Cup for Team North America right now.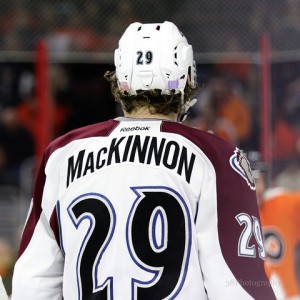 MacKinnon can play either center or right-wing, so it will be interesting to see where new coach Bednar puts him. Nasty Nate seems to have put on more muscle again this off-season or he's just naturally growing into his frame, either way, its evident on the ice. He has a physical edge to go along with his incredible speed and skill.
Matt Duchene
Matt Duchene just needs to continue what he's been doing, and that's to keep improving his overall game. Last season he became of the NHL's best face-off men to go along with scoring thirty goals, a new record for him.
Like MacKinnon, Duchene has shown he can also play either wing as well, but with his face-off game and improved defensive zone coverage, he should definitely be centering one of the top two lines(along with MacK). Duchene is a bit notorious for his slow starts so that right there will be something he can work on. If Dutchy can get off to a quick start, he could be in for his best NHL season yet.
Gabe Landeskog
The Captain of the Avalanche, Gabe Landeskog has arguably been Colorado's most consistent player since being drafted. He has put up three successive seasons with at least 50 points, and it seems the young gun is finally feeling much more comfortable in his captaincy role.
Landeskog was compared to Jarome Iginla on his draft day, and now he's training, practicing, and playing with him on a daily basis in Denver. Landeskog should be soaking everything in from the former Calgary Flames captain, as Iginla does not have many years left in the NHL.
It will be interesting to see what effect the World Cup of Hockey is going to have on these three forwards. All of them are playing extremely well, which the Avalanche hope can only be beneficial for them to start the new season.
Defense
Projected Pairings:
Beauchemin – Johnson
Zadorov – Barrie
Gelinas – Bigras
Tyutin – Wiercioch
Erik Johnson
Johnson has really come into his own. After being drafted number 1 overall by the St.Louis Blues in 2006, he was then traded to Colorado in a blockbuster that sent Kevin Shattenkirk the other way. It has turned into a solid deal for both teams, perhaps with the Avalanche having the slight edge.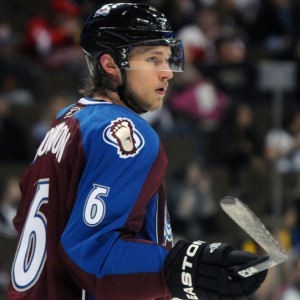 "The Condor" has solidified himself as a top NHL defenseman, and is backing that up at the moment with his impressive play with team USA in the World Cup. The biggest issue has been finding a partner for Johnson to skate with on the left side. Until that someone is discovered in practice or via trade, its assumed Francois Beauchemin will continue playing in that spot.
Johnson is becoming more confident each year it seems, and there's not many greater things than seeing the big boy charge down the ice like a train, twisting and turning his way past the other team. More "Condor Flights" will certainly be welcome this year.
Tyson Barrie
Everyone thought Tyson Barrie would be an Edmonton Oiler, Bob McKenzie was even sure of it. It was not to be. Barrie came to terms with the Avalanche on a four-year deal, locking down one of the most talented offensive defenseman in the game.
Barrie posted 49 points last season, and could even see that go higher if things go well. His defensive game is utterly underrated and he provides that second right-handed shot from the back-end for the Avalanche.
Finding a partner for Barrie is also a priority, but with all the new additions on defense that should be sorted out during camp, finally. Every team needs defenseman that can get the puck up quickly to the forwards, skilled enough to skate out of trouble, and quarterback the power play, Barrie is that player.
Nikita Zadorov
The big Russian acquired in the Ryan O'Reilly deal is expected to make a big step in his development this year in Colorado. If not, well he'll be getting that ice-time in San Antonio. Zadorov has the unique combination of size and skill, able to sauce pretty passes, absolutely hammer a slap-shot, and is always looking to make a big hit.
In order to make the Avalanche squad for opening night, Zadorov will have to outplay a few others, while rounding out his own game. Sometimes he can get a bit too aggressive and take the unnecessary penalty. Once all of his tools are put together, this kid will be anchoring the Colorado blue line for years to come.
He's got his head on right and is undoubtedly the most exciting defensive prospect the Avs have had in ages, bottom line. Get him in the lineup!
Goaltending
http://gty.im/494112386
Semyon Varlamov
Calvin Pickard
Colorado's all set when it comes to goaltending. With the tandem of Varlamov and Calvin Pickard, they don't have anything to worry about, until perhaps the Las Vegas Expansion Draft. Varlamov should see an improvement in his numbers with a revamped system and defense in front of him.
Pickard will continue his development playing the backup role, or maybe even splitting the net with Varlamov. Pickard also has the potential to completely steal the net. They are both great goalies, and a good problem to have for Colorado.
Breakout Player
Mikko Rantanen
Rantanen, Colorado's 10th overall selection in the 2015 NHL Draft, will be given every opportunity to make the team. Rantanen played his first professional hockey season in North America while skating for the Avs' AHL affiliate, the San Antonio Rampage.
Not only did the young Finn do well on the smaller ice, he completely took over games at times on a mediocre team, earning himself the AHL co-rookie of the year award. This kid is ready for the NHL now, and could even challenge for the Calder Trophy, he's that talented.
Rantanen was recently injured with an ankle sprain during Colorado's Rookie Showcase but is only expected to miss around 2-4 weeks. Line him up next to Duchene or MacKinnon and sit back and watch the magic. "Hot Wheels" is here to stay.
Want a rewind of Mikko Rantanen's Hat Trick from this season? Watch now: pic.twitter.com/ANhqfSUkhw

— San Antonio Rampage (@sarampage) May 16, 2016
Player with Most to Prove
Mikhail Grigorenko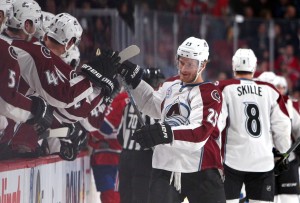 Grigorenko, who was also acquired in the O'Reilly trade, has buckets of talent, he just needs more time in the NHL and he could very well become a solid top six forward. In fact, Grigorenko needs to become that player everyone was so excited about after being drafted 12th overall by the Buffalo Sabres.
There's no doubt his development was stunted in Buffalo, but on the positive side, he's still very young(22) and took an immediate step forward during his first year with the Avalanche. His skill level is not in doubt and his defensive play has improved quite a bit in just one season. If he continues down this positive path, he will cement himself amongst the Avalanche core.
Grigorenko just signed a one-year "prove it deal", which means he'll be trying his best to show he is, in fact, improving and becoming the player he knows he can be to earn a new long-term contract.
First Players in the 'Call-Up' Line
JT Compher 
The first player in the call-up line would be JT Compher(assuming he doesn't make the team outright). Compher, yes another player acquired in the O'Reilly deal, was captain at the University of Michigan and has also represented the USA in international competition.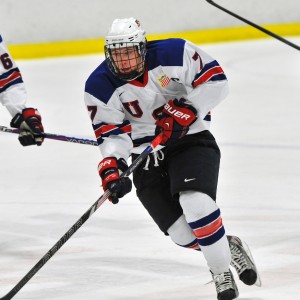 He's right-handed, something the Avalanche desperately need up front and has impressed so far in the Avalanche Rookie Showcase. Compher notched 63 points in 38 games for the Wolverines in his last season.
AJ Greer
Close behind Compher in the call-up line would be AJ Greer(YET ANOTHER player stemming from the O'Reilly trade), who recently finished playing in the Memorial Cup Final with the Rouyn-Noranda Huskies. Greer is a big power forward who plays left-wing very capable of getting under the opponents skin. He will be skating his butt off to show the new coaches he's a player to keep an eye on for sure.
Duncan Siemens
Siemens, a left-handed defenseman, may be on his last leg in Colorado, and if so that will surely provide some extra fire in his belly coming into training camp. Siemens has never really gotten a good look at the NHL level and perhaps that's due to him not being ready yet, or just not good enough.
A former first round pick(11th overall), Siemens came into the organization with high expectations. He was a boss during junior, playing for the Saskatoon Blades in the WHL on the top pairing with ex-Avalanche prospect Stefan Elliot. Since then his stock has fallen drastically, but with a new coach and a new season on the horizon, Siemens should realize it's now or never.
Spencer Martin
While the Avalanche are not worried whatsoever with their goaltending, should anything happen to Varlamov or Pickard, prospect Spencer Martin is available to step up. Martin has also looked very sharp during rookie camp and the Avalanche Rookie Showcase, winning both games he played in, allowing only two goals against.
Martin is looking the likely starter for the Rampage heading into the 2016-17 season, but will get a call-up should one of the top goalers pick up a knock.
Season Outlook
Colorado is still in one of the very best divisions in hockey, though they also have every reason to be optimistic about their playoff chances. They've gotten rid of unwanted parts and replaced them with younger options with more potential.
The Avalanche have also started concentrating more on analytics, which can only benefit the team as yet another tool to use for evaluating the players and team itself. You cannot ignore these "fancy-stats" and coach Bednar is of the same opinion. Every player should be fired up to play for the new coach, using their disappointment over the past two seasons to fuel their desire to compete and succeed as a team once again.
Colorado Avalanche 2016-17 Record Prediction:  48-30-4 (3rd or 4th in the Central Division)
Agree or disagree with anything? I'm sure you do, so comment below, or take to the THW Twitter feed or Facebook page to give your opinions! Cheers!
.