Connor McDavid is long gone. Dylan Strome might not return. Is this the season that the Erie Otters finally come back down to Earth?
The Otters enter the 2016-17 season seeking a record fourth 50-win season in a row. Their work is cut out for them if they hope to meet this goal.
Given the perceived strength in the OHL's Western Conference, most experts have the Otters finishing anywhere from 3rd-7th out of 10 teams. London and Windsor seem to occupy first and second on most preseason ballots. However the conversation gets interesting when you try to figure the rest of the conference out.
The Erie Otters have legitimate questions facing them. If they can achieve positive results from these questions, they have a good outlook for the season. Otherwise, they might just squeak in the playoffs.
We will first ask the hard questions about the team, and then introduce you to the new faces of the team. The Otters expect these new faces to make significant contributions. Let's dive into some burning Otters questions.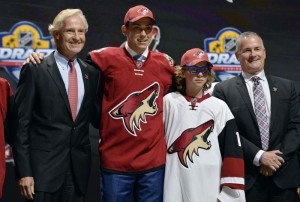 Where Will Strome End Up?
If Strome had his way, he's on the Arizona Coyotes to start the season. However, the reality is that this is not a guarantee by any stretch. There is a legitimate chance, call it 50/50, that the Coyotes return Strome to Erie.
His performance at training camp will decide his immediate future.
The talent has never been questioned with Strome. His type of game projects well to the NHL. It's his skating that has held him back from making the next level.
His skating has improved from season-to-season. There's still work left to do, but it's to a point where he will make a serious case to stay in the desert.
If I had to predict how this goes, I do expect him to at least start in Arizona under the nine-game window. His combined showing in camp and in those games will decide which team he plays for. If it's the Otters, a very interesting dynamic comes to pass.
The Otters become a top-three team with Strome back. But it will be interesting to see how he'd handle that. His heart is set on making the NHL this season. If he falls short of that goal, his attitude becomes worth monitoring. He's a great kid, but would he get bored back in juniors?
Stay tuned here. There's no clear-cut answer at this time.
The Leadership Core
Strome is the current captain of the Otters. If he stays with the Coyotes, this opens up a leadership opportunity. Who could potentially captain the Otters if Strome does not return?
According to Otters Beat Writer Victor Fernandes, he thinks Kyle Pettit would assume that role. The more we think about that, the more this makes sense. Pettit enters his overage season after spending his entire career with the Otters. The early question with Pettit is his health.
He had to leave Erie's last preseason game due to an upper-body injury. He's been skating in practice, but his availability isn't immediately known. Coach Knoblauch said they'd know more after a doctor's appointment. If he can't play, this is a huge loss for the Otters given the youth down the middle.
Many core members of the Otters, including Alex DeBrincat, Taylor Raddysh, Darren Raddysh and Kyle Maksimovich are at NHL Training Camps. Upon their return, they'll be leaned on to produce for the Otters.
Darren Raddysh wore an "A" last season and we expect that to continue this season. We also expect either DeBrincat or Taylor Raddysh to get letters as well. The Otters likely will go without a captain until Strome's future is known.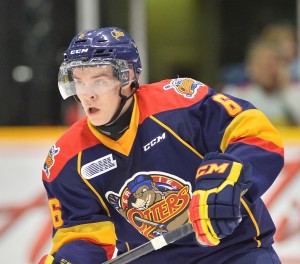 Defense & Goaltending Questions
This is where the Otters have the most questions coming in. Both Travis Dermott and Erik Cernak aren't expected back, although the team won't know about Cernak until after Kings camp. Cernak is eligible to play for Erie, for AHL Ontario and the Los Angeles Kings. I think he starts in Ontario, but it's wait-and-see. Dermott most likely stays with the Toronto Marlies.
Because Darren Raddysh is at Sharks camp and Jordan Sambrook is at Red Wings camp, the opening night defense is very young. Here are your likely six defensemen we'll see Thursday night in Windsor.
Mitchell Byrne
Ryan Martin
Taylor Egan
Aidan Timmermans
Josh Wainman
TJ Fergus
The Otters assigned third-round pick Jack Duff to his junior B team, but could dress anyway given who's at NHL camp. If the Otters want a good start, Byrne, Egan and Fergus must carry the load.
In the crease, the Otters addressed a major need in acquiring Troy Timpano from Sudbury. He will share the crease with Jake Lawr to start. According to Coach Knoblauch, both goalies will see playing time.
Timpano's numbers weren't great in Sudbury, but that's because he didn't have a good team in front of him. It'll be interesting to see if he can do well with a better team. However, it's worth noting that Lawr had a nice preseason. He's noticeably more athletic this season. He'll try to show the team he deserves more playing time.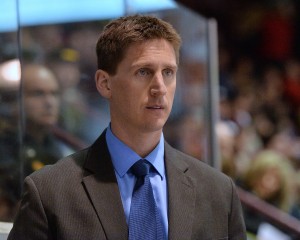 Meet The New Faces
There's two names you'll want to keep in mind as the season begins. They are Allan McShane and Gera Poddubnyi. Each enter their first season with the Otters with lots of promise.
McShane was the Otters first-round pick in this past OHL Draft. He might not play many minutes to start, but don't be surprised if you see him more as the season goes on. He'll start in the bottom-six with limited minutes. If he proves he can handle that, you might see him play important minutes at center. He has good offensive prowess and can win faceoffs. He's an important part of the Otters' future.
Hat trick for Poddubnyi. Otters up 6-3 and the clock's ticking down…

— Hamilton Bulldogs (@BulldogsOHL) September 11, 2016
Poddubnyi was the Otters first-round pick in the import draft. In person, it's easy to see his skills on display. He's a world-class player in the eyes of GM Dave Brown. Poddubnyi has excellent vision and anticipation. His passing skills are off the charts. He setup Ivan Lodnia for the easiest goal of his life in a preseason game. He drew two defenders to him, and passed across to a wide-open Lodnia who had an empty net to shoot into.
Poddubnyi can also score, as demonstrated by his preseason hat trick and 5 point game against Hamilton. It'll be curious to see how the Otters choose to use him at the start of the season. We think he'll most likely play center. As he gets some games under his belt, it wouldn't surprise us to see him in the top-six. He's a very intriguing player and a wildcard for the Otters.
Two other names to watch are Cade Robinson and Carson Edwardson. Each played well in camp and have earned their chance to start with the Otters. Robinson can shoot the puck. He scored a couple of nice goals in the preseason. Expect both to find a place in the bottom-six on the wing.
Under The Radar Players
I have two players that I think aren't getting enough attention for Erie. They are Shaun Bily and Brett Neumann.
Shaun Bily back in the lineup for the Otters. Last played 10/31 vs. Sarnia. Missed a total of 61 regular season games with a shoulder injury

— Aaron Cooney (@Aaron_Cooney) April 9, 2016
Bily is back from a shoulder injury that kept him out for most of last season. He's healthy now and is looking to prove what kind of player he is. The Otters played him at center in the preseason and was noticeable. He notched a 5-point game himself, tallying a goal and four assists against Hamilton. Especially if Strome doesn't return, Bily could find himself playing center on the top-six. It's a big year for him. Coach Knoblauch expects him to do big things this season.
Neumann enters his second season looking to build off his rookie year. The speedster showed some brilliant flashes. However at times, he played too fast for his own good. If he can take the next step in his development, there's intriguing potential here given his skating ability. He can play center or wing. He could end up being one of the most important Otters this season.
Prediction
I have the Otters finishing fourth in the Western Conference. I think Strome makes the Coyotes. I also think the youngsters led by Lodnia and Poddubnyi plus the other returning players make them a good team, but not to the caliber of 50 wins. I have them winning 42 games this season.
The Western Conference is loaded. London, Windsor, Sarnia, Sault St. Marie, Owen Sound all can make noise. Regardless of how it plays out, it will be fun to watch.
The Otters open the season in Windsor and in London. Then they start the home schedule October 1st against Kingston. Follow me all season long for all things Erie Otters.