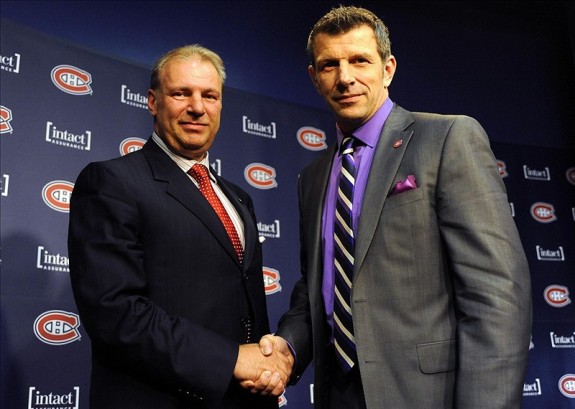 Sell, sell!! No wait… Buy! Buy! For the love of God… BUY!!!
The faces, the jerseys, the sites and the sounds may change season after season, yet it is true that all Stanley Cup winning teams share some common traits from year to year. How about clutch, opportunistic scoring and strong goaltending? Yep. Don't forget about that long and wiry playoff beard. No wonder Dustin Penner was so good in last year's playoffs. The man's beard is solid.
But all kidding aside, perhaps one of the most important of these shared traits, or better… tendencies… is the one we often lose track of: every Stanley Cup champion is never the same team it was at the beginning of the season.

There are always key subtractions/additions that occur with a winning team's roster whether it comes through injuries or via trades. Recent examples would be Chris Kelly for the Bruins in 2011; or L.A.'s Jeff Carter who was clutch for the Kings in last year's playoff run.
And who can forget Nick Boynton for the Blackhawks!? Okay maybe he wasn't a key addition… but actually the Chicago Blackhawks are the exception as that squad made pretty much all of their moves during the summer leading up to their 2009-2010 championship season.
Molson Centre Like the Madhouse on Madison?
Looking back it was quite the topsy-turvy summer that year for Chicago. And come to think of it, maybe the Blackhawks of 2009-10 are a good comparison to the Habs of 2012-13. Chicago's summer of '09 was just as wacky as Montreal's soap opera 2012 offseason.
First, Asst. GM Rick Dudley resigned. Aha! Now he's the Director of Player Personnel for the Canadiens – a post held previously by Marc Bergevin for the Blackhawks beginning summer 2009. Aha! Now he's the GM of the Canadiens. Hmmm…
It continues. GM Dale Tallon let sniper Martin Havlat walk, opting instead to sign Marian Hossa to a 12 year deal – obviously because he was such a good luck charm in the previous two Stanley Cup finals. Aha! It was kept hidden revealed announced that Hossa was rehabbing a shoulder injury which caused him to miss the first 22 games of the season.
Folks in Chicago didn't like that. I even didn't like that. Then Tallon was swiftly replaced by Stan Bowman as GM — supposedly because of a snafu in regards to giving qualifying offers to restricted free agents.
And if that weren't enough, Patrick "I'm just looking for a good time, man!" Kane was arrested along with his cousin in his hometown of Buffalo, NY for allegedly punching a cab driver over change for a ride!!!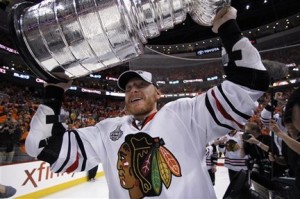 Weird and wacky stuff folks. Along with Hossa, the Blackhawks added veteran grinder John Madden and Tomas Kopecky and they were essentially done. When Hossa came back from injury, it was if the team made a midseason deal. Goaltender Antti Niemi replaced Cristobal Huet in between the pipes, and the rest they say is history.
Now how about the Canadiens? After an exhaustive search which almost saw ESPN's Pierre Maguire get the job, Marc Bergevin was lured away from Chicago to take the GM position in Montreal.
He promptly hired banished ostracized former Habs and Penguins Head Coach Michel Therrien. People, including myself, weren't that impressed. At least Bob Hartley didn't get the job — he's better off in Calgary dealing with Mike Cammalleri who hasn't openly called out the Flames for its "losing attitude." Yet.
The rumblings continued when Bergevin signed Brandon Prust, Francis Bouillon and Colby Armstrong. Bouillon? "Frankie the Bull" has a lot of heart and brings a veteran presence to Montreal's blueline. Plus he wants to be in Montreal. Armstrong? The guy hasn't had a healthy season in years, but at 1 million per, not much risk. And he did arguably play his best hockey under Therrien's guidance while in Pittsburgh.
Even with the non-splashy addition of Prust, Habs nation knew they were getting more grit – something the team has sorely missed for some time. And the way he's performed so far this season, Bergevin seems to have schooled Rangers GM Glenn Sather. But he's not the first and won't be the last…
Who Will Habs Add At the Trade Deadline?
Speaking of Calgary, how good would Jarome Iginla look in a Montreal jersey!? Okay okay, probably won't happen. Probably shouldn't happen. The Flames will want too much. But who knows?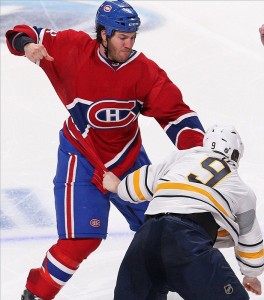 Bergevin has shown he's not afraid to pull the trigger on a trade and shake up his squad, which is somewhat of a departure from the more staid and conservative approach of his immediate predecessors in Pierre Gauthier, Bob Gainey and Andre Savard. The Erik Cole for Michael Ryder deal took even the most inside of Habs insiders by surprise. After all, Cole was the team leader in goals last year with 34. He was a leader on and off the ice. But he came to camp apparently not in the best of shape and totally went off the rails when he exclaimed he was contemplating retirement at season's end.
Who would make such a statement right before the start of the season on a team trying to put last season's soap opera behind them??? Someone who wanted out of Montreal, that's who. And of course Cole's slow start didn't help things and just put the wind in Bergevin's trade sails. So it was back to the future all over again, this time with Michael Ryder. Ryder now brings a veteran presence and comes with a Stanley Cup championship under his belt, even if it's with the Bruins (apparently that cup still counts, I checked).  Ryder knows what kind of player he is and what he's capable of doing. And so do the Canadiens. He's not expected to play a strong two-way game à la Plekanec. Add a 3rd round pick to the mix and there's no doubt Bergevin completely fleeced Dallas GM Joe Nieuwendyk.
The numbers speak for themselves. So far in 10 games played, Ryder has 3 goals and 7 assists while boosting the Canadiens' powerplay; Cole has 2 goals in the same amount of games and hasn't boosted anything except maybe his chances of learning more about the JFK assassination as Dallas commemorates the 50th anniversary of that event this coming November. Meanwhile Bergevin bought himself more cap room by unloading Cole's 4 million and gave himself the option to re-sign Ryder who is UFA at season's end.
The deal also shook up the team's core and sent players a message that this year there really was "no excuses." Underperforming Brian Gionta — rumoured to be next on the trading block — must have gotten the message because since the Ryder deal the Canadiens' diminutive captain has 7 goals in 11 games.
But will Bergevin make additional moves at the trade deadline? People tell me the Habs need a big defenceman who can clear the front of Carey Price's net. Well there is some truth to that because in the last two weeks the team auditioned Greg Pateryn and first-round pick Jarred Tinordi. Both rooks are stay-at-home blueliners but Tinordi at 6"6 definitely brings more of a physical element the Canadiens can use in their zone – especially against Boston.
And with Francis Bouillon signing a one year extension this week, the Canadiens seem set on their blue line and will be in an enviable situation if and when Marc Streit-like dman Raphael Diaz returns from a concussion. Tomas Kaberle seems to be a sure bet for a buyout at the end of the season unless Bergevin can somehow soft shoe another GM into taking on his contract.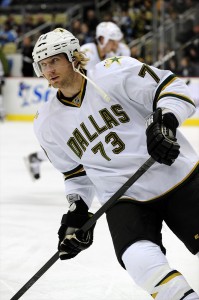 The Canadiens are apparently also interested in another 3rd or 4th line energy player, someone who can wear down opponents and help Prust in the sandpaper business. Forward Travis Moen is that kind of player, but has taken a lot of slack this year for not being physical enough. Moen is officially the new number one whipping boy in Habs nation with Cole now in Dallas and is the kind of player teams need in the playoffs. He could be a movable asset, as is Ryan White.
San Jose Sharks forward Ryan Clowe is apparently high on the Habs' list but he's currently day-to-day with a shoulder injury. The Canadiens are reportedly also interested in Blue Jackets forward Jared Boll, but RDS reports that he's unavailable. I know… why break up a winning squad, eh Columbus?
Then there's Dallas Stars captain Brendan Morrow, who may be ready for a change in scenery and happily take a lesser role on a team that has a chance to compete for the cup. Granted, Morrow's game hasn't been the same since all the injuries he's had over the past few years but he could be extremely effective if playing against a team's 3rd or 4th lines. And he's married to the daughter of former Habs player and coach Guy Carbonneau — so coming to Montreal wouldn't be such a stretch.
And since we know that the lines between Bergevin and Nieuwendyk are open, what about Derek Roy? He doesn't seem to be playing up to his potential in the lone star state and… he's French!!! That seems to be very popular in Montreal… And if the Habs want both a French-Canadian and a gritty cup winner who has already played for Michel Therrien, look no further than Max Talbot of the Philadelphia Flyers.
We'll soon find out how Bergevin decides to alter Montreal's roster moving past the trade deadline and towards the playoffs but it's quite possible they may stay put. When Prust returns and if concussed power forward Rene Bourque can come back and pick it up where he was when he left the lineup, it'll be as if the team made a couple of nice additions to their lineup. Whatever happens, one thing is for sure: Bergevin has proven he will do what he can to improve his team. I'm not making any bold predictions because I've been embarrassed burned by that in the past, but the Canadiens roster is already not the same it was at the beginning of the year. And that can only be a good thing this time around for Habs fans.
Oh you're on Twitter, too? Follow me: @HabsFanLeafLand