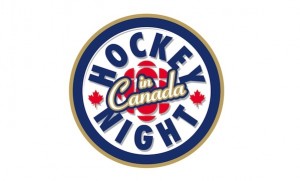 It's Saturday night and you can feel the excitement, from coast to coast the atmosphere is electric as everyone from the players in the locker room, to the group of friends at the pub, to the family gathered around their living room television waits with anticipation.  It's Saturday night, it's Hockey Night In Canada.  You know the names, Hewitt, Gallivan, Irvin, Wittman, Cole, Neale, MacLean, Cherry, Hughson, Simpson and the list goes on.  You know them like you know the names of your best friends.  The connection you have with these icons, even having never met them before, you feel as if you've known them since you were young.  It's thanks to the Saturday's you've spent watching and listening to them as they connect you to the game, the country and the passion you love so much that has created this special bond.  With all that being said it's easy to see that no nation is as connected to or defined by one sport as Canada is by hockey, and so no one sports show has ever been as important to so many as Hockey Night In Canada.
The Shows And The Talent:
The Canadian Broadcasting Corporation's Hockey Night In Canada is in its 60th season this year, making it the longest running sports show in the world.  From its' earliest beginnings on radio with Foster Hewitt bringing fans the broadcast starting in the second period to the modern day 7 hour double-header telecast every Saturday night, HNIC has a unique history and a special meaning to everyone.  From the time you were little and watching with your parents, to those weekend nights rushing home from your games to see your favourites play, to meeting up with your buddies at your local spot for the festivities, we all have the fond memories and stories of Canada's great game as told to us through the artistry of CBC's Hockey Night In Canada.  They are forever etched within us.  It's everything about those broadcasts that comes together on Saturday night that we love so much, from the outstanding commentary and the most popular seven minute segment in television history with Coach's Corner to the classic Hot Stove Lounge.  Simply put, it is tradition.  The show today is much more than simply the famous intro song(s), the games and the personalities.  It is also the outstanding camera work, the smooth production and the famous montages that seem to capture all the emotion, intensity and joy that show and define the game we love so perfectly.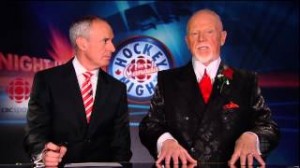 You can't talk about Hockey Night In Canada without talking about the talent that has graced it's airwaves throughout the years.  From the legendary calls of Foster Hewitt and historic moments told by his son Bill Hewitt, to fellow greats Danny Gallivan, Jim Robson and modern day broadcasting icon Bob Cole, HNIC has continually set the standard.  Foster Hewitt's historic "Hello Canada and hockey fans in the United States and Newfoundland," Bob Cole's unique voice and calls with "Ohhhh Baby," and the strong opinions and unmatched delivery of Don Cherry are a few of the many signatures that connect viewers of all ages to the program.  Master host and wordsmith Ron MacLean brings it all together every Saturday night as only he can.  His chemistry with Don and insights on the game make Coach's Corner the crown jewel of the HNIC broadcast.  Elliote Friedman, Glenn Healy, Kevin Weekes, P.J. Stock and Andi Petrillo join Ron and bring great energy and opinion from the studio.  Jim Hughson and Craig Simpson excel as the top pair with natural ease calling the game, while Mark Ley, Kelly Rudy and Scott Oake form an outstanding team doing both the late game and After Hours.  There have been and are way too many stars to name them all, and it seems a slight not to, but all of them have made and continue to make Hockey Night In Canada the pinnacle in hockey and sports broadcasting for over half a century.
Hockey Night In Canada's International Appeal:
For CBC it's been 60 years of brining great hockey and great moments to so many not only in Canada, but beyond.  As mentioned before, the early days of HNIC (Original Six days) on radio were a unique time with both the Toronto Maple Leafs and Montreal Canadiens games being broadcast into homes throughout the country.  Which game you heard depended on where you lived as the majority of Ontario and Western Canada heard the Leafs games while Quebec and Eastern Canada heard the Habs, which explains the major fan bases and ties both teams continue to have throughout the country today.  The broadcasts were not carried directly in the United States during these times but were often picked up by local affiliates in the Northern U.S. cities, especially those with NHL teams and especially when those teams were playing in Toronto or Montreal.  These broadcasts were a key to the strong popularity and growth of the game in the United States during that time and are the reason HNIC remains so popular in those U.S. regions, where many are fortunate enough to now have a CBC cable feed.  Today's powerful broadcast industry has made the game accessible to people everywhere, bringing hockey not only to all of Canada and the United States but to virtually every part of the World.  The NHL Network in the U.S. has been carrying Hockey Night In Canada in full or in part for the last couple of seasons and with NHL Center Ice and NHL Game Center fans throughout the U.S., Europe, and all over the globe have been treated to HNIC.
My Connection To Hockey Night In Canada:
My connection to Hockey Night In Canada is a special one as a Canadian living in the United States.  Growing up in Oshawa, Ontario, a suburb of Toronto for those who are not familiar with the great city, there were two givens when it came to me and hockey.  The first being that I would watch and play the game as much as possible and the second that I would be a die-hard Toronto Maple Leafs fan.  Like so many young kids, I grew up watching my favourite team and players on those Saturday nights with my family and friends and no matter what we had been doing all day, there was only one plan for those nights.  When I was 13 years old I found out my family and I would be moving to Michigan.  It was a major moment for me and certainly a bittersweet one.  On one hand it was an exciting opportunity for my parents and our entire family which I was quite happy about.  On the other hand, I was leaving behind my friends and the place I had known as home right before starting high school.  Once again the game of hockey played an important role for me as playing the game was a great way to meet new people upon first coming to the U.S. and allowed me to make new friends quickly.  It really helped make the move more comfortable.  However one of the most exciting moments was finding out that we got CBC, and of course Hockey Night In Canada.  Being about 40 minutes from the Detroit-Windsor border, we picked up the CBC Windsor feed and needless to say that was big news.  It was a chance to continue watching my favourite team and a little taste of home in a new place.  Naturally being in the Metro Detroit area, most of my new friends were big hockey fans and subsequently big fans of HNIC, which gave us something to bond over.  My passion for the game and the program has continued and from my days as a server working until 2 a.m. and coming home to watch the recorded telecast in its entirety, to nowadays usually watching in the traditional time slot, the Saturday night plans remain simple, watching Hockey Night In Canada with family and friends.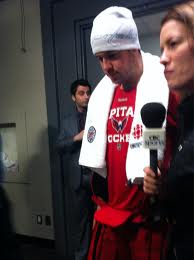 This year with the extra wait, HNIC, like all things hockey has never seemed more important or special.  It's the little things like that adrenaline rush when the opening montage and theme song come on, the goosebumps you get while taking in the atmosphere prior to the national anthems, it's all part of the best show in sports and we can't get enough.  There is no better theater than that of a hockey game and when done by the best it becomes what we see on Saturday night, and throughout the post-season.  We've seen many stories on Hockey Night In Canada-unlikely champions crowned, legacies fulfilled and boyhood dreams realized.  It's the game unfolding before our eyes and what makes it so powerful is to know what it means to the players.  To know it means so much to them to be on that stage performing and so much to us watching them there.  To know that they were once watching and dreaming of these moments as we were when little or are now.  Things like playing your first game, scoring your first goal or getting your first interview on HNIC and receiving the famed towel.  Why does one towel mean so much to a player- because it's the Hockey Night In Canada Towel.  It's something we've all dreamed of at some point, playing in that game, having that interview and saying hi to our family and friends watching around the country.  It's a moment we can all see together and know what that player is feeling.  It's a landmark moment of arrival.  Hockey Night In Canada continues to be a mainstay, connecting us all to the game as only the Canadian Icon can and we continue to watch and await the next big moment to be produced on the biggest stage.
They say a picture is worth a thousand words and this exquisite piece by Tim Thompson which aired during the opening Hockey Night In Canada of the season proves that true and then some.  It is an incredible and emotional look into the history of Hockey Night In Canada and as only those signature HNIC montages can do, brings us the meaning behind our love of the game and the program.
There is really only one thing left to say and that is to borrow from the great Foster Hewitt and say, "On behalf of Canada, and hockey fans in the United States and Newfoundland, THANK YOU!"