If there is one thing the Montreal Canadiens have done well in their history, it's developing superstar goalies. From Jacques Plante, to Ken Dryden, to Patrick Roy and now Carey Price, some of hockey's greatest goalies have worn a Habs sweater. Barring a massive trade or Price wanting to leave, he will likely finish his career in Montreal. However, who will be the next great Habs netminder that will continue the great goalie tradition? The answer could already be in the organization.
Battle for Starts: Lindgren, McNiven & Fucale
One crucial part of development for any young player is playing time. For a young goalie, getting them as many starts as possible is key for their development. Montreal has three young goalies playing in the minors for them in Charlie Lindgren, Michael McNiven and Zachary Fucale. Lindgren is the oldest of the trio at 24 and is in his second year of professional hockey. His numbers in the AHL (.896 SV% and 3.04 GAA) have taken a bit of a hit this season and his consistency hasn't quite been at the level of last year.
However, more encouragingly, he got eight NHL starts earlier this season when Price was out with an injury, and, aside from a couple of shaky outings, he was very solid in a Canadiens sweater. Lindgren has the talent right now to be the backup in Montreal, but considering his age and not having a ton of pro experience, he is better off with some more AHL time, with a likely inside track for the backup job next season.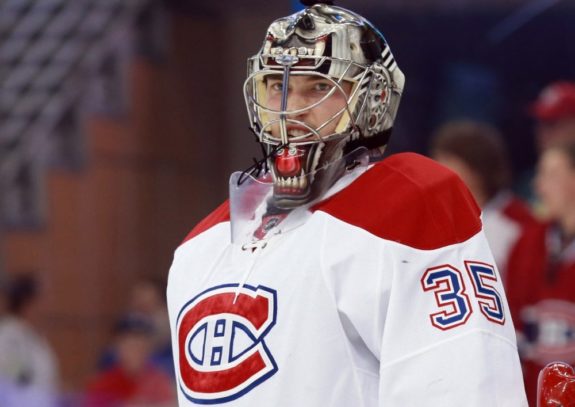 McNiven is the rookie of the trio, making his pro debut this season after a strong OHL career with Owen Sound. He has already leapfrogged Fucale on the depth chart and is platooning with Lindgren in the AHL. McNiven has struggled at times this season but has had some encouraging starts as well. For him, it is still very early in his career and his struggles aren't a concern. It's often a big leap for goalies coming out of junior and McNiven has been no exception.
Since turning pro, Fucale has been a bit disappointing. The 36th overall pick of the 2013 draft, Fucale's resume in junior hockey was impressive with a 2013 Memorial Cup with Halifax and a 2015 World Juniors gold medal. Consistency has eluded Fucale as he can look unbeatable one game but rather mediocre the next, and sometimes during the same game.
He was quickly outplayed by Lindgren last season and was relegated to the ECHL. He has been up and down between the two leagues this year with better numbers in the ECHL. Just 22, Fucale is young by goalie standards so he could still turn it around. However, being in his third year, he hasn't made a ton of progress and is being pushed further down the depth chart.
Rock Solid in College: Hawkey & Primeau
The Habs currently don't have any goalie prospects playing in the CHL or Europe but they have two interesting ones playing in the NCAA. Hayden Hawkey was a 2014 sixth-rounder by Montreal and is now in his third season playing for Providence College. While not a star at the college level, he has been solid and is steadily getting better. He's rocking a .915 SV% and a 2.17 GAA with 16 wins so far this season. Hawkey will likely play a fourth college season, where he can keep developing by playing a lot instead of turning pro and trying to fight for starts in the current goalie logjam.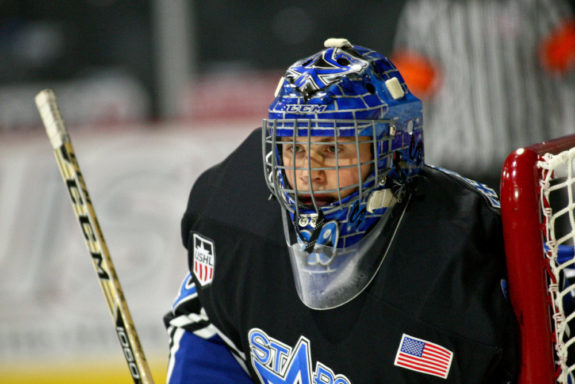 However, it is Montreal's other goalie prospect that is stealing the spotlight in college this season. Cayden Primeau has had an excellent rookie season at Northeastern University, putting up sparkling numbers (.922 SV% and 1.98 GAA). His numbers last season in his draft year were unimpressive but clearly Montreal saw something, as it was enough for them to trade for a seventh rounder to select Primeau, who has exceeded expectations so far. He took the starting spot for Northeastern in November and hasn't looked back. 
Preparing for the Future in Net
It's interesting to note where these goalies have come from. While Fucale was an early second-round pick, the others weren't really on the radar. Lindgren was an undrafted free agent out of college. McNiven was passed over in the 2015 draft before Montreal signed him to an entry-level contract after being invited to the team's development and training camps. Hawkey and Primeau were sixth and seventh round picks respectively. However, many current NHL goalies were not first or second round picks. Many came from the later rounds or weren't picked at all.
It's never a bad idea having quality depth at any position, no matter the need. Goalies typically take the longest to develop and having Price entrenched as the starter allows the younger goalies to develop on their own time and not be thrust into a role they aren't ready for. Perhaps one of the goalies mentioned will be the next star in net, or maybe Price's successor is a 10-year-old kid currently playing minor hockey. Either way, some goalie will pick up the torch and carry it forward.