The accolades may be going to Montreal Canadiens forward Alexander Radulov, but he's not the whole story. While, yes, Radulov's one-handed marker in Game 3, overtime winner in Game 2 and five points in three playoff games have everyone feeling the so-called Radulove these days, the Habs are far deeper than many are giving them credit for.
Display of Talent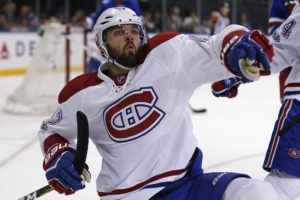 Granted, Radulov's individualistic display of talent on that go-ahead goal from Sunday night doesn't exactly make a good case to that effect. Consider the following, though: The Canadiens, up 2-1 entering action Tuesday night, have scored seven goals in the three games. Excluding Radulov's two markers, each has come from a different goal scorer. None have come care of the team's leading scorer the last (six) regular season(s), Max Pacioretty, who has just a solitary assist.
Many might take that as a sign that Pacioretty has disappeared come the playoffs, as is the narrative once upon a time popularized by Guy Lafleur. However, to the contrary, Pacioretty led the team in goals scored in the 11 playoff games the team played in 2014-15 and was one of the few Habs who showed in the team's final eliminating loss to the Tampa Bay Lightning.
In fact, over the last two playoffs, Pacioretty has totaled 10 goals in 28 games, which would translate to 29 over a full 82-game season. That's just one less than his career average. Accounting for the general decrease in scoring witnessed during the postseason, that's not exactly bad, unless you're a New York Rangers fan.
All it means is the Rangers currently have their hands full containing the talent spanning the Habs' top three lines, with Montreal's best sharp shooter having yet to hit his stride.
Hands Full, Coming up Empty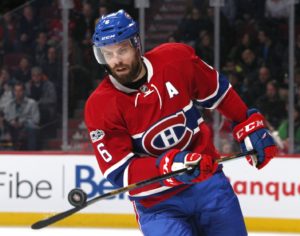 Obviously, there's no denying that Montreal has trouble scoring in general and the seven goals in three games won't exactly strike fear in the hearts of any opponents. However, when you're outshooting your opponents by 118-90, the narrative evolves from one of the Habs being incapable of generating offense to one of Rangers goalie Henrik Lundqvist standing on his head.
The 28-shot difference is about what you would expect from a team in a single game, while the 30 the Canadiens have let slip through the cracks per game doesn't take into consideration Game 2's overtime period. In essence, allowing for an average of nine per period, the Rangers have gotten just 27 on net per game.
The impressive performance by Montreal's back-end extends to the offensive zone, with Shea Weber and Jeff Petry accounting for two of the aforementioned non-Radulov goals, pointing to a complete team effort over the last two games at least.
The Habs started off the series with a just-all-right performance in Game 1, when they couldn't beat Lundqvist early on and seemed to lose hope as it wore on. In Game 2, they persevered to force overtime with a historic tying goal in the dying seconds, and, in Game 3, they dictated the tempo of play.
In short, they've been getting better as the series has worn on, which is a phenomenon that has probably best been personified by Radulov, but is by no means limited to him alone. If opponents want to consider the Habs a one-man show, so be it. That one man once being Carey Price just goes to show how far from one-dimensional this team is, though.