With every game tightening up during the playoffs, every team looks for an advantage to push them over the top.
Often, that advantage comes from strong special teams play. Any NHL club with poor special teams is going to have a hard time challenging for the Stanley Cup.
Last season's Stanley Cup Final is a great example of this. Both the San Jose Sharks and the Pittsburgh Penguins had their strengths on special teams. They both boasted a power play with over 23% efficiency in the playoffs, while the Penguins had a penalty kill over 85%.
The Penguins held the edge in special teams over the Sharks, which in part led to them winning the Stanley Cup.
There's a clear correlation between special teams and the playoffs. In order to make the postseason, you must have adequate special teams. Strong special teams can also carry a borderline playoff team into the postseason. Just ask the Toronto Maple Leafs.
With the playoffs underway, it's interesting to note where each team stands on special teams. For those that didn't make the postseason, there's usually adjustments that need to be made on either the power play or the penalty kill.
Ya know what playoffs usually come down to 2 things, goaltending and special teams. You can take your analytics, and have fun with em.

— Lee Powell@st (@leepowellST) April 18, 2017
Here are the Special Teams Power Rankings for the 2016-17 Regular Season.
*CST stands for Combined Special Teams.
#30 – Colorado Avalanche
PP: 12.6% (30th) PK: 76.6% (29th) CST: 89.2
It's no surprise that the league's worst team ends up at the bottom of the special teams' rankings. There's clearly a ton of work to be done in Colorado in order to change this team's fortunes.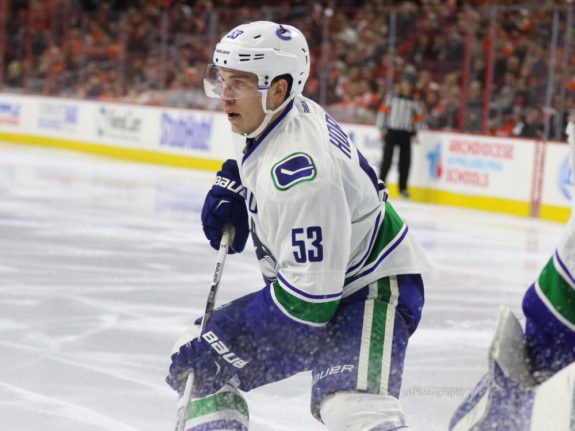 #29 – Vancouver Canucks
PP: 14.1% (29th) PK: 76.7% (28th) CST: 90.8
The Canucks power play has been the NHL's worst over the last two seasons, and one of the worst over the last five. What's troubling is that the Canucks usually strong penalty kill fell off a cliff this season. Bo Horvat is a young star for the Canucks, but he needs to improve on the penalty kill.
#Canucks' special teams are the real #TankMVP

— Omar A.R. (@omarcanuck) April 7, 2017
#28 – Dallas Stars
PP: 17.9% (20th) PK: 73.9 (30th) CST: 91.8
It's surprising that the Dallas Stars potent power play from 2015-16 fell all the way to 20th overall this season, but it's their porous penalty killing that needs major improvement. That mainly has to come from the goaltender. The Stars are in the middle of the pack for shots and scoring chances allowed while shorthanded. Kari Lehtonen has let them down, with the worst save percentage among goalies with more than 100 minutes shorthanded.
#27 – Arizona Coyotes
PP: 16.2% (26th) PK: 77.3% (27th) CST: 93.5
Just like the other three teams mentioned, the Arizona Coyotes' special teams performance is reflective of their spot in the standings. Oliver Ekman-Larsson and Radim Vrbata registered 19 and 15 power play points respectively. No other Coyote had more than eight.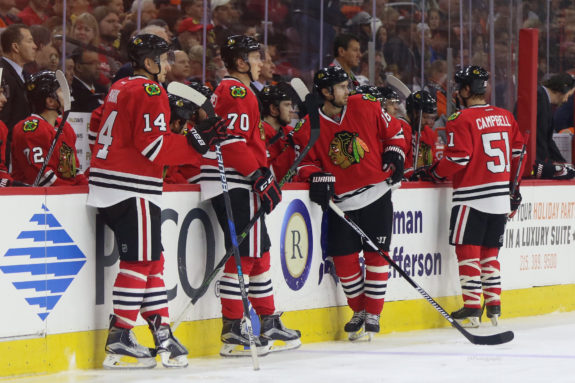 #26 – Chicago Blackhawks
PP: 18% (19th) PK: 77.7% (24th) CST:95.7
This might be the biggest surprise on this list. Although the Chicago Blackhawks finished first overall in the Western Conference, their combined special teams was bottom five in the league. The Blackhawks has the worst penalty kill (75%) through the first quarter of the season. It improved marginally but they never found their footing.
#25 – Winnipeg Jets
PP: 18.2% (18th) PK: 77.5 (26th) CST: 95.7
The Winnipeg Jets, a team on the cusp of the playoffs, could have been bolstered by a stronger special teams effort. They were one of five teams to give up more than 50 power play goals on the season. Blake Wheeler led the Jets with 21 points on the man advantage. Patrik Laine led the team with nine power play goals.
#24 – Detroit Red Wings
PP: 15.1% (27th) PK: 80.8% (16th) CST: 95.9
The Detroit Red Wings power play is devoid of a major talent, with Pavel Datsyuk taking off to Russia. They were the worst team in the league on the power play (11.5%) during the first half of the season. They managed to get better as the season went on, but their power play still finished 27th overall.
#RedWings Final Grades, Pt. 3: Coaching Staff & Special Teams https://t.co/c9mhHMf2wa #THW pic.twitter.com/jv8Nv016Ve

— The Hockey Writers (@TheHockeyWriter) April 17, 2017
#23 – Ottawa Senators
PP: 17% (22nd) PK: 79.7% (23rd) CST: 96.7
For all the credit Guy Boucher and Marc Crawford have taken this season, one area where they need to improve is on special teams. Their penalty killing was perhaps a bit unlucky. They tied two other teams for allowing the third-fewest scoring chances (131) while shorthanded, but still ended up with the 23rd ranked penalty kill.
#22 – New York Islanders
PP: 14.9% (28th) PK: 81.9% (11th) CST: 96.8
The power play was a sore spot for the New York Islanders all season long, as only the Canucks and Avalanche were worse on the man advantage. John Tavares led the team with 18 power play points, while Anders Lee led them with nine goals.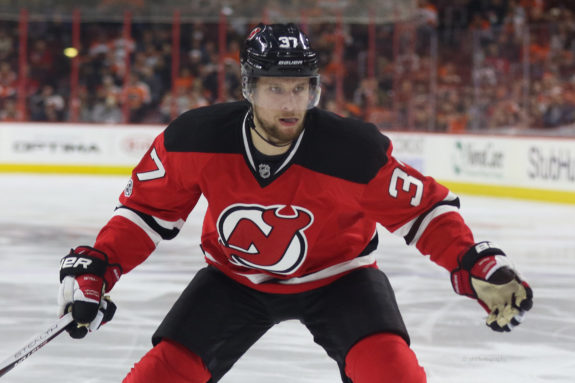 #21 – New Jersey Devils
PP: 17.5% (22nd) PK: 79.6% (24rd) CST: 97.1
It surprising that the league's third-lowest scoring team had a better power play than penalty kill, even if the difference was marginal. The New Jersey Devils thin defence and average shorthanded goaltending led the once-strong defensive team to the league's 24th ranked penalty kill.
#20 – San Jose Sharks
PP: 16.7% (25th) PK: 80.7% (18th) CST: 97.4
Last year's Western Conference champion saw their power play crater this season. Even with their star-stacked lineup, the Sharks power play was consistently mediocre throughout the whole year. With a few extra power play goals, the Sharks could have been first in the Pacific Division, instead of third.
Sharks special teams are basically horrific this year.

— Evilducks (@perniciousducks) April 7, 2017
#19 – Philadelphia Flyers
PP: 19.5% (14th) PK: 79.8% (20th) CST: 99.3
The Flyers power play was once again a strength for them this season, even with Shayne Gostisbehere enduring a sophomore slump. Claude Giroux was fourth overall in the league with 31 power play points. The guys he set up, Wayne Simmonds and Brayden Schenn, finished second (16) and tied for first (17) on the season respectively for power play goals.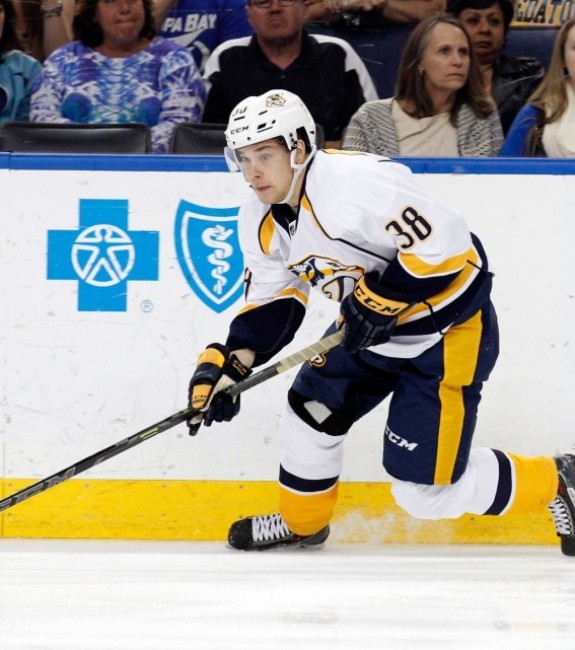 #18 – Nashville Predators
PP: 18.9% (16th) PK: 80.9% (15th) CST: 99.8
Congratulations Nashville, you're absolutely average on both the power play and the penalty kill.
It might be interesting to see how much better the Predators' power play would have been if both Roman Josi and PK Subban didn't miss time with injuries this season. Viktor Arvidsson did help the Predators tie the Boston Bruins for first overall with ten shorthanded goals on the season. Arvidsson scored five of those goals.
#17 – New York Rangers
PP: 20.2% (11th) PK: 79.8% (19th) CST: 100.0
The 100 benchmark for CST should be the goal for most teams. It means you're either excelling in one area, or you're at least adequate in both. For the New York Rangers, their power play excels. Alain Vigneault's teams have historically had strong power plays, and it remains a strength for the Rangers this season.
Rangers work on special teams with playoffs near https://t.co/x6M0FXxSDA via @Newsday

— Bill Frazier (@bfrazier65) April 8, 2017
#16 – Montreal Canadiens
PP: 19.6% (13th) PK: 81.1% (14th) CST: 100.7
The Montreal Canadiens haven't missed Subban, with Shea Weber leading the team in both power play goals and points.
With the addition of Claude Julien, the Canadiens have seen their power play dip to 14.1%. It hasn't been all negative, as their power play is best in the league since February 14th at 88.9%.
Habs had the 22nd best penalty kill in the NHL on the day Claude Julien took over. It's no. 1 in the NHL since then. 10/10 in the playoffs.

— Eric Engels (@EricEngels) April 18, 2017
#15 – Calgary Flames
PP: 20.2% (10th) PK: 81.6% (12th) CST: 101.8
The Calgary Flames power play was one of the deadliest in the league for a portion of the season. They started off ice-cold, with a league-worst 10.1% power play from the beginning of the season until the end of November. It found life with a red-hot month of December, where their power play was clicking at 34.7%. On the penalty kill, the Flames boast one of the best forward combinations in the league with Michael Frolik and Mikael Backlund.
#14 – Carolina Hurricanes
PP: 17.7% (21st) PK: 84.2% (6th) CST: 101.9
While their power play remains average, their penalty killing is a huge strength. They allow the least Corsi attempts per 60 minutes while shorthanded. Their eight shorthanded goals for versus 30 shorthanded goals against gives them the best shorthanded goals for percentage in the league. It helps that the Hurricanes are an extremely disciplined team, spending a league-low 332 minutes shorthanded. If it wasn't for their 19th ranked team save percentage while shorthanded, the Hurricanes could have had the best penalty kill in hockey.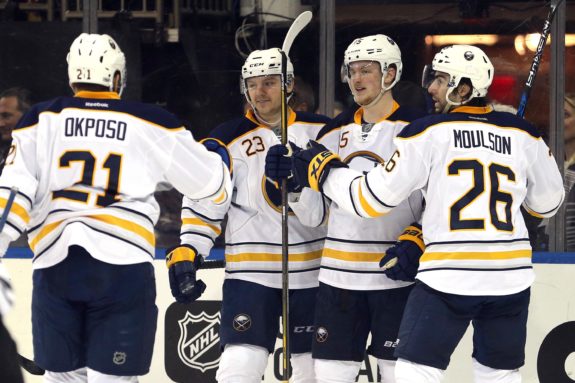 #13 – Buffalo Sabres
PP: 24.5% (1st) PK: 77.6% (25th) CST: 102.1
The Buffalo Sabres had the biggest discrepancy between their power play and penalty kill during the regular season. Their power play was decent in the beginning of the season, but Jack Eichel has put them over the top. Since his return at the end of November, the Sabers power play is clicking at 26.4%. Eichel, Kyle Okposo, Ryan O'Reilly and Rasmus Ristolainen are all in the top 30 for power play points. Eichel is third in the league for power play points per 60, trailing only Nicklas Backstrom and William Nylander.
Still, their penalty kill is an eyesore. It doesn't help that they have the worst Corsi against while shorthanded, leaving Robin Lehner out to dry on too many nights this season.
#12 – Florida Panthers
PP: 17% (24th) PK: 85.3% (2nd) CST: 102.3
The Florida Panthers challenge the Sabres for the largest gap between their penalty kill and power play. It's the opposite problem for the Panthers, who have a weak power play and a strong penalty kill. Missing Jonathan Huberdeau and Aleksander Barkov for a chunk of time definitely hurt their power play. Their penalty kill remained strong, in large part thanks to the forward duo of Reilly Smith and Vincent Trocheck.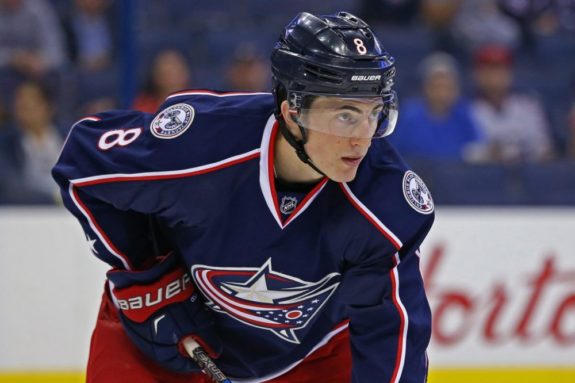 #11 – Columbus Blue Jackets
PP: 19.9% (12th) PK: 82.5% (9th) CST: 102.4
The Columbus Blue Jackets strong season was aided by commendable special teams play. Some of the young leaders on the Blue Jackets stepped up to lead the power play charge. Alex Wennberg led the team with 23 power play points, and rookie Zach Werenski posted 21 points. Sergei Bobrovsky and his fifth-best .893 shorthanded save percentage props up a penalty kill that allowed the 9th most shorthanded scoring chances against.
#10 – Pittsburgh Penguins
PP: 23.1% (3rd) PK: 79.8% (20th) CST: 102.9
The Penguins have perennially had one of the strongest power plays in the league, and this year is no different. They had the league's third-best power play this season, even without Kris Letang. The emergence of Justin Schultz has given them a dynamic replacement for the top unit. Phil Kessel was fifth in the league with 30 power play points this season.
#9 – Anaheim Ducks
PP: 18.7% (17th) PK: 84.7% (4th) CST: 103.4
One of the most mind-boggling special teams notes of the season is figuring out the Anaheim Ducks penalty kill. They gave up the most shorthanded scoring chances in the NHL this season, yet they finished with the league's fourth-best penalty kill. John Gibson was a star for them while shorthanded, posting a league-best .906 shorthanded save percentage.
https://twitter.com/DucksTalkShow/status/853463716645425153
#8 – Edmonton Oilers
PP: 22.9% (5th) PK: 80.7% (17th) CST: 103.6
The Edmonton Oilers resurgence this season was aided by strong special teams play. Connor McDavid and Leon Draisaitl tied for ninth-overall with each player posting 27 power play points. Milan Lucic wasn't far behind with 25 power play points. Oscar Klefbom also asserted himself as a power play quarterback. Their penalty kill dipped as the season went on. They were 23rd overall between January 1 and the end of the season.
Lucic has moved into a tie for 8th in NHL with 12 power play goals. He had a total of 7 over previous 4 seasons combined.

— Jack Michaels (@EdmontonJack) April 9, 2017
#7 – Los Angeles Kings
PP: 19.1% (15th) PK: 84.5% (5th) CST: 103.6
The Los Angeles Kings were one of only two teams in the top ten of the Special Teams Power Rankings to miss out on the Stanley Cup Playoffs. Just like their solid possession play at even-strength, the Kings do a great job of suppressing scoring chances while shorthanded. They allowed the third-fewest shorthanded scoring chances, and second-fewest goals. It will be interesting to see how their penalty killing functions next year without the departed Darryl Sutter.
#6 Minnesota Wild
PP: 21% (9th) PK: 82.9% (8th) CST: 103.9
Bruce Boudreau led the Minnesota Wild to a successful season, where they registered a franchise-record 106 points. He had his team play well on both the power play and the penalty kill. Mikael Granlund was a force on the power play in his breakout season, finishing tenth in the league with 6.9 power play points per 60.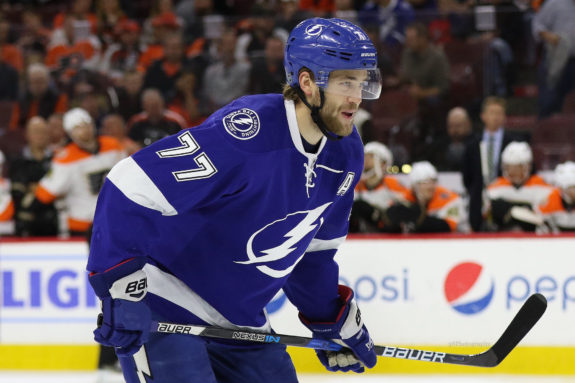 #5 – Tampa Bay Lightning
PP: 22.8% (6th) PK: 81.4% (13th) CST: 104.2
The Tampa Bay Lightning are the only other non-playoff team to crack the top ten. Their power play was hot all season, even without Steven Stamkos. Victor Hedman and Nikita Kucherov picked up the slack, posting the second and third most power play points in the league respectively. The Lightning scored 59 power play goals, which was only second to the 60 goals scored by the Penguins with the man advantage.
#4 – St. Louis Blues
PP: 21.3% (8th) PK: 84.8% (3rd) CST: 106.1
The St. Louis Blues still crack the top five, even after their top point-getter on the power play was traded. After the Blues traded Shattenkirk, their power play was still a respectable 20% down the stretch.
The Blues' penalty kill took off under Mike Yeo. It was 11th in the league up until Ken Hitchcock was fired. Yeo (and Jake Allen) helped the Blues obtain the league's best penalty kill between Hitchcock's firing and the end of the season.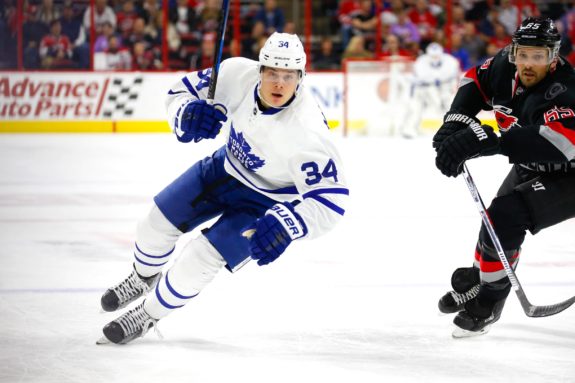 #3 – Toronto Maple Leafs
PP: 23.8% (2nd) PK: 82.5% (10th) CST: 106.3
The Leafs rookies were the story all season, and it was also a story on the power play. Rookie sensation William Nylander was their power play ace, leading the league with 8.48 points per 60 on the man advantage. Mitch Marner and Auston Matthews also cracked the top 20. Frederik Andersen posted a .897 save percentage on the penalty kill, second in the NHL.
The ACC just tried to pump up fans before a Leafs penalty kill by playing Thunderstruck

…against the Tampa Bay Lightning.

— Sammy Hudes (@SammyHudes) April 7, 2017
#2 – Washington Capitals
PP: 23.1% (4th) PK: 83.8% (7th) CST: 106.9
One interesting aspect of Washington's series with Toronto, is that both teams are strong on special teams. Perhaps it means these two teams are closer than originally thought.
Nicklas Backstrom was the league leader with 35 power play points this season. His right-hand man, Alex Ovechkin, also tied for the league-lead with 17 power play goals. The Capitals did a superb job of limiting shorthanded shot attempts. Their 82.9 shorthanded shot attempts against per 60 was only second to Carolina. Their penalty kill could have been ranked higher if Braden Holtby wasn't 26th among 29 goaltenders in terms of shorthanded save percentage.
How not to defend Alex Ovechkin on the power play pic.twitter.com/sooAKcp1TY

— Ryan Gilbert (@RGilbertSOP) April 16, 2017
#1 – Boston Bruins
PP: 21.7% (7th) PK: 85.7% (1st) CST: 107.4
The Boston Bruins are a great example of a borderline playoff team punching their ticket with strong special teams play. Their penalty kill was in the top three under both coaches Julien and Bruce Cassidy. Their power play did elevate to new heights after Cassidy was hired, clicking at 27.3% over their final 27 games. On the penalty kill, the Bruins allowed the second-fewest scoring chances per 60, and tied Nashville for the most power play goals. Its strong special teams play like this that propels a lower-seeded team in the playoffs.
All statistics courtesy of Puckalytics, Corsica, and nhl.com
KPU Journalism Graduate. Trevor has been writing for The Hockey Writers since October 2014. He has contributed articles related to the Ottawa Senators, Vancouver Canucks, and other issues/stories regarding the game of hockey. Trevor currently lives in White Rock, B.C.