In the NHL, sometimes a team has to go on a lengthy road trip due to another event occupying their home arena or city. With the National Football League taking over Glendale for two weeks, the Arizona Coyotes embark on an eight-game trip that goes into the beginning of February. The Coyotes had a similar stretch in their schedule when the NFL's championship game was last in Glendale in 2008. As the Coyotes get set to open up their long stretch away from Gila River Arena this weekend, we take a look at some other notable extended trips that teams have been sent on in recent years.
Annual Trips
One of the more well-known scheduling quirks in the NHL belongs to the Chicago Blackhawks. The circus comes to Chicago every November, sending the Blackhawks out on the road for a couple of weeks. Another November road stint involves the Edmonton Oilers as Rexall Place hosts the Canadian Finals Rodeo, a tradition that might also carry over into Edmonton's new home when the Oilers move downtown. Over on the East Coast, the Philadelphia Flyers face an annual voyage of their own around the holidays thanks to Disney On Ice. In addition to these annual occurrences, the San Jose Sharks used to also have a road trip every season due to the SAP Center hosting a tennis tournament every February. However, the tennis tournament ceased operations in 2013.
The World Stage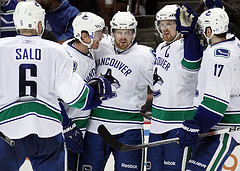 There have also been special instances where teams have gone on the road as their home arenas hosted the world's best players on an international level. With the 2015 World Junior Championship recently taking place in Toronto and Montreal, the Toronto Maple Leafs and the Montreal Canadiens both went on long road trips that started before the holiday break. The Leafs struggled in their trip, picking up only two wins in seven games, while the Canadiens swept their five games away from the Bell Centre. However, both of those stretches pale in comparison to the one the Vancouver Canucks faced in 2010.
When the Winter Olympics came to Vancouver five years ago, the Canucks went on the road for a record 14 consecutive games. Despite the large gap between home games, including the two-week Olympic break, the Canucks put together a successful 8-5-1 record on that trip.