The Edmonton Oilers wasted little time locking up two key parts of their young core in Taylor Hall and Jordan Eberle when they were in the final years of their entry level contract. Former number one overall pick Hall got seven years at $6 million dollars per season while Eberle got a six year deal at the same cap hit.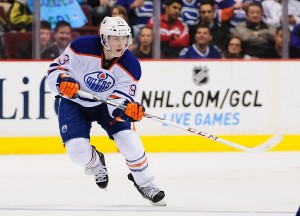 Drafting high for so many years in a row means the Oilers constantly have young, talented players coming through the pipeline, and those players need new contracts. Nail Yakupov will likely be in the same boat next season. That brings us to Ryan Nugent-Hopkins, who is still sidelined after shoulder surgery and probably won't be ready to play until at least November. The Edmonton media have been reporting that Nugent-Hopkins' agent is currently in town. It's no surprise that negotiations have started.
But now the question is, do the Oilers give RNH the same sort of contract and cap hit as his line-mates, or do they go for a bridge type deal, which will eat up more of his free agent years and give them more time to see what money he's really worth. Has the first overall pick from 2011 shown enough? The recent contract dispute between Nazem Kadri and the Toronto Maple Leafs has shown us the direction that RFA contract negotiations are going. Kadri had very little NHL experience, and the Leafs had to pay him based an extremely small sample size. His stats last season were decent, but was that an anomaly, or who he really is?
Teams are often forced to pay players for their potential, rather than reward them for years of strong performance. Sometimes it works out. But using one great season, or playoffs, like in the case of Ville Leino, to offer someone a big paycheck doesn't always pan out.
Nugent-Hopkins has the talent. But he's only played 102 NHL games, amassing 22 goals and 76 points. Not terrible, but those stats don't jump off the page at you. One thing is for certain though. The Oilers love this kid. They feel as though he has the makings of a Joe Sakic type player. He sees the ice well, has good vision and passing ability, and though he isn't the biggest guy, he isn't out of place at this level.
Last season, he scored just four goals in 40 games, though the team believes that had to do with his shoulder troubles, which now should be fixed. The injury doesn't bother them, as Hall had the same one and is no worse for wear. There's a really good chance the Oilers will offer an eight year contract, the most that they are allowed to, at a similar cap hit to Eberle and Hall. And there's a good chance he will be worth every penny. The Oilers really believe in him and his ability to the team's top line center for years to come.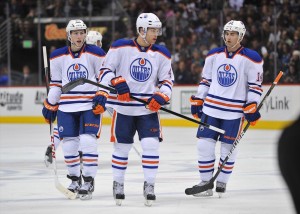 But what is Nugent-Hopkins really worth?
Taylor Hall scored 49 goals in his first two NHL seasons despite battling various injuries, while Eberle notched 52 goals over the same span. Granted one of those seasons wasn't shortened due to the lock-out, but Nugent-Hopkins points stats are considerably less than those two. His points-per-game is 0.75.
There's no rush to sign RNH to an extension. The Oilers could very well wait to see what happens this season and then take it from there. Just because Nugent-Hopkins was a first overall pick doesn't mean he's going to be a superstar. He could be, but there really isn't much indication one way or the other. This kid needs to get healthy and stay healthy first and foremost. The Oilers still have to think about upcoming contracts for Yakupov and Justin Schultz, and they have to consider their goaltending situation and if that needs an expensive upgrade.
But don't be surprised if a new, long term deal is announced for Ryan Nugent-Hopkins very soon, likely around the $6 million dollar per year amount. The organization is very high on him. They view him as a major cog in the Oiler machine. Whether or not he's worth the big bucks probably won't stop the team from paying him as such. And it certainly wouldn't be the first time that's happened in this league.