Santa has brought the hockey world the gift of the World Junior Championship for the next two weeks in hockey's meccas — Toronto and Montreal. Watching intently will be Nashville Predators scouts, coaches and management as they see their coveted prospects display their talent at a grand stage. Nashville has just four prospects from three different countries this year, as opposed to six from three a year ago. Let's take a look at the fortunate four.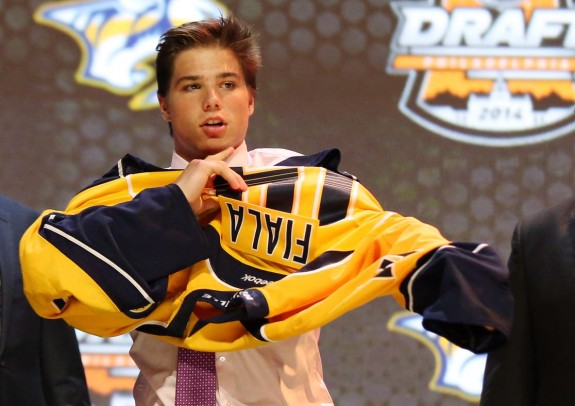 Kevin Fiala – Forward (Switzerland)
Kevin Fiala was drafted 11th overall by the Predators earlier this year. The 18-year-old highlights the roster for the Swiss as he is just the third player in history to play in the Under-18, Under-20 and Men's World Championships in the same year. At the 2014 WJC as a 17-year-old, Fiala posted 1 goal, 4 assists in 5 games. Currently, Fiala plays for HV-71 in the Swedish Hockey League, where he has 5 goals, 9 assists in 20 games.
Although an elite player with excellent hands and quickness, Fiala will not be able to win games on his own. He and Noah Rod of the San Jose Sharks are the only NHL drafted players on the roster. This will be a great opportunity to see Fiala showcase his scoring talent, as he will be heavily relied in throughout this tournament.
Vladislav Kamenev – Forward (Russia)
It was odd seeing the Predators select a Russian in the 2nd round this year. The franchise has been snake bitten by Russians most notably being Alexander Radulov. Nashville went 10 years without drafting a Russian, but Vladislav Kamenev appears to be the real deal. "It's my dream [to play in the NHL]," Kamenev said in an interview. "Money is not important to me. I really want to play there."
Over the summer, Kamenev elected to play with Metallurg Magnitogorsk in the KHL instead of with the Quebec Remparts in the QMJHL. In 31 games, the 6'2, 203lbs center/left winger has 5 goals, 3 assists. Kamenev, 18, became the youngest player to score a goal for Metallurg, a record that belonged to a player many compare him to, Evgeni Malkin.
Kamenev's two-way play makes him a dominant force on the ice. At the Under-18 World Championship last year, he tallied 2 goals, 5 assists in 5 games.
Joonas Lyytinen – Defenseman (Finland)
This will not be Joonas Lyytinen's first time representing his nation. Lyytinen, 19, has played for Finland in U-16, U-17, U-18 and U-19 contests and now playing in the U-20 World Championship. In 29 international matches, he has just 3 goals. He will not be heavily relied on throughout the tournament and will likely be on the third pairing.
Lyytinen was drafted in the 5th round by the Predators. The 6'0, 154lbs defenseman plays for KalPa in the SM-Liiga. In 31 games, Lyytinen has 5 goals, 4 assists.
Juuse Saros – Goaltender (Finland)
Juuse Saros' name should already be penciled in as goaltender of the tournament after being named to the all-star team a year ago. Saros, a 4th round pick in 2013, will be the starter yet again for Finland, defending their 2014 gold medal. He was nothing short of a brick wall last year with a 1.57 goals against average and .943 save percentage. His stellar play at the junior competition earned him the right to backup Pekka Rinne at the 2014 Men's World Championship. One would think that tandem will be present in the NHL sooner rather than later.
The 19-year-old is one of the premier goalies in the SM-Liiga with a 2.30 GAA and .924 save percentage in 24 starts with HPK. Saros makes up for his lack of size, 5'10, 181lbs, with quickness and efficiency between the pipes.
In short, he is a marvelous goaltender to watch.
Colin Fitts is a Nashville Predators staff writer and is a credentialed media member of the Chicago Wolves. From Nashville, Tennessee, Colin majors in journalism and public relations at Columbia College Chicago. Follow him on Twitter, @FittsTHW. Email: 22fitts [at] gmail [dot] com.