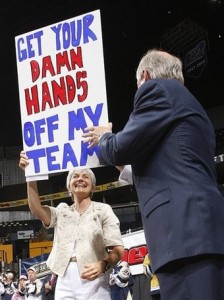 I admit: I really, really hate when someone from another NHL city knocks the Nashville Predators for their spotty record on paid attendance. The conclusion is always, "TRASHVILLE ISN'T A HOCKEY CITY!!1!11! LET THEM KEEP THEIR GUITARS AND NASCAR AND MOVE THE TEAM TO HAMILTON!!111111!! BRING ME THE HEAD OF GARY BETTMAN RRAAAAWWWWRRRRR!!!"
Or, you know, something.
It's something we in SMASHville expect every year — someone knocking our ticket sales and paid attendance. C'est la vie, no matter how wrong they are about sales trends. But the Preds report today a very nice haul in single-game ticket sales, five times the previous year's opening (emphasis mine, hat tip: Joshua Cooper at the Tennessean):
In anticipation of the upcoming 2011-12 season, the Nashville Predators enjoyed their most successful ticket on-sale event in franchise history this past Saturday. More than 800 people lined up at the Bridgestone Arena box office on Saturday morning to secure individual game tickets for the first half of the 2011-12 season. Predators' fans that waited in line were rewarded with a special box-office-only $10 ticket offer during a 9 a.m. early-bird special, with $10 tickets selling out for more than half of the games offered. The line continued to grow when individual tickets were made available to the general public at 10 a.m.  Total tickets sold on opening weekend approached 7,500 for the first half of the 2011-12 season, compared to a 1,500 ticket opening weekend in 2010-11.
This is great news for an organization trying to shed the "non-traditional market" stigma, at least long enough for the generational turn to take hold. The Preds were able to capitalize on a rotten Tennessee Titans finish last year, drawing in hordes of disgruntled pigskin faithful-turned-hockey newbies to Bridgestone Arena, just in time for the most successful playoff run in franchise history. One can hope that most of them are now at least semi-permanent Fans of the Fang.
But I also like to be realistic about the fiscal health of the Predators, and the Titans aren't going to blow it every year. So another item grabbed my eye this evening. At the Nashvillest blog, Morgan Levy reports that the Preds are using their Facebook page to turn fans out to preseason games with freebie giveaways:
To get your voucher for free preseason tickets, just head over to the Preds' Official Facebook page, hit "Like," then click "Experience Smashville" in the sidebar. Fill out a quick survey, forfeit your personal details and you'll end up with a voucher that presents you with two options – Call a sales rep, pay a $5 fee and get guaranteed tickets, or just walk your voucher down to the box office before September 23 to trade it for tickets, no fee (but no guarantee). Okay, there are a few hoops to jump through, but with regular tickets at $30 apiece (minimum), a bit of red tape acrobatics doesn't seem so bad.
As a guy who's been in new media and PR for a couple years, it's great to see the Predators leveraging budget-friendly digital assets to drive fans to games. But I think this connotes a broader problem with their marketing efforts. See, setting aside the potentially damaging optics of giving away free stuff on a Facebook page, the Predators' target audience for free tickets should be people who aren't already familiar with the team or the sport of hockey. I mean, I'd love to have a fistful of free hockey tickets, and I'd probably take this deal if I was still in Nashville. But I'm already a fan.

The upshot, of course, is that these are preseason giveaways, and there's no net drain on the Preds profit margin by doing this. The real challenge for the Predators going forward will be answering this question: "How can we drive new and/or casual fans to enough games so they 'Like' us on Facebook, where they become the first to know when we run a promotion like this?" People who aren't already hockey fans — Predators fans, no less — probably aren't Predators Facebook fans. There are a number of ways the team could generate more fans digitally: use Facebook's native cost-per-action advertising platform to recruit and engage new fans online, use team email lists to drive fans to the Facebook page, etc. While the Internet has helped commercial enterprises circumvent traditional media gatekeepers and reach customers directly, I don't think the team should focus solely on the Internet, either.
It seems to me like sending out a few teams of interns and front office staff to area universities and local grocery stores to ask people if they've been to a Preds game (and offer them freebies if they haven't) is a more effective way to go about identifying new or casual fans, and trying to convert them. It gives the team an opportunity to meet people face to face — how we like to do business in Nashville, with a handshake and a smile — to get people to sign up for email updates (then the team can later drive them to Facebook), and to talk to them about what fun a Preds game really is. I know some of the players might have fun helping out — Wade Belak, may he rest in peace, would have been all over something like this.
Will it take time? Of course it will. Will it take bandwidth and resources? You bet. Have they tried it before? Not that I've seen, and I think the dividends could be tremendous.
So I guess my point is that it's great to see the Preds slamming some single-game ticket sales, and it'll be even better to see those average attendance figures continue to rise (much to the chagrin of our friends north of the border). It's good that there's a vibrant blogosphere in Nashville dedicated to the Predators, and it's good that the ticket promotion will only yield positive returns. But let's not pop the champagne cork just yet — there's still a ways to go.