The Colorado Avalanche won the lottery, and they won it at the perfect time. Everyone and their aunties had the Avs selecting defenseman Seth Jones, feeling the Avalanche needed defense and thus could not let him pass them by. However the Colorado Avalanche seemed to have made their mind up well before draft day. Nathan MacKinnon was their man, despite already having a good young core on offense, the Avs made the right choice. Nathan MacKinnon is fast becoming one of the most exciting players to watch in hockey and the face of the Avalanche franchise at age 19. He will now look to continue to build on what was an amazing first year as a pro. Can Nathan MacKinnon produce an even better season than his calder winning rookie year? Will he have a second season similar to that of Steven Stamkos? Or will he struggle in his second year? Nathan MacKinnon, sophomore slump or sophomore jump? According to those who have seen him training lately under Andy O'Brien with the likes of Crosby, Duchene, and Tavares, say he is "even more explosive now". Nasty Nate being "more explosive" is a very nice thing to hear as an Avalanche fan, but has to be scary for most everyone else. Watch out NHL, Nathan MacKinnon has gotten bigger, stronger, and even more impressive.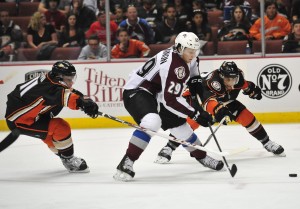 The sky is the limit for this kid. He possesses all the tools necessary to become an NHL superstar. Just turning 19 on the first of September, Nathan MacKinnon is already one of the most exciting hockey players to watch on the planet. MacKinnon also has some strong veterans of the game to lean on if times get rough. Max Talbot, Jarome Iginla, Alex Tanguay, and Brad Stuart have all won the cup and can provide Nathan MacKinnon with all the knowledge he needs in order to become not just an outstanding professional hockey player but more importantly, a Stanley Cup champion. One thing is for certain, he is working his butt off to make himself better. Training with Sidney Crosby, John Tavares, and fellow teammate Matt Duchene amongst others, MacKinnon is setting himself up for a great career, let alone his sophomore season.
From one working with @Mackinnon9, 87, @Matt9Duchene , Tavares others: "He's gone from boy to man–1st step even more explosive now."

— Gare Joyce (@GareJoyceNHL) September 3, 2014
@Mackinnon9 as maybe the most improved this yr? Not far-fetched. Word from Andy O'Brien summer camp: NMac is significantly bigger, stronger. — Gare Joyce (@GareJoyceNHL) September 3, 2014
How Far Can Nathan MacKinnon Go?
Here is an audio clip of Bob McKenzie talking about the young budding superstar that is Nathan MacKinnon. Listen to the audio, at around halfway McKenzie starts to talk about MacKinnon and you can hear in his voice, just how impressed he is by Nasty Nate MacKinnon. McKenzie states that he believes MacKinnon will be of similar level to that of Steven Stamkos, bordering close to Sidney Crosby type level. I believe that is spot on, and the Steven Stamkos comparison fits the bill as Nathan MacKinnon will not have a sophomore slump as they say, but rather a sophomore similar to what Stamkos did. This kid seems like he will just get hungrier and hungrier for success, which bodes very well for the Colorado Avalanche.
As the video shows, he seems super comfortable skating and practicing with the best player in the world, and is looking just as exciting as Crosby. These two have grown close over the years. If MacKinnon can continue his training with Crosby for the foreseeable future, he will have a huge advantage compared to other young players who don't have that chance to train with the best player in the world. To think he has gotten more explosive out of the gate and even stronger on his skates already is a sign of his passion and commitment to the game of hockey and thankfully, the Colorado Avalanche(sorry Panthers fans, you can't complain, especially now that your team won the lottery as well). How far exactly this kid can take his career is pretty evident so far. As far as he wants to go. Nathan MacKinnon is that good, he is the real deal. Nasty Nate has come to play. Telling himself his calder trophy winning rookie season wasn't the best, that he expects more, speaks volumes as to how Nathan MacKinnon thinks of himself and his future. This 18 year old broke a Wayne Gretzky record for the hockey gods' sake.
Sophomore Jump it is
There won't be any major setbacks with Nasty Nate. He is too determined, too passionate, and too talented. MacKinnon says he doesn't believe in the sophomore slump silliness, which shows the confidence he has in himself. The only question going into this next season is where will he be playing and with who. MacKinnon can play at center, his natural position, or as seen at times last year especially toward the end, he can also play right wing to great effect. Nate should be used at center now that Stastny is gone and go through a whole season of learning at that position. Perhaps he won't have a good year in the faceoff circle but Sidney Crosby didn't either. It is all a part of growing his game and learning from experience. My money is on MacKinnon shifting back to center with Landeskog on his left and Tanguay on his right. Besides that, the Avalanche picked up some guy named Jarome Iginla, who supposedly is a good right winger to have. Therefore I believe MacKinnon's position is written on the wall for next season, especially with O'Reilly adapting so well with his own move from center to left wing.
Sophomore slump? Nathan MacKinnon doesn't think so, and who would bet against him? Expect to see many Nasty Nate highlights this year, as we have already witnessed last year. Breaking ankles with his speed and firing off that nice quick release is just one of many tools MacKinnon has in his possession. I for one, cannot wait to see just how great he can become. He wants to take over games more than he was already doing at age 18. That is confidence not cockiness, do not mistake the two. No one is saying he will be scoring five goals every night or anything like that, however, he won't be taking any steps backwards either. He has superstar potential but it will be up to himself in order to become one. By all accounts he is doing everything in his power and more to make that happen. Colorado Avalanche have a very bright future indeed with MacKinnon and Duchene down the middle for years to come, not to mention the players that surround them. So far so good, now we will see how Nathan MacKinnon handles his sophomore season. The stage is set, let's see where he leads us.
I will end this by putting up a video of probably his best shift from last season, his first time playing in Montreal.