In the middle of summer, it's easy to speculate as to who should be starting center for the Toronto Maple leafs.   Ultimately, this is a gap that Brian Burke would like to fill before the season starts in October.
The Media will not let this one sleep.  The Toronto Maple Leafs are without a top line pivot.   But let's not kid ourselves, it is unlikely that the Leafs land someone else as not many teams are in the business of passing on top level centerman, so who internally can make this line?
The answer is Mikhail Grabovski.  At his cap hit of 5.5 Million per season, Grabovski would seem like the perfect fit for the top line.  With Kessel and Lupul not excelling at the defensive aspects of the game, a speedy Grabovski would make up for them in their own zone.  Somehow, there has always been this unsaid stipulation that Grabovski can't play well with Kessel and that Kulemin can't play well without Grabovski.  So he has been pigeonholed into the second pivot spot.  This would be the first change I would implement.
What the Leafs really need is a second line center.
My first choice is Nazem Kadri.  This will be Nazem's fourth training camp with the Toronto Maple Leafs.  While there may be a lot of fans and critics out there suggesting that he hasn't been good enough, I'd be the first to offer an opposing point of view.
Here is one of his best 'Leafs' moments with Pierre McGuire labeling him with Nifty Mittens.
In his first training camp, Kadri was good enough to make the big club.  Unfortunately, he had a lot of things going against him.  He had literally just turned 18, he was due to play for the CHL's best London Knights and he was a shoe in for the World Junior tournament.   Perhaps the most unfortunate for Kadri was that a year earlier the Leafs first rounder Luke Schenn had made the team out of camp against the better judgement of the main street media who still call that into question when referencing recent Leafs mistakes.  Kid Kadri ended up playing 56 games for London of the OHL and totaled a whopping 93 points. He performed at an even greater pace in the playoffs with 27 points in just 12 games.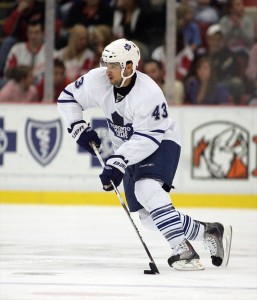 Despite his great year in junior, Kadri didn't have the size and strength at his second Toronto Maple Leafs camp that the club had asked him to build in the off-season.  He just wasn't explosive enough and he didn't have the strength to hold onto the puck down low.  Ron Wilson also spent a lot of mic time referencing Kadri's less than stellar defensive play and thus he was sent down to play for the Toronto Marlies.
In his third training camp, Kadri was good enough to make the team out of camp, but injury trouble kept him off the roster.  Kadri would once again start the season with the Toronto Marlies.
So is this the year that Kadri emerges as a top two center?
In the last two seasons, Kadri has played 44 and 48 games with the Toronto Marlies scoring 81 points.  He also had 10 points in 11 games before exiting the AHL Western Conference finals this year with an injury.  You could make the argument that Kadri was the Marlies best player in the first two rounds of the playoffs and that he was dearly missed in the final round as the Baby Buds were shelled by the Norfolk Admirals in four straight games.  He was their bonafied #1 center.
During the Marlies AHL playoff run, Coach Dallas Eakins told National Post reporter Michael Traikos about what kind of player Kadri really is.
"People discount how competitive this kid is, He wants to be on the ice always, he's got fire in his gut and he wants to win. Those are the main things I want in a player.  Every time he steps over the boards he's a real danger to score … he's made great strides in managing the puck, he's better in his own zone. He's come a long way from where he was a year ago."
Talking about Kadri as the wrong choice with the seventh overall pick simply needs to stop.  There are 3 forwards from the 2009 draft who have really started to hit their stride:  John Tavares, Matt Duchene and Evander Kane and all were drafted ahead of Kadri.
I came across this great viewpoint on forwards in the 2009 NHL Entry draft and had to share.  Have a look.
So does Kadri have what it takes to be one of the team's top two centers going into this season?
Here's what I think.
– He has top ten hands in the league and he will make an immediate difference on the shootout.
– While he is elusive, he lacks that burst of speed that a center needs to be able to break free and make good passes at the NHL level.
– Kadri does have a mean streak in him like a former 'smallish' forward that wore '93' for Toronto once did.  He doesn't need to be a monster at 6'4, 225lbs to be effective.
– His defensive game was improving under Eakins but would only really get better with time at the NHL level.  The fact is that it's a different game and you have to play to improve.
– Bottom line, he needs to build the lower leg strength that makes players like Nik Kulemin and Sidney Crosby, stronger while down low.  Hitting Sidney Crosby is like hitting a fire hydrant, It is this strength that Kadri has to develop in order to become a solid top six in the NHL.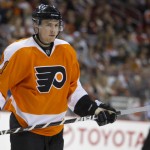 So where is Kadri now?
News of Randy Carlyle wanting to try James Van Riemsdyk out at the center ice position was quickly followed by a story of Nazem Kadri in the gym with Gary Roberts.  Can you say 'internal' competition?  Roberts will help Kadri get to the next level which is exactly where he needs to be.  Lock him up and throw away the key until September Gary.
But when September does come, Nazem Kadri will be the second line center of your Toronto Maple Leafs.
Twitter: @StonemanStephen | Email: stoneford@yahoo.com | Stephen's archive
For every Maple Leafs article on THW, follow @THW_MapleLeafs  on Twitter