On Monday afternoon, news broke via Twitter that Columbus Blue Jackets' superstar traded Rick Nash to the New York Rangers.  TSN hockey insider, Daren Dreger, was first to release the news.
Rick Nash trade to New York Rangers in process now. Details to follow.

— Darren Dreger (@DarrenDreger) July 23, 2012
Rumors have been flying across the hockey world for months regarding where the star right-winger would call his next home. His time in Columbus was all but finished, and now it's official. The latest member of the New York Rangers is Rick Nash, and many hockey fans couldn't be happier.
Going the other way to Columbus in this blockbuster trade are Artem Anisimov, Brandon Dubinsky, Tim Erixon, and a first-round draft pick. A minor-league blueliner, Steve Delisle, and a conditional third-round pick are also headed to New York. The Blue Jackets now have three first-round selections in the 2013 NHL Entry Draft.
The asking price for Nash was considered to be extremely high. As a result, teams such as the Toronto Maple Leafs and San Jose Sharks were essentially pushed to the outside. Even powerhouses such as the Philadelphia Flyers and Pittsburgh Penguins weren't willing to give up young assets to acquire the dynamic power forward.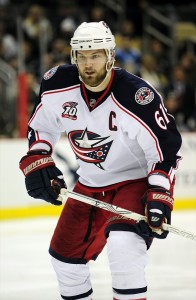 Though he's played his entire career in a Blue Jackets uniform and has only played Atlantic-division teams sparingly, Nash has excelled when playing against teams in that division. In thirty-two career games against Atlantic teams – not including the Rangers – Nash has accumulated twelve goals and twenty-six points.
It is expected the Rangers' new top line will have Brad Richards at center, surrounded by Marian Gaborik and Nash on the wings. If it works out that way, New York's first-line will amount to $21,966,667 against the salary cap.
The Rangers' acquisition of Nash only makes an already tough Atlantic divison even more challenging. With perennial Cup favourites in Pittsburgh and Philadelphia already gearing up for another Cup run, and New Jersey having recently made it to the finals, the Rangers are in for a serious battle next season.
With today's trade, some are already comparing the Atlantic division as the National Hockey League's equivalent to Major League Baseball's American League East.
Scott Howson, the Blue Jackets' general manager, had made it known that nothing less than an exceptional offer would be accepted. Nash himself had submitted a list of teams he would accept a trade to. A legitimate Stanley Cup-contender was the ideal target for Nash, and with this trade to New York, the Rangers have become just that. That is, if they weren't considered one already.
Given all the talk surrounding Nash's situation since the trade deadline, it doesn't appear Howson has received all he initially intended on getting. He made it clear months ago that mediocre offers would not be given a second thought, as acquiring a player of Nash's talent is no small feat. Many will be quick to point out Columbus may have received a better offer at the trade-deadline. Columbus is receiving three players who can immediately step into their lineup next season, however, the ones they have acquired will be questioned to no end.
Dubinsky is considered as a streaky player, one who has top-line potential, but also as one who disappeared during the most recent Stanley Cup playoffs. Erixon was viewed as a top-tier prospect when he was a member of the Calgary Flames, and though he was still seen as the top prospect in New York's system, his stature has dropped dramatically in recent months.
Some consider Nash to be overrated, and many believe Dubinsky and Erixon are extremely under-valued. Only time will tell who wins this deal.
The first-overall selection of the Blue Jackets in 2002, Nash has played in five All-Star games and won a gold medal with Canada at the 2010 Winter Olympics in Vancouver. He is the franchise's all-time leader in goals, assists, and games played.
The announcement of Nash's trade by Dreger went viral within minutes. For a summer which was once not filled with action and excitement outside of Zach Parise and Ryan Suter, the Rangers' latest acquisition has created quite a stir in the hockey world.
In virtually the blink of an eye, this summer just got a whole lot more interesting.
________________________________________________
Follow me on Twitter: @DavidOConnor95    "Like" my page on Facebook: David O'Connor