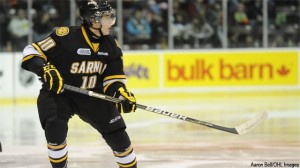 It almost seemed like just a formality at this point, but the Edmonton Oilers announced today that they've signed first overall pick Nail Yakupov to a three-year entry-level contract. Edmonton selected the Sarnia Sting forward with the number one pick at this summers NHL draft. Despite a lot of speculation that Edmonton would choose a different prospect, they were confident that Yakupov was the best player available. The signing ensures that Yakupov won't be going over to Europe to play, which is often a fear for NHL clubs regarding Russian players. But Yakupov, who had been in North America playing in the OHL, made it clear his only desire was to play in the NHL. When asked about playing in the pros as  an 18 year old, Yakupov had this to say:
"Why not? I think I'm ready for NHL. I want to try. I have whole summer to train and work with Edmonton. This is a great team, a young team, and they play good hockey. It'll be good playing with those players. I just want to just work and show how I can play hockey and help my team to win every game … that's what I want. (NHL.com)
Those players Yakupov is referring to is a collection of some of the best young talent in the league. Taylor Hall, Jordan Eberle and Ryan Nugent-Hopkins are young stars on the rise, and the addition of top defensive prospect Justin Schultz is making Edmonton look like a potential powerhouse. Yakupov is yet another important piece to a team who many feel might finally be poised to take a step forward. They haven't made the playoffs since 2006 and have toiled in the basement of the Western Conference for several years. General Manager Steve Tambellini is being extremely patient as he builds this team, a strategy that will hopefully pay off. The roster doesn't look vastly different from that of last season, but the team is banking on their young players taking a step forward. And it doesn't mean there aren't more moves to come. But as of now, Tambellini has taken care of an important part of business, locking up Nail Yakupov.
"We're very happy to sign Nail to a three-year contract," Edmonton general manager Steve Tambellini told the team's website Monday. "He's an extremely talented and passionate young man who we feel will be an integral part of our team for many years to come." (NHL.com)
Will Tambellini's plan come to fruition as early as this years postseason? That remains to be seen. But his shrewd short term contracts and additions of young talent are setting this team up for long term success. And the city of Edmonton couldn't be more ready to have something to cheer about.