NHL free agent and veteran winger Shane Doan hit the bright lights of Broadway for some hockey talk with the New York Rangers and attended the collective bargaining negotiations between the owners and players last week. Doan is one of an elite group involved in trade talks with several teams. Rumors abound, the Rangers have not confirmed that an off to Doan has been made.
Shane Doan visited Rangers' practice facility and took the tour of New York yesterday, Post has learned.

— Larry Brooks (@NYP_Brooksie) July 21, 2012
The 35-year-old Phoenix captain has offers on the table reportedly by the Los Angeles Kings, San Jose Sharks, Vancouver Canucks, Detroit Red Wings, Pittsburgh Penguins and Buffalo Sabres. One offer sheet supposedly dealt four years and $30 million. Doan is one of the most sought after unrestricted free agents remaining who can provide leadership and viable scoring options. Any contract the Rangers put forth will remain on the cap until the contract is up, whether he is sent to the AHL or retires. The Rangers are exercising caution in any deal, but Doan's contribution to the team would bring value to the organization and its fans.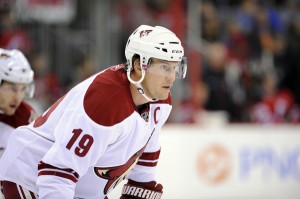 The Phoenix ownership dilemma still creates hesitation for Doan. While he hopes to make a decision soon, he is monitoring the situation in Glendale before making a final decision. Coming off a 50-point season with 22-goals scored, Doan still brings a tough, physical game and has a reputation for being one of the league's better captains. Doan has voiced his desire to remain with the Phoenix Coyotes, but only if he is confident a deal will keep the Coyotes in the Phoenix area. The franchise drafted Doan in 1995 before moving from Winnipeg in 1996.
"I've got a few teams that you look at and that you're serious about. That being said, I've also talked with some teams that I didn't think I was, but that kind of made their case."
New York wasn't an original team consideration, yet he met with GM Glen Sather and management last Friday. Contract speculations have Doan at a two or three-year deal. Doan's has put up more than 50 points in 11 of his past 12 seasons. Doan's 22 goals and 28 assists last season with the Coyotes led Phoenix to one series away from the Stanley Cup finals. The Rangers could be seeking to join forces and adding scoring security.
Doan has ties to the Rangers. Assistant GM/assistant coach Jim Schoenfeld was Doan's head coach in 1997-98 and 1998-99 in Phoenix with John Tortorella as the assistant coach.  Let's not forget that Doan was awarded the Mark Messier Leadership Award for being a role model in the game and in the community. The winner was selected by Messier, now special assistant to general manager Glen Sather.
"It's such a huge honor to be associated with Mark Messier," Doan said. "He's the leader that all leaders in sports are measured by. To have any association with him is pretty special, and to be recognized off the ice it's special. You appreciate that, and I'm very honored."
Doan's interest in the Rangers may be in large part to Mark Messier's eventual inheritance of the General Manager helm. Fans are eager to welcome Shane Doan and his family, but so much depends on dealings in the desert.