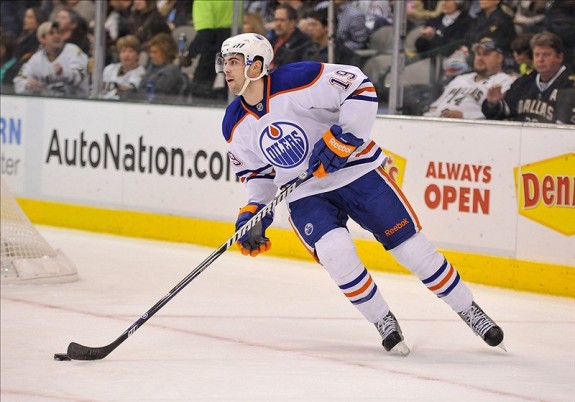 Justin Schultz arrived on the scene in Edmonton this season amid much fanfare and even more expectation for the Oilers.
He unfortunately got as much attention for his impressive skill set as he did for the media circus that ensued after he declined to sign with the Anaheim Ducks.
One of the more hyped NCAA talents to enter the league in some time, he was expected to be a star and has not disappointed so far.  With the NHL lockout, he was forced to start his pro career in the AHL with the Oklahoma City Barons, where he tore it up scoring 18 goals and 48 points in just 34 games.  Those numbers still lead all AHL defencemen, and by a significant margin.
He has been similarly impressive in jumping to the NHL.  While not putting up gaudy numbers like that, he has been what the Oilers were hoping for and more.  He has been the Oilers ice time leader since the beginning of the season.  He has 13 points so far on the year which puts him in the top ten in defencemen scoring in the league.
He's certainly not the only college defenceman to come into the league and make his mark, far from it, although few have had such an immediate impact.  Some of the NHL's top defencemen like Erik Johnson (Minnesota), Ryan Suter (Wisconsin), Jack Johnson (Michigan) and Kevin Shattenkirk (Boston University) have all gone from impressive college careers to successful NHL careers and there are more than ever in the league.
What it does signify is the growing trend of NHL ready defencemen coming from the college ranks.  Many defencemen take longer to develop than forwards and having the extra couple of years at college seems to have a positive impact on the development process.
Here's a look at a few defencemen that are or have recently come through college programs and could be ready to make an impact in the next couple of years.
Danny Biega, Carolina Hurricanes (Harvard)
Second only to Justin Schultz last season in points by a defenceman across the nation, Biega is someone who has great speed and acceleration.  He's a good puck-mover, positionally sound and logs big minutes in every situation for the Crimson.  He also loves to play with an edge.
He is in his final year at Harvard and will be looking to make the jump to pro next season.
Adam Clendening, Chicago Blackhawks (Boston University)
An offensive defenceman with great puck-moving skills, Clendening has excellent on-ice awareness and a high hockey IQ.  He also plays an underrated defensive game and is rarely caught out of position.
A second round pick of the Blackhawks, he signed a two year entry level deal forgoing his final college year, and is currently playing for their AHL affiliate.  He currently leads the IceHogs defence in scoring and is in the top 5 league wide.
Brian Dumoulin, Pittsburgh Penguins (Boston College)
Acquired in the Jordan Staal trade from Carolina, Dumoulin could be the steal of the deal.  He has great size at 6'4, 216 and a long reach.  He has also been one of the best offensive defencemen in college hockey over the last couple of years.  He has good mobilty, a hard point shot and moves the puck well.  He had 30 points and a +27 rating last season for the Eagles.
He's currently playing for the Penguins AHL affiliate in Wilkes-Barre/Scranton and is progressing and learning the pro game nicely.
Derek Forbort, Los Angeles Kings (North Dakota)
A first-round pick of the Kings in 2010, Forbort is a junior at North Dakota.  He has good size and is a great skater.  He also has exceptional awareness on the ice and is an excellent puck-mover.  Not overly physical, but is solid positionally.
Hasn't put up great numbers this season with just 13 points, but he has all the tools to be a top four defenceman at the next level.  Whether he turns pro next year or after his senior year, Kings fans could have a star in the making.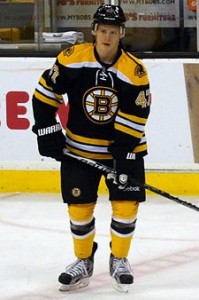 Torey Krug, Boston Bruins (Michigan State)
An undrafted free agent, Krug was signed by Boston in April 2012 following his junior season.  He even suited up for 2 games following that towards the end of the season for the Bruins.
Krug is a dynamic offensive defenceman who's biggest strength is his skating ability, which is outstanding.  He is aggressive and loves to jump into the rush offensively.  At 5'9″ he is undersized by pro standards, but that doesn't mean he avoids contact.  He will do whatever it takes to win, including sacrificing his body.
He's currently in Providence (AHL) and is leading the team in defencemen scoring with 26 points in 47 games.
Jon Merrill, New Jersey Devils (Michigan)
One of the more game-changing defencemen in college hockey, Merrill is in his sophomore season at Michigan.  He's a solid two-way defenceman who can play in all situations.  He skates well and moves the puck efficiently.
If there is one drawback, it's been questions about his attitude and maturity.  Merrill sat out the first two months of this season for a team-imposed suspension before joining Team USA at the WJC.
His upside is vast and there have even en comparisons made between his game and Ryan Suter.  Whether he will return to Michigan or turn pro next year, it won't be too long before Merrill dons the Devils uniform.