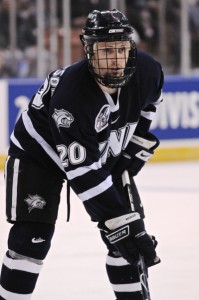 The dog days of summer are in full swing. In my opinion, this is the worst time of the year, for the college hockey fan. During the dead of summer, college hockey fans have to worry if their favorite college hockey team will lose any of their prized recruits to the CHL and or their top upperclassmen to professional ranks. Hockey fans are on pins and needles during this time of year.
Also, the weather doesn't even feel like hockey weather right now. If you watched the Weather Channel for more than a minute, you will discover that most places in the United States of America are experiencing sunshine and plus-80 degree weather. As most of you know, this hot weather is not real conducive with making ice or for playing hockey.  Fear not, college hockey players around the nation are working out, as we brave the hot summer months.
All-Day I Sit at Work Dreaming About Hockey
Or in my case, I sit at work writing about college hockey, but don't tell anyone. Looking forward to this Fall, the beginning of the college hockey season is roughly about two months away. Nonconference and exhibition games will begin during the first weekend in October.
Starting on October 5, 2013, Ferris State and Colgate will officially kick off the  2013-14 Men's Division I college hockey season. The following night, Clarkson and Niagara will play game-two of the 2013-14 college hockey season.
The following weekend, more college hockey teams will officially begin their 2013-14 college hockey seasons. Taking center stage will be the 2013 Ice Breaker Tournament, with the University of Minnesota entertaining the University of New Hampshire, Clarkson and Merchyhurst at Mariucci Arena in Minneapolis, Minnesota. Also on the same weekend, the Kendall Hockey Classic in Anchorage, Alaska will showcase national runner-up Quinnipiac along with Alaska, Air Force Academy and host Alaska-Anchorage.
NCHC and Big Ten Hockey Take Center Stage
This season, there will be two new college hockey conferences. The NCHC and the Big Ten Hockey Conference begin play during the 2013-14 season. Recently, the National Collegiate Hockey Conference released its national television schedule for the 2013-14 season.
Looking at the NCHC hockey schedule, the start of NCHC conference play is roughly 78 days away with North Dakota and Miami kicking off the inaugural NCHC season on October 18, 2013.  Minnesota Duluth and Colorado College will follow-up that inaugural game later in the evening, both games will be on CBSSN. As I mentioned in an earlier post, this is going to be one of the more anticipated hockey games of this season.
The Big Ten Hockey Conference will also begin its inaugural 2013-14 season on November 29, 2013, when the Michigan Wolverines entertain the Ohio State Buckeyes at Yost Ice Arena. Also, kicking off the inaugural Big Ten season, on the same weekend, will be the Minnesota Golden Gophers vs. the Wisconsin Badgers at the Mariucci Arena in Minneapolis, Minnesota.
ECAC Regains Top Spot
Until 2013, an ECAC team hadn't won an NCAA title since Harvard won it all against the Minnesota Golden Gophers in 1989. The Yale Bulldogs proved that you don't need to have a roster full of first round draft choices, a big building, or a national television contract to win an NCAA title.  Yale had talented guys that bought into a system and played a great team game. One of the questions facing the ECAC teams is, was last year a fluke? I don't think so. During that time frame, the Yale Bulldogs took down Minnesota no. 1-seed, North Dakota no. 2-seed, UMass-Lowell no. 1-seed and Quinnipiac no. 1-overall seed. That's a pretty good hockey resume, it also proved that their season wasn't a fluke.  If you're still not a believer, Yale also went 4-0 against the WCHA, a league that sent six teams to the NCAA tourney.
In conclusion, we will soon find out if last season was a fluke, or the new norm. College hockey again takes center stage on October 5, 2013.
Eric is a 1996, 1999 graduate of the University of North Dakota. Eric covers the University of North Dakota Hockey and Division I college hockey. Eric is the Contributing Editor for Inside Hockey.