On-ice officials are asked to make split second decisions that can affect the outcome of the game. It's easy to second-guess an official's calls on the ice. Especially, if you see the play in question multiple times.
In the past, I have written about using video to review major penalties. This would ensure the on-ice officials make the right call before throwing a player out of the game.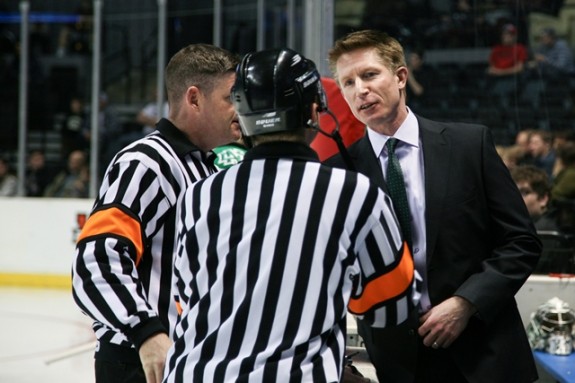 Seems reasonable, right?
Currently, college hockey officials feel the need to review a high number of the goals scored.  Many times, these reviews seemed unnecessary.
Why not use the same line of thinking when it comes to reviewing major penalties? What's a few more minutes?
This past weekend, Michigan defenseman Michael Downing was erroneously assessed a major penalty and thrown out of a game for making a legal shoulder-to-shoulder hit.
After watching another player get severely penalized for a legal check, I felt compelled to expound on this subject. I find this mind-numbing and frustrating. It's time for the NCAA to use video to review major penalties.
A simple video review of the play would've confirmed that Downing's hit was legal and not worthy a major penalty. (You can watch the video below).
After watching the video in question, you can see the on-ice officials blew the call. Doesn't it make perfect sense to allow the on-ice officials to review the play in question? Wouldn't you want to ensure that the on-ice officials are making the correct call before they toss the player in question out of the game. This seems logical to me.
The argument for Video Review
Last year, UMD hockey radio voice Bruce Ciskie addressed this issue. I agree with Ciskie, and it's an easy solution.
At this point, I'd argue that what is best includes the automatic video review of any major penalty before play resumes after the call. Is it going to slow the game down? Sure, but there are ways to mitigate that, even if only a little bit. Make sure that if it's a league that takes TV timeouts, there are rules to allow for a timeout to be taken a little earlier than scheduled if it's going to coincide with a video review. Remember, TV timeouts aren't meant for players to get rest. They exist to benefit television and only television (well, radio, too). If leagues are more flexible with their timing, it could help with the issues that come along with adding to the list of plays that can be reviewed.
 Who reviews the plays in question?
There's an easy solution to this problem. It's really is simple to fix. During most National Collegiate Hockey Conference games, a supervisor of officials sits in the press box. That league official is already at the game to supervise his officials. Here's a suggestion. Put him to work, and he can review the goals and the major penalties.
There's another solution to this problem. I discussed this briefly last week. Division I college hockey needs to have a Situation Room, too. Take the decision out of the on-ice official's hands. The decision would be left to a few people and you would end up with consistency, like the NHL. This is something I would like to see the NCAA Ice Hockey Rules Committee give careful consideration. It's that simple to fix and it seems like a no-brainer.
Eric is a 1996, 1999 graduate of the University of North Dakota. Eric covers the University of North Dakota Hockey and Division I college hockey. Eric is the Contributing Editor for Inside Hockey.