Jaromir Jagr has been in the hockey news a lot these past few weeks. Not only did he recently turn 43 years old, but rumors have been swirling around the league that Jagr might be traded soon to a team contending for the Stanley Cup, some have even speculated he could return to the Pittsburgh Penguins. As I discussed how amazing it was that someone could play in the NHL for that many years with my 4 year old son, I got out Jagr's rookie card and showed him how young Jagr was when started in Pittsburgh. My son's first response to his card was "his hair is crazy." That card and that comment led to this post. The late 1980's and early 1990's were the zenith of the mullet years in North America. Hockey players have been known to sport long locks so the mullet transitioned perfectly into the sport. From 1988 to 1992 it seemed that most of the league sported the do and the following is a showcase, no a tribute, to those who did it the best.
10. Pat Falloon – 1991 Arena American Hockey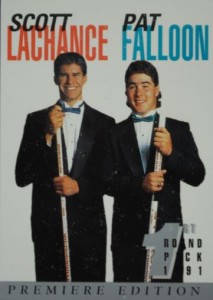 Sharing a sports card with someone has to be a little difficult. Most players grow up dreaming of the day they first appear on a trading card and that dream does not usually have room for two people. Here, Pat Falloon shared this rookie card with Scott Lachance and stole the spotlight from him in the process. Not only was Falloon the first player drafted by San Jose Sharks, but he rocked the mullet in a tuxedo! Lachance never had, well, a chance.
9. Vladimir Vujtek – 1992 – 93 Upper Deck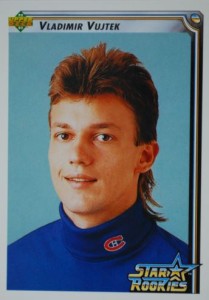 This Montreal Canadien draft pick might have only played 2 games with the Habs, and 110 total games in the NHL, but he produced one of the best mullet cards of the 90's with his rookie card. Vujtek was born in Czechoslovakia just two days after Jaromir Jagr, and while these two players could not have had opposite careers, but they both knew how to rock this Achy-Breaky hairdo.
8. Neil Wilkinson – 1991 – 92 Topps Stadium Club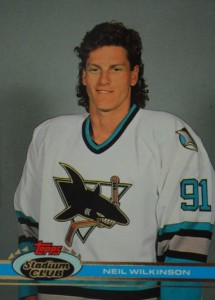 This was the first year that Topps expanded beyond their regular brand and added Topps Stadium Club hockey cards. They used this picture for both sets and who can complain? Wilkinson's smiling because he understands he has accomplished a very difficult feat. He pulled off the curly haired mullet. Well done Wilkinson, well done.
7. Rick Tocchet – 1991 – 92 Topps Stadium Club and 1991 Score
Tocchet played the majority of his mullet years with either the Flyers or the Penguins. The hairdo might have been the secret to his success as he scored 291 goals during his time in the Keystone State from 1984 – 94, but only 132 after he left the state and the flowing locks behind.
6. John Cullen – 1991 – 92 Pinnacle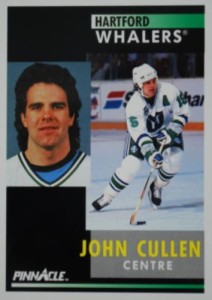 Cullen spent time in Pittsburgh and Hartford, rocking the mullet in both cities. Cullen has a fuller and curlier mullet than both Wilkinson and Tocchet and that puts him 6th on the list of hockey card mullets.
5. Steve Smith – 1990 – 91 Upper Deck
Smith's look here screams classic mullet. Short in the front, a little high top and long in the back. While it might not be as amazing as some of the others on this list, there is something special about the plain, classic mullet.
4. Brett Hull – 1990 – 91 Bowman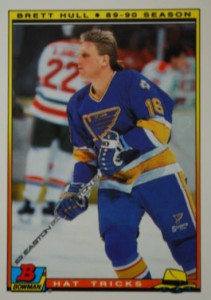 Hull's mullet is ranked fourth for two reasons. First, star power always bumps people towards the front of the line. Secondly, Hull's look here gives the impression that he could fill in as a Jean Claude van Damme body double for a prequel to the 1995 film Sudden Death. 
3. Bob McGill – 1992 – 93 Upper Deck
McGill was the 26th pick in the 1980 NHL entry draft and spent time in Toronto and Chicago before spending one season with San Jose in 1991 – 92. Maybe bringing the mullet to California was a bad thing as McGill registered just 3 goals and 1 assists in his 62 games that season and finished with a +/- of -34.  Maybe that is why Tocchet cut his hair before going to L.A.
2. Keith Primeau and Owen Nolan – 1990 – 91 Upper Deck
One cannot pay homage to the mullet without acknowledging the 1990 entry draft class. Keith Primeau and Owen Nolan are just two of the many examples of how widespread this hockey hairdo was in the early 1990's, but there is no better example, or mullet, than…
1. Jaromir Jagr – 1990 – 91 Upper Deck and 1991 – 92 Topps Stadium Club
Jagr's hair was amazing and is the epitome of hockey card mullets. It was long, curling and just plain spectacular. Very impressive Mr. Jagr, very impressive.
These are my top ten hockey mullet cards. Please feel free to share some that I might have missed.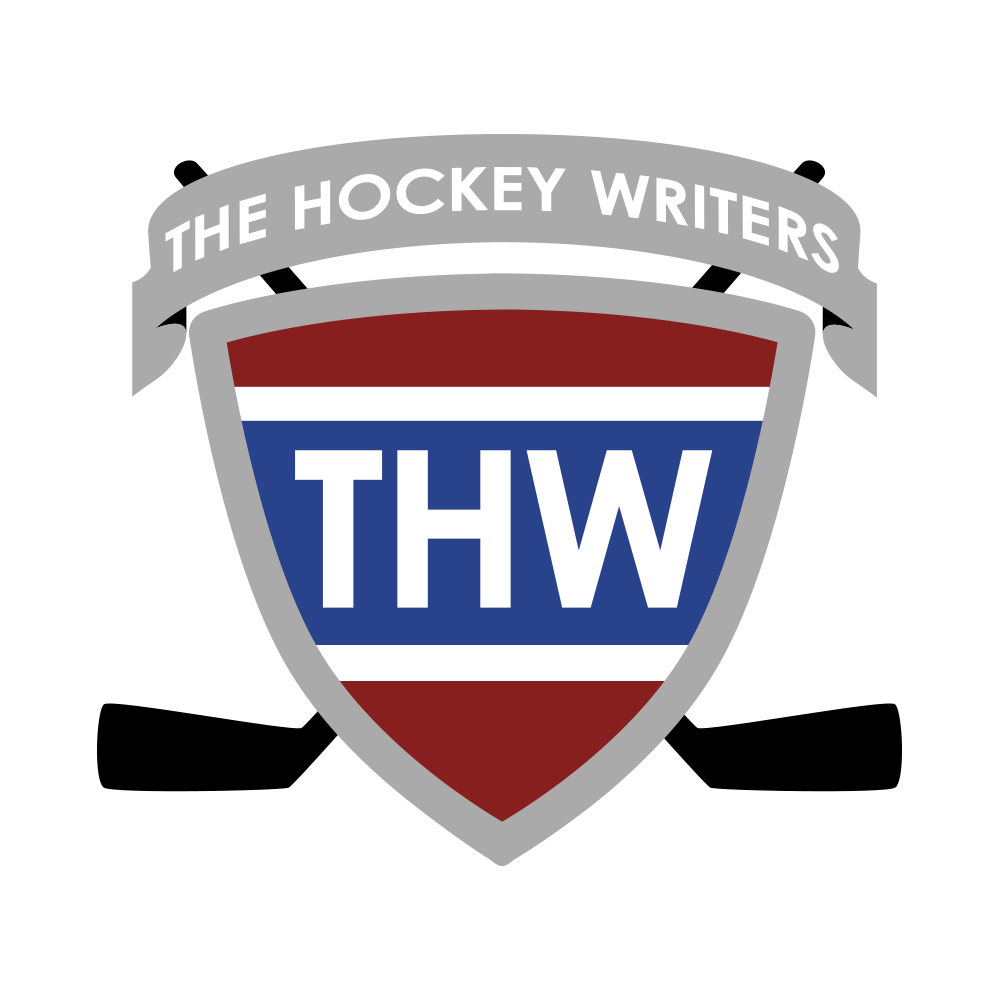 The Hockey Writers is:
1) A top-tier hockey media company delivering a top-notch, in-depth look at the NHL
2) A collective of some of the best hockey writers anywhere
3) A multimedia provider with daily podcasts and YouTube shows
4) Well-respected and widely-cited NHL prospect and draft resource