When the National Collegiate Hockey Conference was formed, the NCHC board of directors decided to use shootouts to award an extra point within conference standings if the game was still tied after a five-minute sudden-death overtime.
When the NCHC announced that they were going break tie games by using the shootout a number of fans were unhappy with the move.
The college hockey purists' sounded the alarm. The fans that hate the shootout were unhappy that the league would use a gimmicky individual skills contest to break ties for league games.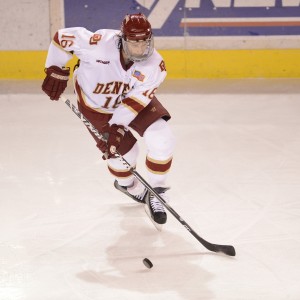 On the other side of the spectrum, there were fans that saw the shootout as an exciting aspect of the game.
Most USA Olympic hockey fans that I've talked to enjoyed watching former Fighting Sioux All-American forward T.J. Oshie go four-of-six in the shootout against Russian goalie Sergei Bobrovsky during the 2014 Sochi games. It was a defining moment in international hockey.
Personally, I have seen shootout so infrequently in college hockey that I don't have a problem with it.
On Friday night, UND participated in their first shootout as a member of the NCHC. Last season, UND was the only NCHC team that didn't have any of their league games end in a shootout.
Unfortunately for UND, they would lose 1-0 in their first ever NCHC shootout. The players seem to like the shootout. UND freshman forward Nick Schmaltz offered his thoughts on the shootout.
"I like it, I don't like the game ending in a tie," Schmaltz said.
Shootouts rarely used to break ties
While the NCHC uses the shootout to break ties for league points, there haven't been a lot of games decided by the shootout.
Through 244 games, there have been only 19 games decided by a shootout. That means through a season and a quarter of league play, only 9.3 percent of the games have gone to a shootout.
To this point, it would appear that fans that hate the shootout don't have that much to be upset about because there's not a lot of shootouts taking place in NCHC play.
Breaking it down further, this season through 52 games, there have been only two shootouts, meaning only 3.8 percent of the NCHC league games have gone to a shootout.
Colorado College (5, 1-4, .200) and St. Cloud State (4, 0-4 .000) have played in the most shootouts and have had the least success in the shootout.
Over the course of two seasons, Western Michigan University (3-0, 1.00), Minnesota Duluth (2-0, 1.00) and Miami (1-0, 1.00) are unbeaten in the shootout.
Eric is a 1996, 1999 graduate of the University of North Dakota. Eric covers the University of North Dakota Hockey and Division I college hockey. Eric is the Contributing Editor for Inside Hockey.