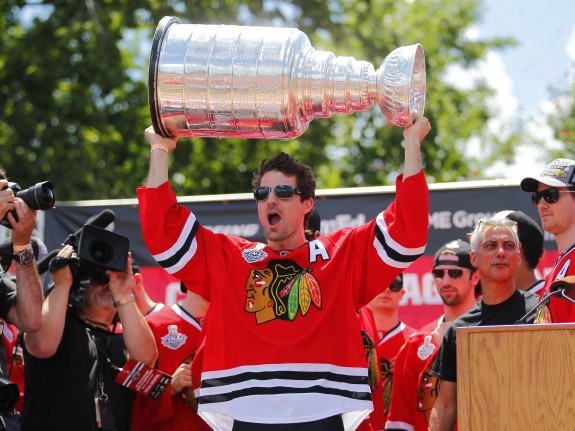 We finally made it everyone! After 83 playoff games, we will have as many as seven more to decide this year's Stanley Cup Champion. The playoffs have shown that an extra two to three teams were millimeters away from making it to the finals themselves, but in the end, the two best teams all regular season, analytically, are in the Stanley Cup Final.
This is not a time to brag, but it is another sign that puck possession is the name of the game if your team ever wants to think about competing for Lord Stanley's Trophy. There will always be those that will complain about shot quality, hot goaltending, team and player history and other whimsical reasoning as to why teams make it this far, but in a salary cap world, executives and head coaches need to find the best possible way to win with such a limited budget. Every team in the NHL has, at least, three to five really good players on one team. It is up to the underpaid or overpaid role players to step up and get the job done. All year long, that is what these teams have had and it's those players that have been able to get the job done.
For both Chicago and Tampa Bay, they went on different paths to become the two best teams in the NHL. For Tampa, they did so by getting the cap space and draft pick capital to pick up many veteran defensemen in Matt Carle, Braydon Coburn and Anton Stralman. A team so young with a few from that historic 2012 Norfolk Admirals team grew up another year and Steven Stamkos became the captain and face of the franchise. For Chicago, it has been obvious for almost a year that their spending was going to be cut short in the long term unless they dramatically change the look of their team. That is why their only acquisition was on a recently amnestied Brad Richards for only $2 million and were forced to trade away such an underrated and undervalued asset in Nick Leddy. Also, the rights to Kevin Hayes ran out and the team saw him immediately become an up-and-coming goal scorer for the New York Rangers (granted, a sheltered one so far).
In the end, though, both teams kept their core together, and even during their trials and tribulations in the regular season, they rounded out their form to get to where they needed to be just in time for the playoffs.
Improved Hawkeye Vision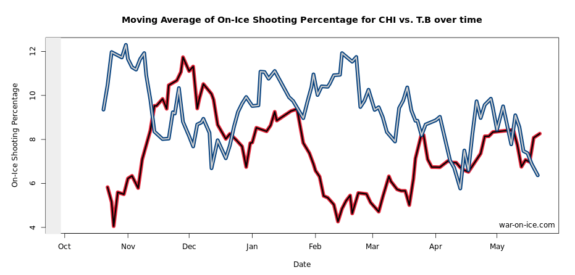 Even if the Blackhawks never made it in the Stanley Cup, somebody from the Central Division had to make it. Minnesota, St. Louis and Nashville were among the five best teams, analytically, at some point in the season. Even Dallas proved to be one of the most fun teams to watch all season. The fact that Colorado immediately finished dead last in that division after such a wonderful (yet luck-ridden) 2014 should show the strength in depth that Chicago had to go through the vast majority of the regular season to get to where they are.
All year, the Blackhawks forward ranks were in an interesting spot. Despite also becoming one of the best offenses in the league, their defense gave up over 52 unblocked shot attempts per 60 minutes at even strength. While not terrible, it would be the first time since Joel Quenneville was hired that the Blackhawks finished outside the top ten in that category. Also, their on-ice shooting percentage was one of the worst in the NHL and resulted in them posting only 229 goals during the regular season in all situations; good for just 17th in the NHL. That accuracy has been rectified and then-some during the postseason while Tampa's has been in decline from their league leading standard. It's another reminder to all that, barring true long-term systemic problems, shooting percentages always find a way to regress or progress to the mean.
The top line of Jonathan Toews, Marian Hossa and Brandon Saad were the least of their worries for Quenneville all year as two of the best two-way forwards in the world just so happen to be there. It is the other lines that had to be sorted out. All year, it has been a mystery as to who the third forward would be to join the scoring line of Patrick Kane and Brad Richards. Kane's possession numbers looked better off when partnered with Kris Versteeg or Patrick Sharp. However, Versteeg has been a healthy scratch in order to insert Teuvo Teravainen into the lineup and Sharp has joined the Finnish rookie with Antoine Vermette to form the sheltered third line. Sharp's on-ice shooting percentage has not helped in his case for getting promoted to the top-six anytime soon. As a result, Bryan Bickell has been with Kane and Richards on the scoring line and while he brings those Disney Channel adjectives to his game, he is not an ideal match in that part of the lineup. This could be an area for Tampa to exploit.
Electric 'Fence
When you think of Tampa Bay, you may think of the exciting second line of Tyler Johnson, Nikita Kucherov and Ondrej Palat. You may also add Steven Stamkos to the mix and think that Tampa are an offense juggernaut. You are actually more than wrong because the Lightning finished third in the league at even strength shot attempts against per 60 minutes.
What John Cooper has done this season seems to be creating the proverbial Frankenstein from Guy Boucher and Alain Vigenault when it comes to line combination construction. In other words, you have Boucher's philosophy of playing with eleven forwards and seven defenseman while Vigenault's emphasis is to hemorrhage his top lines with as many favorable zone starts as possible. For Cooper, not only is his talented second line out in full display, but so is his top line of Steven Stamkos, Alex Killorn and shutdown specialist Valtteri Filppula. Everyone else in the forward ranks seems to be cast aside and will only be on the ice against fellow bottom six forwards in defensive situations, including a makeshift fourth line of Brian Boyle, Brenden Morrow and J.T. Brown. Now, it is important to add that Ryan Callahan used to be a part of the top line until his emergency appendectomy before the second round was concluded. He has been a valuable piece to the team during the regular season from both a goal-scoring and possession standpoint.
Drizzling Offense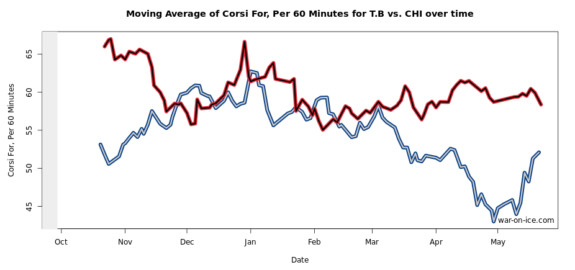 With all that being said, Tampa's offense has been in tatters since the trade deadline. It also seems to coincide with the fact that, despite finishing with a world class defense, that most of that came from their performances pre-March 1st. When acquiring Braydon Coburn, John Cooper was probably expecting a shut down defenseman that could free up Anton Stralman to generate more offense from the blue line. What Cooper did not realize was that Stralman was handling the team's toughest assignments really well. Also, Coburn would only play four games the rest of the regular season due to a lower body injury. During the playoffs, Cooper has been scrambling his defense pairings wondering where such a formally touted defenseman would fit into the lineup. So far, Coburn has been paired with Jason Garrison while Stralman and Victor Hedman have formed a more sheltered top pairing. Andrej Sustr and Matt Carle round out pairings with Nikita Nesterov being the seventh defenseman, but not all of these combinations best match well with each other. If Carle can play with Garrison instead, as it was set up for most of the season up until March 1st, then Tampa's possession could be much better.
Either way, you would think by now every general manager and head coach would stop being so enamored for spending so much for a shut down defenseman as they have been doing for the last couple of seasons. Turns out I was more than wrong.
Cumisky Park
Now it's not like Tampa is the only team that is dealing with issues along their blue line. The Blackhawks also paid a heavy price for an ex-Philadelphia Flyer in Kimmo Timonen. It's pretty safe to say, that whether it's the blood clot he has had to endure throughout the majority of regular season or the fact that he is 40 years old, that he is not the same player. It seemed like a logical fit of having him fill the sixth defenseman role with Michal Roszival while the usual Duncan Keith-Brent Seabrook and Johnny Oduya-Nicklas Hjalmarsson pairs stayed the same. Then, Roszival fell down with one of the most gruesome ankle injuries you'll see in a hockey game in the series clinching game four against Minnesota in the second round. Sometimes, ankle breakers are fun during And1 Mixtape Tour-like moves and passes until they literally happen.
Since then, Quenneville has paired Timonen with David Rundblad and Kyle Cumisky. Last year, Cumiskey was playing for MODO in the Swedish Elite League while Rundblad played a combined 23 games for Chicago, Arizona and AHL Portland. Now they are playing minutes in the Stanley Cup Final and both play sheltered minutes but bring a positive impact to a third pair. Timonen's abilities, however, were just not coming out in full strength. By game six, Timonen was scratched and while Rundblad and Cumiskey are playing together, they are not getting any ice time. And you wonder where Duncan Keith is averaging over 30 minutes per game. Should Quenneville see that Keith is in need of rest or is not performing well with the extra work load, Runblad and Cumiskey should be able to not look out of place. If they are, Trevor Van Riemsdyk might fill in after recovering from wrist surgery.
Bishop Takes King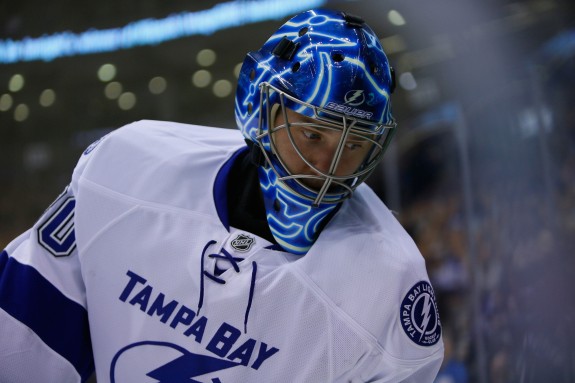 I'll be blunt about this. I can't stand talking about goaltending. All it takes is one shot to ruin one's save percentage and completely throw off such small sample sizes. For both Ben Bishop and Corey Crawford, there is not much between them when it comes to their career even strength percentage (92.6% on 5947 shots for Crawford. 92.4% on 3680 shots for Bishop) and both have hit the point in their careers where less than 10% of their save percentage comes from shear luck. These two are not terrible goaltenders, but they are not the best either, and that's ok. Remember that for every Jonathan Quick that has won the Stanley Cup, there's an Antti Niemi. For every Tim Thomas, there's a Marc-Andre Fleury. Goaltending should not matter unless it is so disgusting, even Ilya Bryzgalov would want to leave for the universe to avoid watching it, fast!
If I have to give an edge in the goaltending matchup, Bishop might be my guy despite having a worse regular season (91.9 save percentage at event strength) than Crawford (93.0%). Despite rebounding nicely since being dropped for a few games for Scott Darling in the Nashville, Bishop has now had the upper hand at even strength save percentage during the playoffs while Crawford still looks vulnerable at times in shorthanded situations. One thing that could give Crawford the edge is Tampa does seam to rely on their shot quality more than most teams in the NHL. According to data from war-on-ice.com, Tampa had the second highest percentage of their score adjusted shot attempts come from scoring chances in the NHL during the regular season and the the second highest when those shot attempts came from high danger area shot attempts. For Crawford, his high danger area save percentage has been the one thing that has stayed better than Bishop's, even though all those numbers were not at an elite level.
Really, This Series Isn't So Special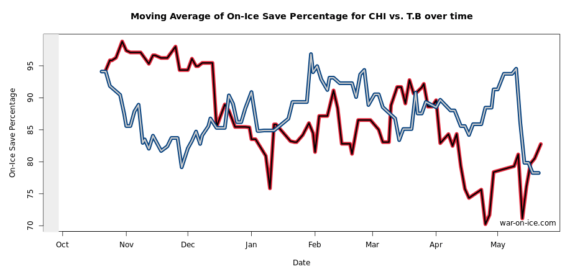 If you thought goaltending was going to be such a wash of unspectacular, special teams might go the same. Tampa might have been much better on the power play since the trade deadline, but they still finished second worst to Buffalo in shot generation. Again, shot selection might be preached a little too much on this hockey team and you can't help but wonder if this will bite them. This is where Chicago should continue to exploit that as their penalty kill has been dramatically better in shot suppression throughout the playoffs after a sub-par regular season. If it wasn't for Crawford's inability to make saves, the penalty kill would be much better than their 75.5% clip they are at this postseason. Even if they haven't played anyone that finished in the top ten in shot generation on the power play in the playoffs, the Blackhawks should continue to produce on the penalty kill.
The same improvement can be said for Tampa's penalty kill, even if they too finished in the bottom ten in that category during the regular season. Like Chicago, the Lightning did not face anyone with such firepower on the man advantage and the Blackhawks don't seem to fit the bill in that either. Despite all the star power on offense, Chicago's power play unit has taken a major nosedive since the New Year despite having their shot generation hit over 100 per 60 minutes and within the top half of the NHL during the regular season.
Conclusions
Automatically, this comes down to which team sets the tempo at even strength. Chicago, by far, will face their stingiest defensive opponent all playoffs at even strength while Tampa, by far, will face their most potent offensive opponent.
The more I look at this series, however, the more I just can't help but find Tampa to be a bit to gimmick when it comes to their line combinations and systems. The wild card for them could be if Ryan Callahan recovers from his appendectomy completely and goes on a tear. Otherwise, Chicago should be able to shut down or create parity with whichever line Quenneville has them matching up with. If Tampa does win the Stanley Cup, it will be because Bishop goes absolutely bonkers and reaches career high performances. Otherwise, Chicago should be able to get their third Stanley Cup in five years.
Blackhawks in Six