As the second offseason under the new regime of the New Jersey Devils begins, there is a lot of excitement and energy around the franchise from top to bottom. Under GM Ray Shero, head coach John Hynes and assistant GM Tom Fitzgerald the team has revamped its look, feel, style and roster, again from top to bottom. With two NHL Drafts under their belt, and a second development camp just completed there are now glimpses of some of the future talent that could skate on the Newark ice over the upcoming seasons.
This is part two of our extensive recap; you can read part one here: Devils Development Camp Recap Part 1.
Goaltending Depth
"I had Ken Appleby last year for a bit and have seen MacKenzie Blackwood a couple of times here; I thought that (Matt) Morris (undrafted from Ridgewood, New Jersey) and (Evan) Cormier did well," Albany Devils coach Rick Kowalsky said of the team's goaltenders in the camp. "It's still early in the summer here, but you're excited to see these guys on the ice and I thought everybody had a good week."
Last summer Appleby came to this camp and was an undrafted/unsigned free agent, now he is moving up the organization's goaltending depth chart; just like Fitzgerald alluded to earlier, they auditioned for him and he liked what he saw and signed with New Jersey. This summer, after a year of development with the Devils' tutelage, he looks like a completely different player. "You hit the nail on the head – Ken looks like a totally different goaltender than he did last year at this time, and that's why we're here," Kowalsky told The Hockey Writers. "It's a big part of mine and Sergei (Brylin)'s job, and the development staff; it's all part of the process and it's exciting to see."
Ken Appleby (@KAppleby35) stretching before the shootout at 😈 Development Camp. pic.twitter.com/U83Mz6fpty

— Dan Rice (@DRdiabloTHW) July 17, 2016
"You're able to get these guys into the development program that we've talked about extensively this week and Ken is a good example of that. We didn't have room for him, he was really the fifth guy in the organization (on the goalie depth chart) and we wanted him to play. We were fortunate to have an (ECHL) affiliation in Glens Falls/Adirondack – 45 minutes away (from Albany). So if he needed to practice with us he could get down there. Scott Clemmensen did a great job with him; being that close he got to spend a lot of time with him and was able to go work with him and watch him. When we needed him, he was ready. That was the beauty of it, and the convenience of it being that close."
So who will be backing up Cory Schneider in New Jersey and who will be the two netminders sharing the net in Albany? That will likely be a battle between Appleby, Blackwood, Scott Wedgewood and Keith Kinkaid that will be settled on the ice during September's training camp.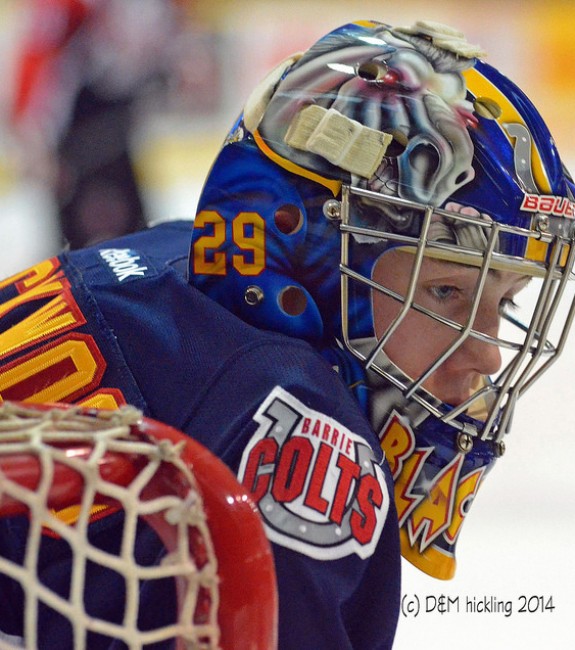 "Blackwood is obviously our top (goaltending) prospect for us, Appleby had a good first pro year this year; splitting some time in Adirondack and Albany," said Fitzgerald. "The plan right now with Blackwood turning pro; he'll be 20-year-old at the end of the year and we think he's mature enough to handle that. Where that is? Again, that's the competition element that we speak of a lot in the organization. They'll be competing for time in Albany."
Rebuilding Albany
At least 13 players that played for Albany last season won't likely be back, and that doesn't include those players that may or may not be in New Jersey at the start of the season. Many players left and signed with other AHL teams, others bolted for Europe. A host of players signed their entry-level deals and will be a part of the new nucleus that Kowalsky and his coaches will oversee and develop into professional players.
http://gty.im/532214670
"These guys…college, junior hockey…the pro step is a big one, whether it's the NHL or the American League. I talked about it all week here, about some of the guys that have played for me, even if it was a (Nick) Lappin or a (Joshua) Jacobs that came in at the end of the year," the A-Devils coach said. "They seem to have another level of preparation, mentally and physically."
Other players like JD Dudek will be returning to college to finish their final years of eligibility before turning pro. Once his season ends at Boston College expect him to possibly sign a contract to be part of the Albany Devils, if not in New Jersey. Heck, with moves like this, they may want him in Newark just for shootout purposes alone! Holy Toffoli!
Sweet moves by Dudek in the shootout. #NJDevCamp16 pic.twitter.com/eRpNUpUySP

— Joe Altenau (@joealtenau) July 16, 2016
Fitzgerald expounded on those points, outlining what we can look forward to and what we may see this upcoming season with the Devils' farm system. "Opportunity is everything. If you don't have an opportunity, how can you ever make a career, quite honestly? So we'll see the one who actually take that opportunity and run with it. We had some veterans last year and we'll be a lot younger this year; there are some pieces I added that I felt were very necessary to what we lost."
"But, it tells the Coleman's, and the Pietila's, and the (Ryan) Kujawinski's and these guys who were down there last year that hey: I have a chance to be in the mix for call-up games this year. That's an opportunity. Now, what do you do with that opportunity? Does that one game turn into five? Does that five turn into twenty? That's always up to the individual; that's going to be something different where you're not going out and getting the (Jim) O'Brien's and (Mike) Sislo's, and you know they can play (NHL) games,"he told THW. "Eventually, these kids have to play (NHL) games. They put themselves right in that mix because of what we have; we have a lot of players. A lot of players that we really think can come up and play games, but which ones grab that opportunity? That's up to them."
http://gty.im/528693606
This could be a big year in the development of the franchise, especially in Albany. Expect to see and hear lots about the development players like Zacha, Jacobs, Quenneville, Lappin, Blake Speers, Colton White, Steven Santini, Miles Wood, Brandon Baddock, Kevin Rooney and more as Shero, Hynes and the new front office continue to evaluate and put their stamp on the New Jersey Devils. For fans, it certainly is an exciting time that is currently filled with promise and hope, and as Fitzgerald said: the opportunities are there now, let's see who actually takes the opportunity and runs with it.
Dan Rice is in his 9th year of reporting for THW & has covered NJ Devils home games for 15+ years at various websites. He began his journey working for legendary broadcaster/writer Stan Fischler from 2002-04 & completed an internship at the ECHL; he also has been writing features for the NWHL (nwhl.zone) website since 2016.