On Saturday afternoon, the New Jersey Devils' season came to an end, as they were defeated by the Lightning to end their postseason run. Despite the loss, they accomplished a great deal in 2017-18 and finished well ahead of most's expectations. With the organization now moving ahead and looking into the future, there's plenty of reason to be excited about the direction of the Devils heading into 2018-19.
Devils' Core Young and Talented
One of the keys to the Devils success this season was due to the performances from their core players — starting with Taylor Hall. After a tough 2016-17, he increased his point totals by 40, finishing with career highs in points (93), goals (39), and assists (54). Had he not produced at an MVP level, it's unlikely the Devils would've qualified for the postseason.
While Hall was by far and away the Devils' best player this season, the team still managed to get significant contributions from other players. Kyle Palmieri, who missed 19 games due to injury, finished with 44 points in 62 games — good for a 58 point pace over an 82-game season. Palmieri has been one of the Devils' most consistent players since being acquired in a trade in 2015, and despite injuries, this season was no different.
The Devils also relied on several first and second-year players to make the playoffs. Nico Hischier finished his rookie campaign with 52 points (20 goals, 32 assists), while Miles Wood finished with 19 goals, an 11-goal jump from last year. Blake Coleman, who only had two points in 23 games last season, finished with 25 in 79 games this season and was one of the team's top defensive forwards.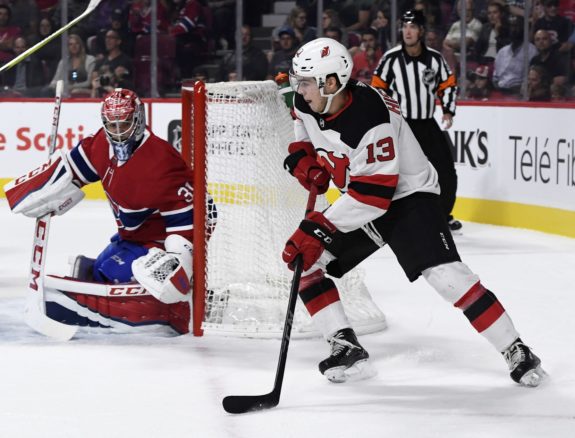 In addition to Hischier, Wood, and Coleman, Jesper Bratt made a name for himself with a strong preseason and first half of the regular season. Despite totaling only nine points in his final 34 games, Bratt finished the season with 35 points in 74 games. He was a regular through most of the season and spent plenty of time on the top line with Hischier and Hall — pretty impressive considering he was a sixth-round pick just in 2016.
On defense, Will Butcher proved to be a steal and had one of the best rookie seasons for a defenseman in franchise history. He finished with 44 points in 81 games, which is the most for a rookie defenseman since Scott Niedermayer's in 1992-93. At 23-years old, he figures to be a valuable part of the Devils going forward and should see an increased role next season.
What all these players mentioned above have in common is that they're 27 years old or younger. All are under team control for the foreseeable future, as well. That positions the Devils to build on this year's success not only in 2018-19 but in the years to follow.
Devils Filled with Exciting Prospects
When Ray Shero took over as Devils general manager in 2015, the Devils' pipeline was lacking speed and skill. Since then, the organization has made a priority of drafting young forwards who fit the speedy style of hockey they want to play. They even saw the benefits of that this season with Hischier and Bratt.
Over the next season or two, the Devils should see more of these prospects making a push to make the NHL roster. John Quenneville, who missed plenty of time with injury this season, has been knocking on the door for a couple of seasons now. He's played in 14 NHL games the last two seasons but hasn't been able to maintain a regular spot with the big club. Could 2018-19 finally be the season he cracks the NHL roster?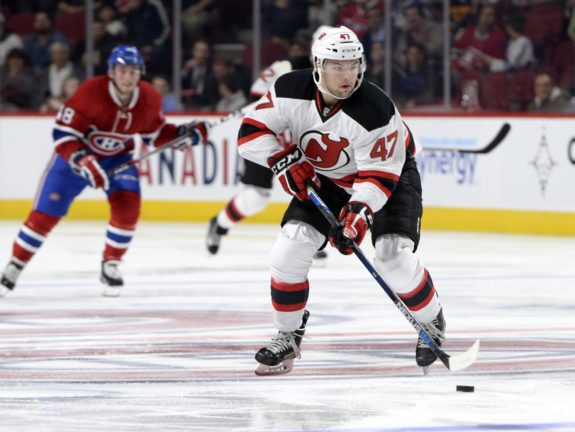 Quenneville is not the only forward in the AHL who has a shot at the NHL next season. Nick Lappin finished as the Binghamton Devils' second-leading scorer with 53 points in 65 games. He's also played a total of 49 games with the big club since 2016 and could be ready for a shot at a regular spot much like Quenneville.
While Lappin and Quenneville may be the closest players to earning an NHL spot, other prospects are on the way, too. Joey Anderson, who just won a National Championship with the University of Minnesota Duluth, signed an ELC with the Devils during the playoffs. Michael McLeod, the team's first-round pick in 2016, will also begin his first full professional season in 2018-19. The organization also has a few promising prospects over in Europe, such as Jesper Boqvist, who could be a year or two away from making their NHL debuts.
The Devils may not be as loaded on defense as they are up front, but they do have a couple of prospects that should help their back end over the next few seasons. That said, they do lack an A-level defense prospect and is something they make take a look at in this year's entry draft.
Related: Devils End of Season Prospect Update — Part 2
Final Thoughts on Devils Season
The Devils are already reaping the benefits of their young players, such as Hischier and Butcher, at the NHL level. Their best players are locked up long-term, and they have more talent working up through the system. The Devils do have quite a few needs entering the offseason, but they'll have around $20 million in cap space to help address some of them. Given that and the prospects they have coming up, the Devils are in a prime position to sustain their success beyond the 2017-18 season.