Last year, the New York Rangers stunned everybody when they finally decided to cash in on Derek Stepan's value and peddle him to the Arizona Coyotes for the seventh selection in the 2017 NHL Draft which resulted in the selection of 18-year-old center Lias Andersson out of the Swedish League. Rangers general manager Jeff Gorton also acquired talented defenseman Anthony DeAngelo in the same deal.
The 19-year old Swede is a quality prospect who figures to center a team's second or third line. He is gritty, works hard and possesses many of the same leadership qualities as Stepan. An excellent scouting report on Andersson was done by David Carlsson.
Stepan became the second veteran center the Rangers had moved on from in back to back offseasons. In 2016, they decided to take step one in their "retool" by sending playoff hero Derick Brassard to the Ottawa Senators for Mika Zibanejad, the latter possessed more upside.
Stepan was an important part of the Rangers core that for years was banging on the Stanley Cup door but were never able to knock it down. Who could forget his massive Game 7 goal against the Washington Capitals that sent the Rangers into the Eastern Conference Final against the Tampa Bay Lightning?
"Step" was an excellent veteran and leader that was able to play 18 minutes a night in all game situations. He became incredibly dependable early in his career, but the Rangers knew they had to move on and inject the organization with more youth. 
Center of Rebuild Revolves Around Centers
Gorton's Rangers are loaded up the middle. Zibanejad and Kevin Hayes are coming off a solid campaign in which both registered north of 40 points. Zibanejad packs the skillset of a top-line center and Hayes has shown he can play a solid top-nine role. However, because of team's depth at center, Hayes finished the season under ex-coach Alain Vigneault on the wing. He will most likely play a role on the wing in 2018 as well.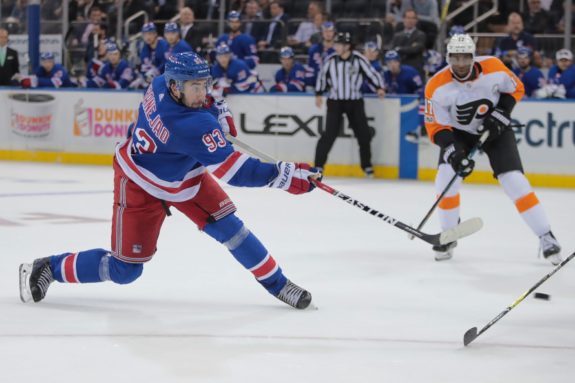 Zibanejad and Hayes are likely to be relied upon as key cogs in the machine under a brand new coach come this fall. Hayes should earn a contract north of $4 million per season, but it will be interesting to see if he can replicate his 25-goal campaign on the wing. The other question is, could Gorton peddle the "Pride of Dorchester" along with picks to net the Rangers a higher selection come June?
Andersson and Filip Chytil both got their feet wet in their first season in North America. The Rangers selected Chytil 21st overall in the 2017 Draft, the same draft they selected Andersson seventh in. The Rangers haven't had two first-round picks since 2004 when the club selected goalie Al Montoya sixth and forward Lauri Korpikoski 19th.
Anyway, forget about 2004. It could be argued that Gorton and co. reached for Chytil at 21 but many scouts believe he will reward the Rangers with top-six minutes for the foreseeable future. Our own Dave Rogers gave his insight on the Rangers' top two prospects:
"Andersson is known for his work ethic and two-way game," said Rogers. "Chytil, on the other hand, is a dynamic offensive player who can bring fans out of their seats. He excels in open ice but has shown a willingness to go to the dirty areas to score goals as well." Chytil was drafted as a 17-year-old so it was smart of Gorton and his management team to let him grow in the AHL for the majority of the season.
His nine games with the Rangers were the perfect cup of coffee. The 18-year-old Czech totaled three points and looked more comfortable in the seven games at the end of the year than he did in the team's first two games at the start of the season. Chytil is the more skilled of the two 2017 first-round selections but both are integral parts of the new Rangers core.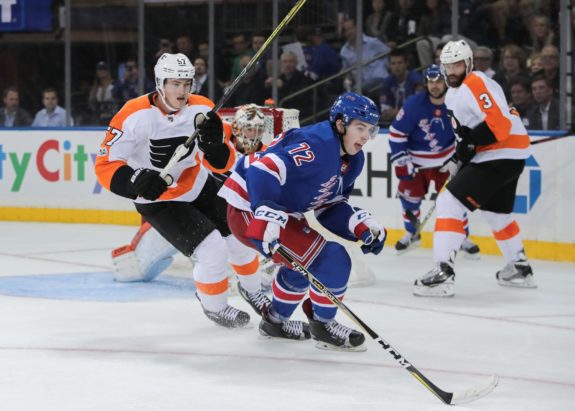 Both Rangers top prospects could be expendable for the right player but they are probably as close to untouchable as one would figure, considering the organization is extremely high on both prospects. The New York Post's Larry Brooks had Chytil second and Andersson fourth on his list of top-nine untouchable Rangers.
Who Should Rangers Package?
There are articles flying left and right linking the Rangers to both John Tavares and Erik Karlsson. Both superstars are going to cost a ransom. Tavares is a free agent in his prime and even if he cleans out his locker at Barclays Center it is unlikely he will be calling Madison Square Garden his new home.
Karlsson will cost a haul in a trade and next offseason he is bound to earn upwards of $9 million per season. "EK65" suffered a major injury to his heel in last year's playoffs resulting in two hairline fractures. He has a lot of mileage on him and he will turn 29 by the time he is ready to cash in on his next contract, and it is likely we have already seen him reach his peak.
Gorton is unlikely to acquire either star. The Rangers are stacked with quality players and loads of draft picks. There are many guys they can package in order to move up and acquire a top-five or top-ten pick come June. Vladislav Namestnikov was acquired in the Ryan McDonagh-J.T. Miller blockbuster with the Lightning at the trade deadline and could be a viable option for teams inside the top-five.
Namestnikov totaled two points in his NHL debut against the Vancouver Canucks and disappointed from that point on. In his final 18 games, he produced two points. In his defense, he went from riding shotgun with Nikita Kucherov and Steven Stamkos in Tampa to sharing a line with Cody McLeod in New York, which is mind-boggling.
Both selections the Rangers acquired in deadline deals will be towards the bottom of the first round. Those picks will be talented but won't be nearly as valuable as their own pick which should result in a top-ten selection. Perhaps the Rangers can package the 25-year-old Russian center, who, despite the underwhelming finish to the season, still has loads of talent on both sides of the puck, along with both the Boston Bruins and Lightning's picks in exchange for the Oilers' first-round selection which should be inside the top-ten.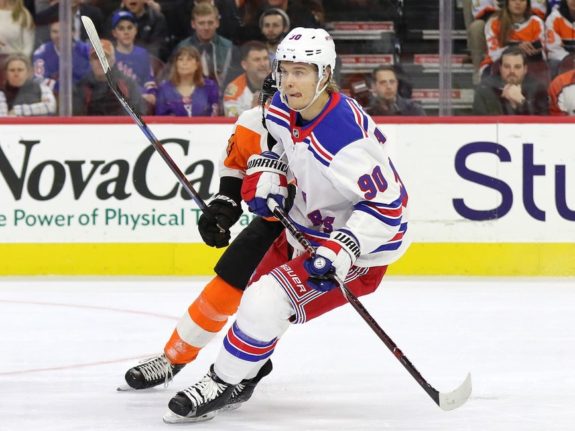 The Oilers have Connor McDavid and Leon Draisaitl who are superstars up front. Aside from 19-year-old Jesse Puljujarvi, the Oilers do not have many guys who can keep up with McDavid and Draisaitl. It was a topic discussed most of the season in Edmonton and resulted in a disappointing finish.
Namestnikov is the perfect player to slot in on a line with McDavid and Draisatil and with Ryan Nugent-Hopkins plugged in as the team's second line center. He brings the three S's; speed, skill, and smarts are all a part of "Vladdy's" game. He feasted with Kucherov and Stamkos and can play a complementary role with stars. With the Rangers unlikely to move guys like Chris Kreider, Brady Skjei, and Pavel Buchnevich, Number 90 looks like a guy who will be shopped come June.
Final Ruling: Should Gorton Move Up?
I've mentioned that it's unlikely the Rangers move Chris Kreider (along with Skjei and Buchnevich). He was dearly missed when he missed 24 games with a blood clot. The Rangers do not possess another player in the organization who combines both the speed and strength that number 20 has.
When he returned to the lineup he racked up 15 points in 21 games. If the Rangers brass decides to package "Kreids" with their own first-round pick, they would easily be able to move into the top-five. If packaged with the Bruins and Lightning pick, they could possibly move into the top-five. Kreider would be a perfect fit with the Oilers and could realistically score 35 goals playing alongside McDavid.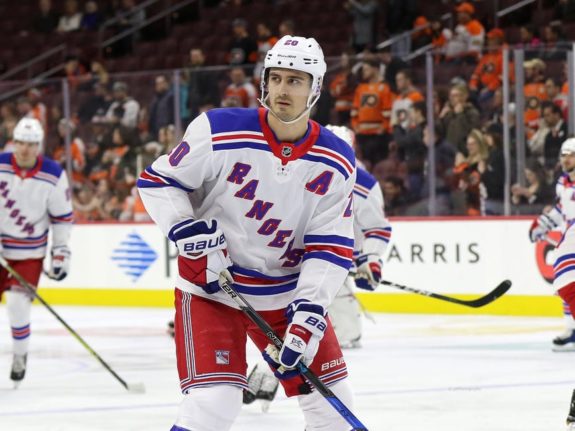 Phil Kocher elaborated on a potential Kreider-Oscar Klefbom deal with Edmonton. The Rangers winger has been linked to Edmonton many times before. If I moved him, it would have to be for the Rangers to acquire a top-five pick come June. Would I move Kreider? No. Should Gorton move him? No, he should not, but I can guarantee he has thought about the potential return he could get for the strapping winger. "Gorts" has publicly stated he is open to moving one of the club's first-round picks.
Gorton fired Vigneault hours after the club suffered an embarrassing 5-0 loss to the Flyers in Philadephia to conclude their season. Management has turned the page on the season and is ready to continue their roster shakeup come June. I believe Gorton will package a player or two with draft picks to move inside the top-five. The Rangers need a difference-maker inside the organization and the draft possesses many of them.