Fresh off the heels of falling just short of their first Western Conference Final appearance in more than a decade, the Edmonton Oilers—30-34-4 and 16 points back of the final wild card in the West—are about to miss the playoffs for the 11th time in 12 years. As is generally the case when these things happen, talk of change is in the air.
Fueled by unequal parts injury, suboptimal performance, and salary cap concerns as the team is set to enter the $100 million Connor McDavid era, the Oilers appear poised yet again to try and trade their way out of this tailspin. This time, as Sportsnet's Elliotte Friedman reports, it's Oscar Klefbom's turn to flap in the trade winds.
Could Rangers, Oilers Solve Each Other's Problems?
Meanwhile, back in the East, the New York Rangers—similarly disappointed with their lot but heading in the right direction—might have a solution to Peter Chiarelli's problem. Though they've just begun the arduous process of rebuilding their club, it'd be awfully difficult for Jeff Gorton to pass up on an opportunity to potentially join the growing list of NHL general managers who've fleeced Chiarelli in the recent past.
"It's pretty clear that [Klefbom's] been playing hurt. And players who have played against him say that he has been really protective of his shoulder, the way he turns, the way he goes into the boards. Like, he has played pretty hard this year considering he has really been hurting. – Elliotte Friedman
The logic as to why the two clubs would deal with each other at this junction is rather simple. The Rangers, now without Ryan McDonagh, could really use a shot in the arm on their blueline. Conversely, the Oilers could use a speedy winger capable of keeping pace with McDavid. You can probably see where this is headed already. Chris Kreider for Oscar Klefbom, anyone?
Kreider, 26, will be entering the third year of his four-year extension that comes with a very manageable $4.625 million annual average value (AAV). On top of his blazing speed—an element of his game that fueled his being taken 19th overall in 2009—he comes with an impressive package of size (6-foot-3, 228 pounds) and goal-scoring ability that Chiarelli would no doubt be enthralled by. Since his first full season with the Rangers in 2013-14, his 99 goals are second on the club only to Rick Nash's 124.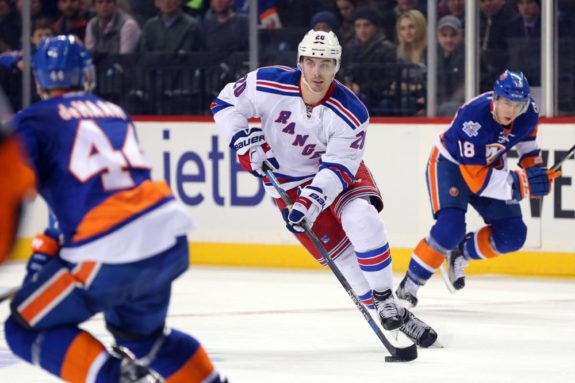 Like many Rangers players this season, Kreider's production has dipped. He's on pace to finish with 15 goals and 33 points in 58 games. That would be his lowest outing since 2013-14 when he scored 17 goals and 37 points in 66 games. It would also be a reduction in his points per game played (P/GP) average, down to 0.57 from last season's 0.71 pace. Though it would still be in line with his career average of 0.56 P/GP.
Even at his career average pace, it's likely Chiarelli would see an immediate opportunity to pair Kreider beside Connor McDavid, bumping Milan Lucic—who has one goal and just six points in his last 32 (!) games—down in the Oilers lineup.
Klefbom, 24, is currently in the second season of his seven-year extension that he signed with Edmonton in September of 2015 – a deal that carries an equally manageable $4.167 million AAV. He doesn't just come with the optimal size for a defenseman that coaches can appreciate, but it doesn't come at the sacrifice of his mobility. Along with sound positional play and the ability to contribute to both special teams, this combination is precisely what makes him such a valuable two-way defenseman capable of crunching big-time minutes.
In fact, since joining the Oilers in a full-time capacity in 2014-15, Klefbom has averaged an impressive 22:16 time on ice per game played (TOI/GP). That average would rank him second among NHL defensemen who've skated in at least 100 games for the Rangers since 2014-15.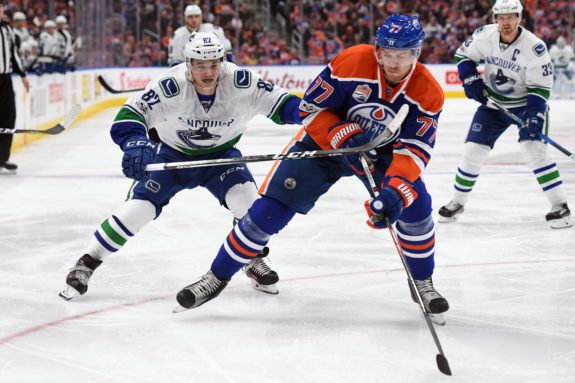 From an analytics perspective, Klefbom has also been a positive corsi for (CF%) and Fenwick for (FF%) in every season but his 17-game rookie year. He has a career average 50.7 CF% and 51.5 FF% while playing with a very even zone start differential (51.8 offensive zone start percentage to 47.1 defensive zone start percentage). All of which should be of particular value to a Blueshirts team this season that ranks dead last in the NHL in both CF% (46.06) and expected goals against per 60 minutes (2.76).
Could Gorton Compel Chiarelli to Sell the Farm?
Beyond the optics of the players themselves, dealing with Chiarelli could also provide the Rangers a unique opportunity to unequivocally win any potential trade. After all, this is the same man who traded Taylor Hall and Jordan Eberle for pennies on the dollar and gave up a first- (Mathew Barzal) and a second-round pick for Griffin Reinhart. He's also the man who signed Milan Lucic to a long-term, bulletproof contract and inked Kris Russell to a four-year deal with trade protection, but his work on the trade front is especially egregious.
To win the deal, perhaps Gorton, who has repeatedly referenced a desire to "rebuild on the fly" in New York, could not only pick up Klefbom but additional assets to boot. Kailer Yamamoto, the Oilers' first-round pick (22nd overall) from 2017, or Jesse Puljujärvi, selected fourth overall in 2016, are probably both a bridge too far, but perhaps one of the Oilers' second tier prospects such as Tyler Benson, Ostap Safin, and/or Dmitri Samorukov could tilt the scales in the Blueshirts' favor? Even if Gorton needed to send a defenseman back to Edmonton in the deal, he has a plethora of lower-end options including Neal Pionk and John Gilmour to pick from that shouldn't significantly harm his club's coffers.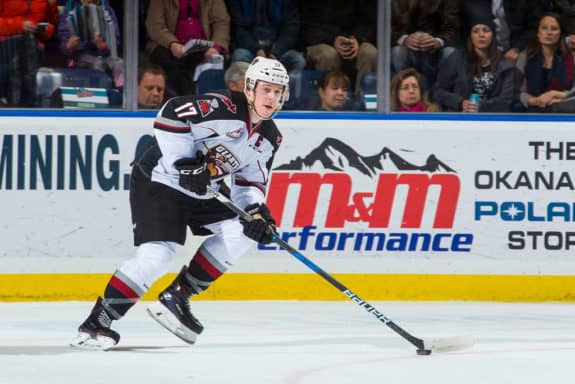 Benson and Safin, both 19-years-old, would likely be of particular interest to Gorton. Benson is a teammate of current Rangers' prospect forward, Ty Ronning and Safin—a Czech winger—played with both Libor Hajek and Filip Chytil at the 2017 World Junior Ice Hockey Championships.
A Draft Day Deal on the Horizon?
Neither the Rangers nor the Oilers should be in any hurry to usher either player out the door. Both are very valuable and on easily managed contracts. Yet that value is exactly what would make them such desirable trade commodities. And for a Rangers team that has begun what promises to be a painful rebuild, pulling the trigger on a trade of this magnitude could benefit them more in the long-term than Kreider might in the immediate future. It's also fair to question whether the Rangers have any intentions of keeping him around long-term, as he projects to hit Unrestricted Free Agency at the age of 29.
A deal of this magnitude isn't likely to occur until the NHL Entry Draft this June, but it's hard to argue against the uncommon ability for both clubs to address glaring holes in their respective rosters by dealing with one another.