A few seasons ago I am not sure there would be many Hockey fans who would believe this. Cursed with poor drafting over the years the New Jersey Devils seemed to not have a ton of youth depth. That is until general manager Ray Shero arrived in 2015. Through smart drafting and some great trading, the GM has found himself to be a fan favorite in New Jersey.
Being the big winner in this year's NHL Draft Lottery was huge for the Devils ultimately selecting Nico Hischier first overall. Aside from Nico, there are other candidates that could be in the running for the Calder Memorial trophy; given to the player selected as the most proficient in his first year of competition in the NHL.
The Swiss Charge
Hischier brings a certain element to the Devils, something that has been missing for a while. He is a very dynamic player and is responsible on both sides of the puck. His favorite player growing up was Pavel Datsyuk and he wants to try and emulate his game – something the Devils also wouldn't mind having I'm sure.
He became the highest ever Swiss draft pick in this year's draft going first overall. Last year he played in the QMJHL for the Halifax Mooseheads and the Swiss national team. Hischier had a terrific year putting up 86 points in 57 games. He is already a terrific player to watch and one with his best years ahead of him.
Once the stage was set for his NHL debut Hischier did not disappoint. Although he did not score he created some great scoring chances and showed glimpses of what he can do. However, what he will be most remembered for from that game was not his offense.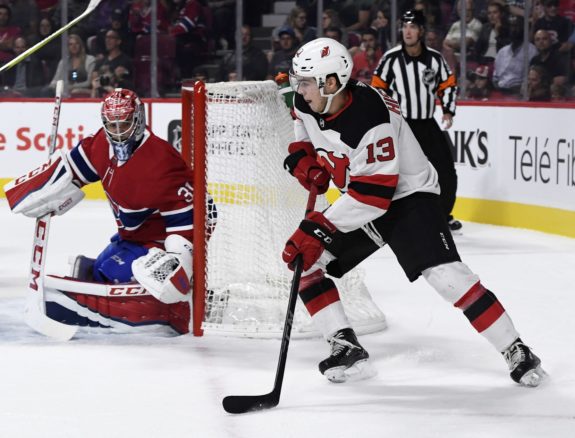 During the game against the Colorado Avalanche, Erik Johnson went knee on knee with Kyle Palmieri. Palmieri dropped to the ice in pain and Hischier – without hesitation – went over to Johnson to get in his face. Fans were shocked to see who went over to Johnson first but the coaching staff were not. Hischier admitted he has never dropped the gloves in a game and I doubt the Devils will let that happen. He showed great support for his teammate, something that is very respected in today's game. Hischier is the leading candidate for the Calder Trophy for the Devils and certainly will be in the mix at the end.
From Denver to the Devils
Not only did the Devils win the lottery in this year's draft, they also managed to get Hobey Baker winner Will Butcher. Originally drafted by the Avalanche in the fifth round in 2013, he went on to play four years at the University of Denver. After winning the college award he elected not to sign with them choosing instead to become a free agent. Butcher chose the Devils in late August stating he hit it off with the coaching staff, in particular, Devils head coach John Hynes.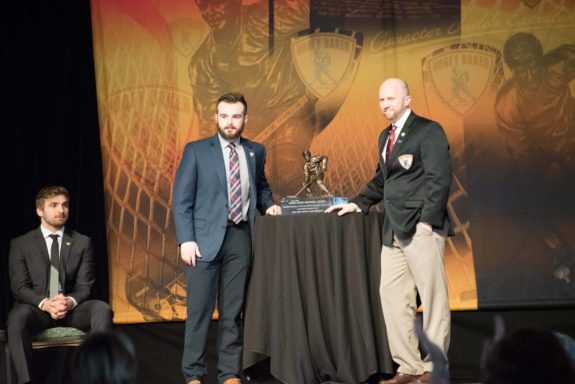 Landing Butcher improved the Devils Blue line corps tenfold. He can quarterback the power play something that teams covet. Butcher is a mobile defenseman, very comfortable in his own end and more than capable on offense.  His debut was one to remember for the Devils with three points and became a team record holder in the process.
🔥🔥🔥 Congratulations to @WillButcher4, who has become the first player in #NJDevils history to record three points in his @NHL debut! 🔥🔥🔥 pic.twitter.com/swpmhv9aza

— New Jersey Devils (@NJDevils) October 7, 2017
He will look to become a prominent member of the defense as the season goes on. I see no reason why he cannot be in the conversation for the Calder if he keeps building on his game – gaining more ice-time and playing in all situations. He is one to watch for the Devils as the season unfolds.
How Swede It Is
Jesper Bratt was the Devils 2016 sixth-round choice and the expectations were exactly what one would think. Come to training camp, learn from playing with other NHL players and build from there. He returned to Sweden after what he gained from camp last year. By this year's camp, he had played two pro years in Sweden for AIK so he has played with older guys. Camp looked a bit easier as he is used to playing with them and being the younger guy. In Camp Jimmy Hayes said this to NHL.com:
"He's a kid that's got a lot of high-end speed and high-end skill," Hayes said. "The guys are joking around and calling him Gretzky. He's been very impressive. It's a great feat for him to be able to come in and crack an opening night NHL lineup."
Bratt Determined to Stay
Bratt is determined to stick around the NHL this time around. He had a great opener scoring a goal on the power play and had a shorthanded assist.  He wanted to build on that for his second game against the Buffalo Sabres. Bratt had another big game with three points, two goals and one assist with one of the goals being shorthanded. His game adds an exciting element to a Devils team that only scored six shorthanded goals last season. Bratt is an attacking minded player but he does not gamble on plays inside his own end. The coaches are showing confidence in him as he has logged nearly seven minutes on the penalty-kill in the first two games.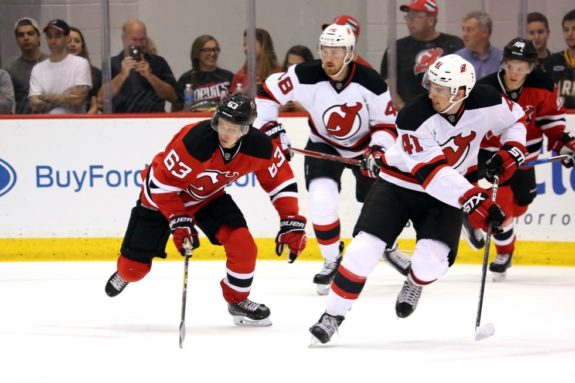 It is very early but through the preseason and the first two games, he has given fans something to watch. As it stands he leads the team with five points and three goals. I think he can certainly catch people by surprise if he continues to work hard, something he is showing no signs of slowing down. An 82-game schedule can be tough for rookies so it will take the entire team to battle through this. It will be an exciting season with these three rookies who look more than capable of holding their own. There is a chance the Calder Memorial Trophy may be coming back to the New Jersey Devils.