For the San Jose Sharks, a slow start to the season isn't what the team envisioned. In the team's first two games, they have lost twice. Both times to teams who missed out on the playoffs last season.
Two games do not merit an overreaction, but these are games where the Sharks expected to begin banking points. We've previously noted San Jose chose continuity for both the roster and player combinations. Every Sharks starter is someone who played at least 20 games with San Jose last season. All but three have played at least 70 games for the Sharks in their current system under head coach Peter DeBoer.
Challenges or Changes
What does continuity bring? It is supposed to bring a fast start to a season. Returning veterans know their roles, systems and how to play with each other. In contrast, teams integrating newcomers are less settled and more vulnerable to mistakes. Simply put, the Sharks are further up the learning curve than the teams they played against, a decided advantage early in the season. Except it hasn't worked out this way.
Two games in, the Sharks look like the team trying to integrate new players, not their opponents. An opening game loss to Philadelphia was followed by a flat, very ineffective game against the rival Los Angeles Kings. In both games, starting goalie Martin Jones made some excellent saves, but also some stunningly poor plays. While several of the nine goals San Jose has allowed can be blamed on Jones (eight with Jones in net), it's not like the Sharks were the better skating team. Thirteen of the eighteen skaters have a minus rating, four are even. Only defenseman Dylan DeMelo, at plus-1, holds a positive rating.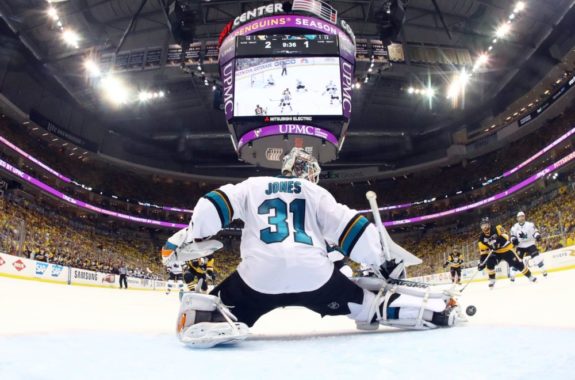 With five days between games, the Sharks can explore new lines and roster changes in their practices. But simply playing better fundamental hockey is the real challenge. Talent is not the Sharks problem, execution is.
A Critical Week
It is rare games three and four of a season are critical, but this is the case with San Jose. Game 3 is against the Buffalo Sabres, the Sharks historic kryptonite. San Jose has won only three of 15 games against the Sabres, dating back to 2007.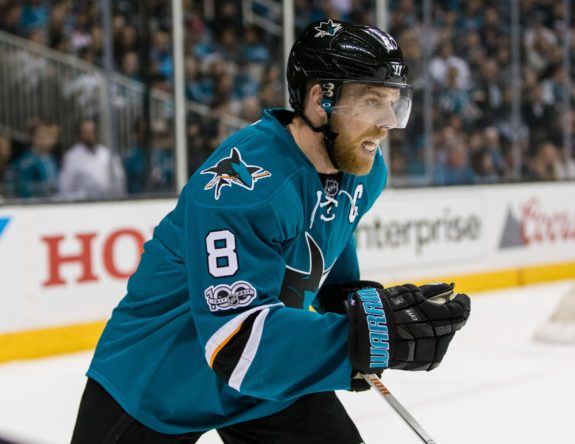 Game 4 is even more critical, as they play the Islanders and John Tavares. Tavares, one of hockey's best players, has yet to re-sign with the Islanders and there is rational speculation this is his last season there. Many of the games Tavares plays this season will have an undercurrent of 'job interview' embedded in them.
For the Sharks, one of the eight or so teams with an in-season shot at landing Tavares, it'd be a very good time to make a great impression. A strong game in front of a raucous crowd is the best interview. Two games into the season, San Jose does not look like a good team and the fans have had little to be raucous over.
The Sharks want Tavares to leave town thinking 'San Jose is a good team and it is a really good place to play.'  But if they play a game like they did against the Kings, Tavares might mentally cross the Sharks off his list of potential future employers. The Sharks have only have two chances this season to form an impression on Tavares, this coming Saturday and a week later when the teams meet in Brooklyn. It best be a good impression.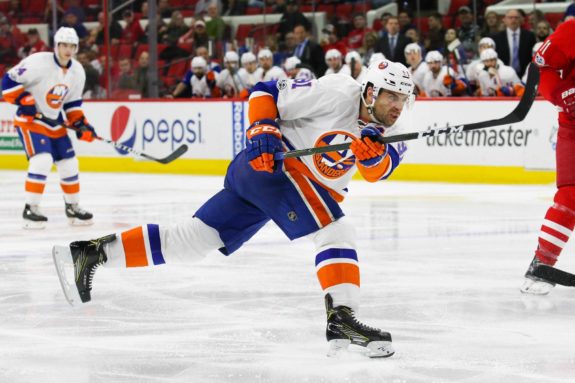 However reluctant Isles management might be to trade Tavares, it's better than losing him in free agency and getting nothing in return. They can get a sizable haul by trading their star. Isles management will take the opportunity to scout the Sharks players they'd want in a deal. A good showing, especially by the younger players, makes a deal more likely.
Best Case Scenario
A pair of wins this coming week helps right the ship. Making the right impression with Tavares could prove an even bigger win.
These upcoming games carry more risk than usual for this time of year. There is plenty of time to overcome a deficit in the standings, but continuity is an advantage early in the season, and squandering advantages is not what good teams do. Seven of the team's first ten games are against teams which missed the playoffs last season. Come late February, San Jose has a nine game stretch against teams which all made the playoffs (averaging 105 points). With increasingly tough stretches ahead, now is the ideal time for the Sharks to net some surplus points, not create obstacles they'll need to overcome.
Alas, given both the losses and the poor play by the Sharks, games three and four carry more weight than they normally merit. To borrow from (and slightly misquote) Yogi Berra, "it's getting late, early."
Zeke's Notes
Does Joe Pavelski's quiet start mean he isn't fully healthy? One clue, Pavalski has taken only one face-off this season. Last season, he led the Sharks in both face-offs taken (856) and face-offs won (449). It is not a surprise to see Pavelski's linemate Joe Thornton in the circle; he has taken 29 face-offs so far. Their other linemate, Kevin Labanc has taken three face-offs, he took just four in 55 games last season.
ZEKE is a native of the DC area where he witnessed the birth of the Capitals franchise. After graduating from Cornell University, which had seen hockey glory before he arrived, he moved west to San Jose. There he witnessed the birth of the Sharks franchise. His wait to witness a Championship from any of these teams finally ended in 2018.