He's back.
The dragon slayer, and everyone's favourite pest returns to Vancouver tonight in the city where his illustrious NHL career began.
He won't go down as the best or most talented Canuck in history, but he was definitely one of the most well-liked. Burrows played his way into the hearts of Canucks fans with outstanding grit, tenacity, and a nose for the net.
The feeling was mutual. Vancouver loved Burrows, and Burrows loved the city right back. Here's what Burrows said in an interview on TSN 1040.
"It's got a special place in my heart. This team gave me my first chance to play in the NHL and live my childhood dream. We spent many good times here, my three kids were born here, people in the community have always supported me through my ups and down. It's one of the nicest places to live in the world for sure and I really enjoyed my time here."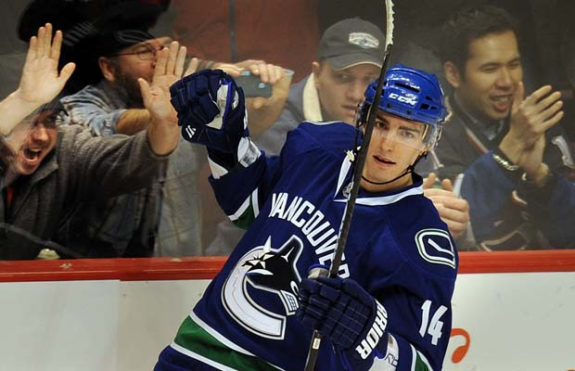 After his trade last year, Burrows also penned a heartfelt letter to Canucks fans in The Players Tribune.
Although he's not one of the most talented Canucks in team history, he did ride shotgun alongside the two best, Henrik and Daniel Sedin. Burrows played no small role in the success of that unit, with four straight seasons with more than 25 goals on that line.
He was hated by everyone outside of Vancouver but make no mistake, Burrows is a martyr in this city. When he returns tonight, he will receive one of the warmest welcomes in the history of Rogers Arena.
The Beginning of Burrows
If Burrows ever writes a memoir in retirement, he should call it: "From Greenville Grrrowl to Dragon Slayer."
Greenville was the home of Burrows' first pro-hockey gig in South Carolina. Burrows didn't break into the QMJHL until he was 19-years-old, so he wasn't on anybody's draft radar.
He started his pro-hockey career in the town of 60,000 people, before moving to another Southern town in Baton Rouge, Louisiana. Burrows bounced back to South Carolina in his second ECHL season with the Columbia Inferno, where he was scouted by the Manitoba Moose. He played two games for the Moose in the AHL that season.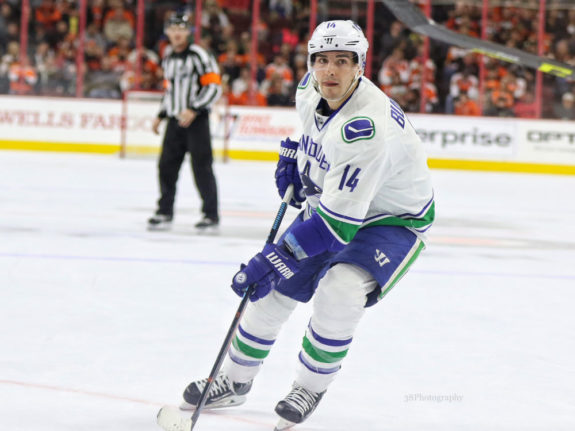 In 2004-05, Burrows started the season with the Inferno and posted five goals and six points in four games. His hot start earned him a recall to the Manitoba Moose, and Burrows said goodbye to the ECHL forever.
He was a major pest all throughout his career in the minors. In two full ECHL seasons, Burrows posted 459 PIMs. He scrapped and scored his way to the AHL, where he had nine goals, 26 points, and 107 PIMs in 72 games with the Moose.
The next season, Burrows elevated his game with 30 points in 33 games. He earned a recall to the Canucks for their first game in January 2006 and never looked back.
Early Success
Burrows was a villain all throughout hockey, and he kept that up early on in his NHL career. He was always in the opponents' face, and he loved to trash talk on the ice.
The best thing about Burrows was that he was able to back it up. He scored his first NHL goal five games into his career against the Toronto Maple Leafs. In his first 12 games, Burrows posted four goals and two assists. He was quiet offensively the rest of the season, but a hat trick against the Los Angeles Kings late in the year was a sign of things to come.
Burrows treaded water in his second season, but he finally cemented his place in the NHL during his third year with 12 goals and 31 points, along with a career-high 179 PIMs.
It wasn't until his fourth year that Burrows went from loveable pest to elite agitator.
Burrows: The Third Triplet
For most of his NHL career up until 2009, Burrows was an effective checking line winger who occasionally contributed some offence. With Ryan Kesler, the two players were an agitating force for the Canucks.
Then, midway through the 2008-2009 season, head coach Alain Vigneault put Burrows on the top line with the Sedin twins. It was an unconventional fit that wouldn't have been the choice of most coaches, but Vigneault went with his gut, promoting the player he'd coached back in the AHL. It turned out to be one of the best decisions in Canucks history.
Henrik Sedin on Burrows: "He meant more to me and Daniel than maybe any other player. He's always going to be special." #Canucks

— Canucks Now (@CanucksNow) October 10, 2017
Burrows would spend the better part of five seasons playing on that top line with the Sedins, giving Canucks fans some of their best memories. The Sedins and Burrows were a dominant line, and they led the Canucks through the team's best stretch in franchise history.
Aside from his regular season success, Burrows was a player who was tailor-made for playoff hockey. He scored the series-clinching goal against the St. Louis Blues in 2009. During the 2011 playoffs, Burrows cemented his legacy with two of the biggest goals in team history.
For this one, he will always be the dragon slayer.
Burrows scored many incredible goals for this franchise throughout the years. Here's a list of the top ten most memorable goals from Burrows.
Always Remembered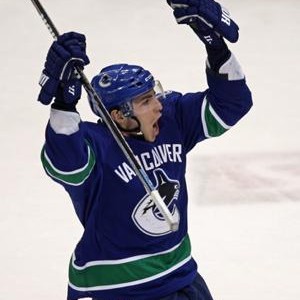 Even during his last season as a Canuck, Burrows reinvented himself and was a sturdy defensive staple on a line with Sven Baertschi and Bo Horvat. For someone who has always been a consummate professional, it made sense for him to mentor two young players before his departure.
Although many hated his on-ice play, that just endeared him to Vancouver fans even more. There were moments when he crossed the line, but that was all part of who Burrows is. He clawed and grrrowled his way into the NHL and kept up that persona to stay there.  Aside from his tough side, he brought about so much joy and entertainment to Canucks fans
His transformation from an entertaining agitator to thrilling top-line talent was a story to behold. His story is so unique that it's very possible that we will never see another one in Canucks history. Sorry, Michael Chaput.
Even if we do, there's one thing we know for sure. There will only be one dragon slayer.
KPU Journalism Graduate. Trevor has been writing for The Hockey Writers since October 2014. He has contributed articles related to the Ottawa Senators, Vancouver Canucks, and other issues/stories regarding the game of hockey. Trevor currently lives in White Rock, B.C.