In a recent article, we posed this question about Peter DeBoer: Is he the right coach for the Sharks? In the article, we noted he favored continuity. One game is hardly a trend, but it is worth noting that San Jose used about as much continuity as they possibly could muster for their opening game.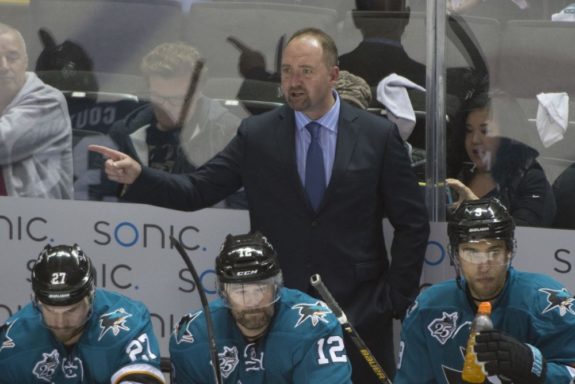 The Game
It makes no sense to over analyze the first game of the season, so this part will stay simple. The Philadelphia Flyers topped the Sharks 5-3. The main culprit, from the Sharks' perspective, was the penalty kill which gave up three of the five goals. Two of the Flyers' power plays took under ten seconds to score.
While goalie Martin Jones made some good plays, a couple of shaky moments proved costly. One power play goal came when he wasn't ready for the shot. A horrible giveaway by Jones led to the Flyers' lone 5-on-5 goal while the fifth goal came on an empty-netter. Those looking for encouragement from the defeat can take this: the Sharks were the better 5-on-5 team.
Departures and Continuity
In the offseason, the Sharks lost Patrick Marleau (82 games played) and Micheal Haley (58) to free agency, while David Schlemko (62) left in the expansion draft. Given these three departures, some changes were necessary. But as we'll see, there were few changes other than those forced by the three departures.
The Top Lines
The top forward line is a repeat from most of last season, featuring Joe Thornton, Joe Pavelski and Kevin Labanc. Thornton is playing the same role he's always had, top-line center. We'll see if he holds up, but clearly, DeBoer is not easing him into the lineup following major knee surgery in late April. Labanc, the Sharks' top rookie last season, earned most of his 20 points and plus-9 rating when he was on a line with the two Joes.
The second line is an oldie, though not a goodie. When the Sharks signed Mikkel Boedker before last season, DeBoer is reported to have written this line on a napkin: Boedker, Logan Couture and Joonas Donskoi. It didn't succeed last season but it is getting an encore this season.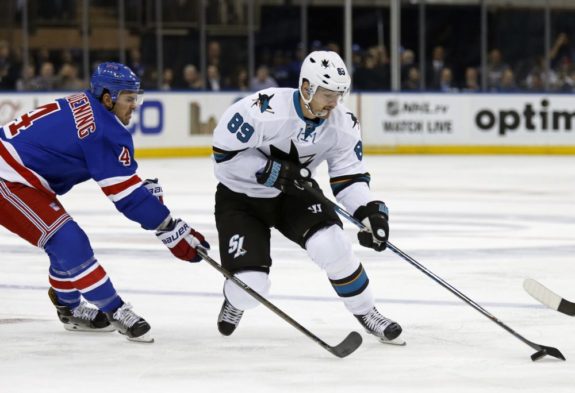 Couture is among the best second line centers in hockey and had a strong campaign in 2016-17 before taking a puck to the face late in the season. I'm fine with Donskoi, a clever skater and set-up man with Couture, but would prefer a grinder or forechecking sort over the speedy Boedker. The face-off circle feels like a problem in the making. Last season, Couture was an awful 39.4 percent in the circle, while his wingers, Boedker and Donskoi, only combined to take 34 draws. Even worse, they won only 13. The line has good talent, but the chemistry was there last season. If this group is going to last, they'll need to win a lot more face-offs and play better together.
The Lower Lines
The starting third line is unsurprising, with center Tomas Hertl, left winger Timo Meier and right winger Jannik Hansen. DeBoer made his first adjustment of the season with this line, swapping out Hansen for Joel Ward midway through the first period.
This line is new, in part because each player for different reasons played limited games with the team last season. Injuries limited Hertl to 49 games. Meier, in his rookie season, played 34 games. Hansen managed 15 games after joining San Jose at the trade deadline. They were only five games last season where all three were in the line-up together, and even then not on the same line.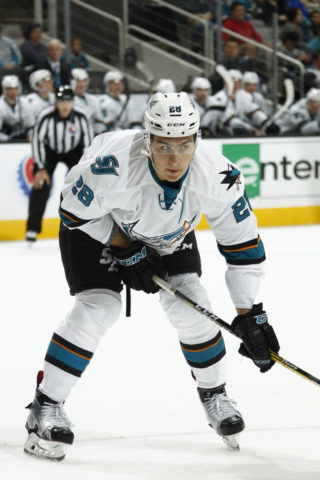 It is important that the third line works. It is the Sharks' grind line, with bigger and more physical players than the other lines. They'll need to score, but also draw penalties and have long shifts with the puck. I suspect Meier and Hertl will have a long leash on this line, while the right wing spot will not.
Hansen is a solid player, but he didn't integrate well after coming over at the trade deadline. An injury just a few games into his Sharks tenure didn't help matters. The veteran Ward, a big body with a scoring touch, is also effective in the face-off circle. He is looking for a bounce-back season. At 36, less ice time works to his advantage.
The fourth line has Chris Tierney centering Melker Karlsson and initially Ward, then Hansen after DeBoer made the switch. Tierney and Karlsson were often on the fourth line together last season and were very effective. They are off to a good start this season, though Tierney did miss a golden scoring chance in the opener.
The Defense
The defensive pairings are largely unchanged. Once again, Brent Burns and Paul Martin form the offense-oriented pairing, while Marc-Edouard Vlasic and Justin Braun form the defense-oriented pairing. The third pairing consists of Dylan DeMelo and Brenden Dillon. DeMelo has been San Jose's seventh defenseman for the last two seasons, playing in 70 NHL games. In almost all these games, he was paired with Dillon. Neither is a great player but they seem to compliment each other well.
The Disruptors
After reviewing the opening game line-up, the entire defense and three of the four lines show high degrees of continuity. DeBoer has never hesitated to bring out the line blender but will he go beyond this? Will we see disruptive moves?
Not playing on opening night, but on the Sharks' roster, are three players who each played briefly for the Sharks last season (15 games combined). Each was a stud in the AHL. Center Ryan Carpenter and winger Barclay Goodrow showed a lot of chemistry playing together last season. Tim Heed led the AHL's defensemen in points per game. Three players not on the roster, but pushing for NHL playing time are forwards Marcus Sorensen and Danny O'Regan, along with defenseman Joakim Ryan.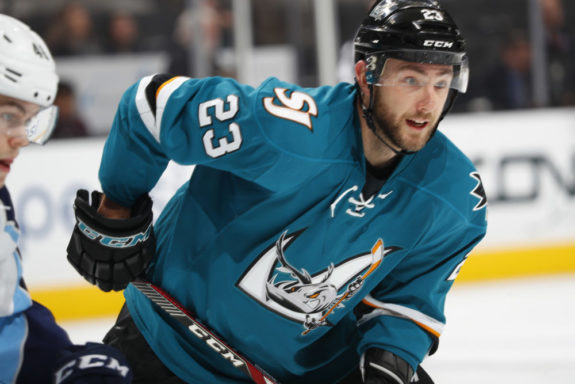 These six players can play a disruptive role in the season ahead. While there are some contract issues in moving players between San Jose's AHL and NHL team (certain players will have to clear waivers to move between Sharks and the Barracuda), there are multiple paths for each player should someone falter. For example, should Boedker struggle on the second line, I can see Karlsson taking Boedker's spot. To replace Karlsson on the fourth line, both Carpenter and Goodrow could join Tierney, forcing either Ward or Hansen out of the lineup. A little disruption can go a long way.
The Power Play
If there is an area that needs major improvement from last season, it is the power play. DeBoer often tinkered with the power play's second unit while the top group remained together throughout the season (when they were healthy).
Marleau's departure breaks up a group which played as a unit for five seasons. DeBoer decided to keep the other four players together (Burns, Thornton, Pavelski, Couture) and add in Boedker. Continuity rules. Alas, the top unit's power play problems were evident in the opener. Not only did they struggle to generate chances, but only a brilliant save by Martin Jones kept them from giving up a short-handed goal.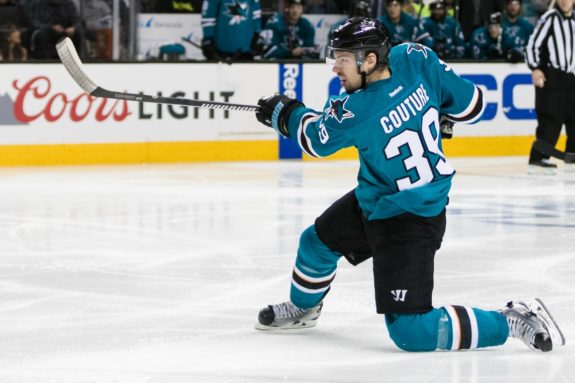 The top unit did score when a Couture pass hit a defender's skate and re-directed into the goal – one of those "better to be lucky than good" goals. The second unit, with DeMelo, Vlasic, Hertl, Labanc and Ward, was the more effective uni and scored a goal.
Changing Direction?
Many wonder about Boedker on the top unit. Some suggest it is DeBoer's attempt to get him going early in the season. The people's choice seems to be Hertl, though he looked good on the second unit and the Sharks will need a productive second unit. I'm not sure either Boedker or Hertl is the right call.
I suggest a new power play quarterback for the top unit. It is nominally Burns, but the big fellow is out-of-place in this role. On one play San Jose nearly gave up the short-handed goal and the problem started with Burns leading the rush up ice. His pass hit the skate of an advancing Sharks player, resulting in an easy Flyers clear. Burns was forced to quickly retreat and retrieve the puck near his own net. Under pressure, he was unable to make a clean play and the resulting turnover required Jones to make his best save of the night.
Two players come to mind for this power play quarterback role. One is Tierney, a deft passer and good skater. The other is on the Barracuda roster, Joakim Ryan. He carries the puck up ice well and is constantly changing angles to open up play. A player capable of making quick, clean entries will help the power play a lot.
Is Continuity Good?
The continuity DeBoer has chosen is not inherently good or bad. The baseline line-up reflects continuity, but there is a ton of pressure on the players to perform.
Sometimes, pressure manifests itself in unintended ways. Early in the game, Dillon attempted a D-to-D pass to his partner, DeMelo. But unlike most passes along the blue line, this one was a blind, twisting back-hand pass. Dillon has rarely attempted fancy plays in prior seasons but just minutes into this season he did. The high-risk pass was picked off and resulted in a Flyers breakaway (though not a goal). Is Dillon under pressure to make plays which are outside his skill set? Are other players pressing to make plays? These are issues DeBoer needs to address.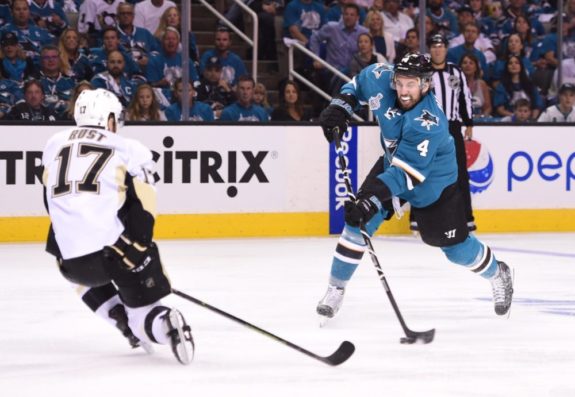 I sense this team is ripe for the disruptors. Players like Goodrow and Carpenter, who played well together last season in the AHL, are NHL ready. Tim Heed, the seventh defenseman, might be well served to spend time paired with savvy veteran Paul Martin while Burns might want to try partnering with Joakim Ryan.
One game is not a trend. Where things go from here, though, is an open question.
Zeke's Notes
The Sharks reported their opener as a sellout. Looking at the tickets available thirty minutes before puck drop, there were about 200 unsold seats. Not a lot, but one expects opening night to be among the games in high demand.
Selling tickets is one of the challenges the Sharks have this season. I'm already hearing grumbling about the Sharks' new, exclusively digital, ticket policy. The organization worked hard to win back a fan base that had become apathetic. Creating new annoyances is short-sighted.