After a franchise-first Stanley Cup Final appearance in 2016, the San Jose Sharks took a step back last year. Bowing out of the playoffs in the first round to the Edmonton Oilers wasn't high on anyone's list of expectations for the Sharks, and while some of their misfortune can be attributed to a laundry list of injuries and runs of bad luck, there are systemic issues that need to be addressed. The Sharks' power play, long a source of strength for the team, struggled mightily.
Since 2006, the Sharks have ranked outside the top 10 teams in the league in power-play percentage only once. Well, twice, now. Coming in at 16.7 percent, San Jose's power play was 25th in the NHL in 2016-17, a precipitous fall from grace for a team that has boasted almost constant success with the man advantage for over a decade.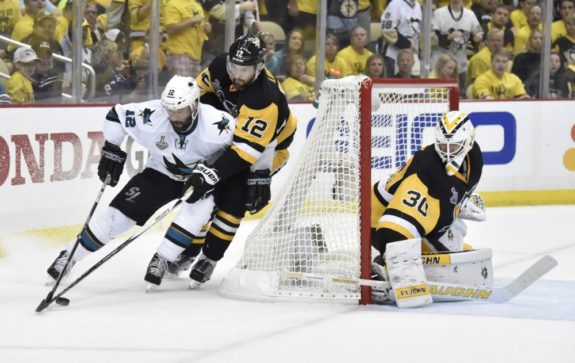 However, failure is just opportunity in disguise, someone important probably once said. Keeping in mind the departure of 20 percent of the Sharks' top power-play unit, who should head coach Peter DeBoer tap to fill franchise legend Patrick Marleau's skates for the man advantage in the coming season?
Mikkel Boedker
It's hard to talk about disappointing performances in the Sharks' season without talking about Mikkel Boedker. Boedker put up the fewest points in a season since 2011-12, and three of his 10 goals were scored on one, admittedly awesome, night. However, Boedker's production has been linked to the man advantage throughout his career, and the fact that his power-play ice time per game dropped from 4:12 in Arizona in 2015-16 to 1:33 here in San Jose was probably a significant factor in his power-play point production dropping from 15 to one.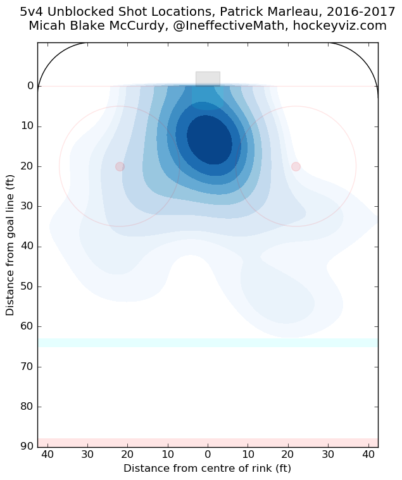 Marleau loved to camp out in front of the net on the power play to pounce on rebounds just to unfortunate goaltenders' left. Giving Boedker a shot on the top power-play unit could solve two problems at once. Boedker is a left-handed shot and could conceivably slot into the same position left vacant by the dearly departed Marleau.
In Arizona, Boedker preferred to walk the blue line on the power play, with most of his unblocked shot attempts coming from the high slot or point, but with that role pretty firmly in the grasp of reigning Norris trophy winner Brent Burns, a spot down low could benefit both Boedker and the Sharks as a whole.
Timo Meier
After a season split between the Sharks and their AHL affiliate, the San Jose Barracuda, Timo Meier won't raise too many pulses with his point totals or counting stats, but his rate stats were very promising. Laboring at an unsustainably low shooting percentage of 3.8 at even strength, Meier put up a ridiculous 11.96 shots per 60 minutes of ice time, good enough for fourth in the NHL among forwards with at least 300 minutes played.
Meier is very likely to convert on more than four percent of his shots next season, and if some of those shots are high-percentage power-play shots, a pile of goals is even more probable.
One of Meier's strongest attributes last season may actually hinder his ability to get power-play time. Starting less than half of his shifts in the offensive zone (47.62 percent) while still recording a positive Corsi-for percentage (56.77 percent) means that Meier can be a responsible defensive player. The Sharks' coaching staff may prefer to use a player like Meier strategically and spend his time and energy doing jobs that are harder to replace.
Chris Tierney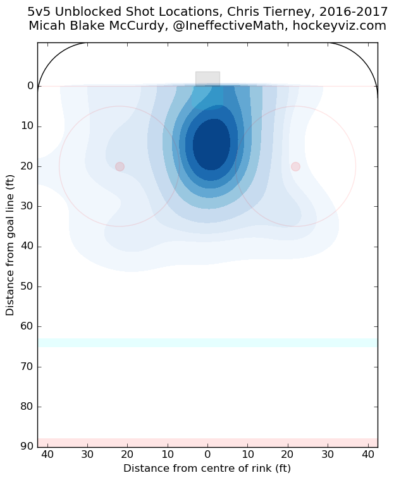 No, no, hear me out. I know it sounds crazy, but there are reasons to consider Chris Tierney for this opportunity. Until now, Tierney's best opportunity with the man advantage was in 2014-15, when he saw just over 46 seconds of power-play time per game in 43 games at the highest level. That year, the Sharks saw a goals-for-per-60 minutes-played of 8.2 while Tierney was on the ice. Not an amazing figure, but good enough for the top 100 among players with at least 10 minutes of power-play time.
With a shiny new contract in hand, Tierney has the ability to create offense on the power play, and he can slot right into Marleau's old spot. Tierney is left-handed, and, while he hasn't spent enough time on the power play to accrue accurate shot location metrics, his 5-on-5 tendencies show a willingness to park near the crease for rebounds.
Marc-Edouard Vlasic
The Sharks could go in an entirely different direction, however, and use two defensemen on their first power play unit. It's not unheard of in the NHL, as teams with a strong top four on the back end like Calgary or Nashville have experimented with this format in the recent past. In fact, this could be a strong next step for the development of Marc-Edouard Vlasic.
Generally lauded as one of the best defensive defensemen in the league, Vlasic has been developing into more of an offensive weapon under DeBoer. Before DeBoer took over as head coach in 2015, Vlasic hadn't seen significant power play time since 2008-09, when he scored 21 points with the man advantage under a two-defenseman system with Dan Boyle. Vlasic saw 2:56 of power play time per game that season, a quantity that has yet to be matched.
When Vlasic's power-play time climbed back up into the two-minute range under DeBoer in 2015-16, his production climbed with it, as the Olympian scored 10 power-play points, more than he'd scored in all seasons since 2009 combined (8). His point production in 2015-16 in all situations was also a career-high, showing that DeBoer was more willing to put Vlasic in more offensive situations, power play or otherwise.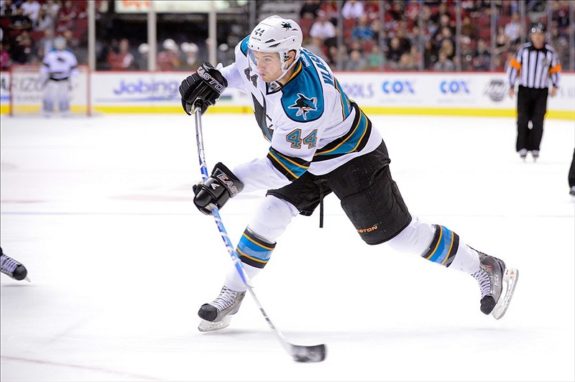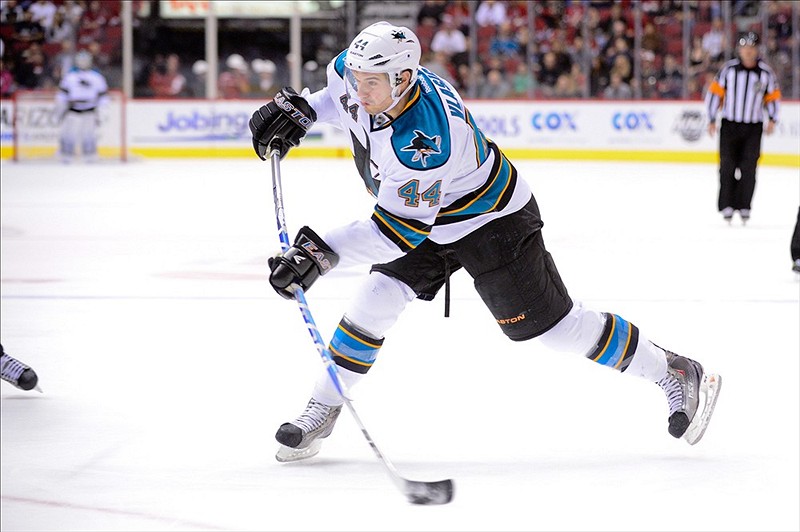 Vlasic suffers from the same embarrassment of riches that Meier does, however. If the Sharks use an invisibility cloak like Vlasic as an offensive weapon, it limits his ability to make opposing threats disappear. During the Sharks' Cup run in 2016, Vlasic's power-play time dropped to well under two minutes per game, as he was tasked with shutting down the Vladimir Tarasenkos and Filip Forsbergs of the world.
This can sometimes be an artifact of fewer power play opportunities in the postseason, but this was not the case for the Sharks, as their opportunities per game dropped only slightly from 3.35 per game to 3.13 in the playoffs. As a result, Vlasic's usage on the power play may continue to be limited to focus his talents where they are most needed.
Tim Heed
Alternately, the Sharks could double down on point shots and put newcomer Tim Heed across from Burns. Heed is right-handed, offensive, and has an absolute laser from the point. In his first season in North America, Heed showed no signs of trouble adjusting to the smaller ice surface and faster pace.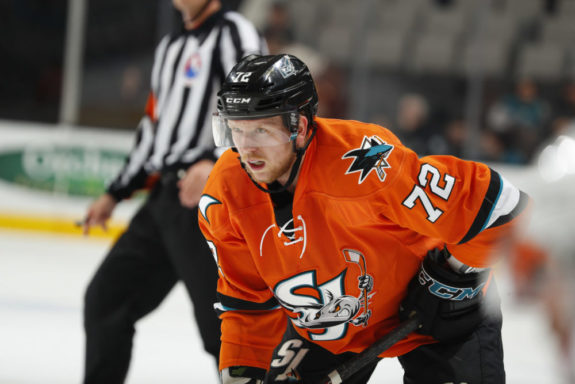 Heed ranked second in scoring for the AHL's San Jose Barracuda, scoring 56 points in 55 games, 11 of which were power-play goals. It seems clear that the Barracuda are grooming Heed to be a threat from the point on the man advantage; it just depends on whether the coaching staff wants to load up the first unit with two offensive threats from the blue line or spread the snipers out across two units. If they go the latter route, Heed would look great opposite Vlasic on the second unit.
Light at the End of the Tunnel
Whatever the Sharks choose to do, it seems pretty unlikely that their power play can even approximate the level of futility we saw this past season. By shot percentage regression alone, the Sharks' man advantage will improve, and the addition of new talent or a new system will only expedite that process. How the Sharks choose to do so remains to be seen. Is it October yet?