NHL coaches are critical to their teams. But not all are major difference-makers. This season is when we learn if San Jose Sharks coach Peter DeBoer is a difference-maker or pretender. This is the first of three pieces examining the three key questions for the San Jose Sharks upcoming season.
This first key question for this Sharks season: "Is Peter DeBoer the right coach for this team?"
DeBoer, Years One & Two
In his first season in San Jose, DeBoer's Sharks rolled all the way to the Stanley Cup Final. DeBoer deserves credit. He made subtle adjustments to the team's style. In midseason, Brent Burns went from being a disaster on defense to pretty good on defense. It is rare to see a switch flip like that for a player in his 30's, but it did for Burns.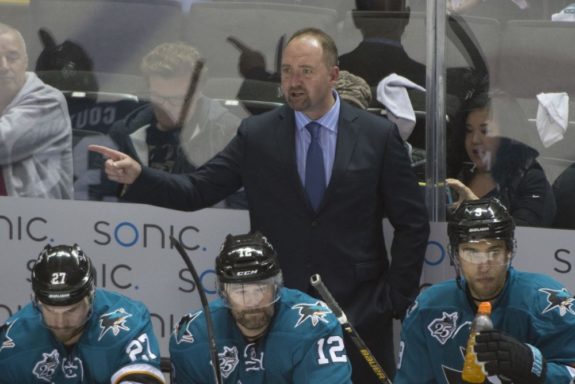 Offensively, the Sharks were good. The top line featured Joe Thornton, Joe Pavelski and (mostly) Tomas Hertl. It was a hot knife through butter. Pavelski and Thornton were also keys to a lethal power play.
Last season, DeBoer's second in San Jose, was a different story. Though DeBoer indicated he'd consider player's wear and tear, it never happened. As a result, the team burned out in the season's final month. While injuries prevented the Sharks from having playoff success (the top three centers and two key wingers were all dealing with major injuries), the team faded when good teams start to ramp up.
DeBoer's Defensive Challenge
The best results from last season's team came from the defense, the area headed up by Bob Boughner. Many credit Boughner for Burns' defensive turnaround and the Sharks' superb shot suppression numbers last season. The Florida Panthers liked what they saw from Boughner, and hired him to be their new head coach. Can the defense remain strong under DeBoer and new assistant coach Rob Zettler?
On defense, the Sharks have a ton of personnel continuity. The top two defensive pairs can remain as they've been for the past two seasons. And the default third pairing of Brenden Dillon and Dylan DeMelo has played nearly 70 games together over the past two seasons.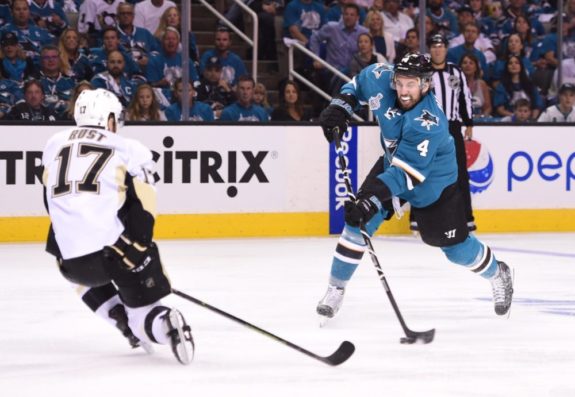 Should DeBoer make changes? As of now, the Sharks have eight defensemen capable of holding an NHL job. Since only six can start, the Sharks have both flexibility and opportunity.
DeBoer has paired Paul Martin with Burns the last two seasons. Martin is the second oldest Shark, and while he had a solid season in 2016-17, it may be time to find Burns a partner who'll be in teal longer than Martin. With a talent as elite as Burns, finding the right partner matters. The name which stands out is Joakim Ryan. Unlike the Sharks' last lefty defenseman from Cornell (Douglas Murray), Ryan is a smallish, agile puck mover. He had a banner 2016-17 season with the San Jose Barracuda. His partner, Tim Heed, was the only AHL defenseman to average better than a point per game. Ryan proved he can complement a high-scoring partner in the AHL. Ryan's plus-27, fourth best in the AHL, indicates he was not sacrificing defense for offense. A Burns-Ryan pairing is just one of many possibilities.
Ryan and Heed might make an interesting third pairing. They were the best defensive pairing in the AHL last season. Heed is 26, Ryan 24. Heed played one NHL game last season and didn't look out-of-place. If the two are both NHL ready, it is tempting to keep them together. But this would mean other defensemen, including at least one who makes over $3 million this season, would be on the bench.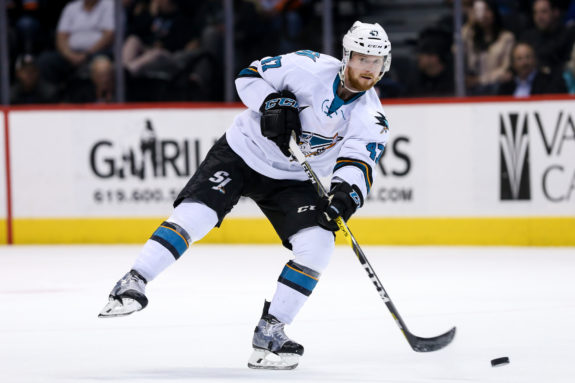 The use of a Ryan-Heed pairing or a Ryan-Burns pairing can have ripple effects on the other defensive pairings. In a few scenarios, the ripples will be small, but there are other scenarios which result in three new pairings with two new faces.
DeBoer can use last season's top two pairings, along with a familiar third pairing. Or he could completely upset the apple cart and in the process, change multiple pairings. Such moves might necessitate trading a starter from last season. For example, DeBoer could roll a defensive line-up of Burns-Ryan, Marc-Edouard Vlasic-Heed and Dillon-DeMelo. Which leaves veterans Paul Martin and Justin Braun, along with $8 million in salary cap hit, out of regular roles.
Alas, if it comes to trading a starter, timing matters. The return one gets from a trade depends on the time of year, with a bump in value in February, near the trade deadline. It's complicated.
When it comes to the defensive pairings, one can assume two basic constraints. First, Burns and Vlasic will not be paired together and second, the pairings will consist of one lefty and one righty. Even with these constraints, there are about ten possible pairings which make sense. DeBoer must decide whether he is going to shake things up or rely on continuity. He must also factor in trade potential, trade value, timing and depth to manage injuries.
There is no obvious "best" path forward. The defense was the strongest unit on last season's team and one of the best groups in hockey. DeBoer must wisely navigate this complex situation, as the defense is so critical to San Jose's success.
DeBoer's Forward Challenge
Thornton is the oldest player for San Jose, and he is coming off two torn knee ligaments. This following a very down season for the future Hall-of-Famer. How will DeBoer manage Thornton? For over a decade, it's been easy to manage Thornton. Send the big fellow out on the top line and let him roll. But last season he didn't roll, even before the knee injury. And DeBoer didn't adjust. The Thornton-led power play, a year after leading the league in goals, posted the lowest goal total in franchise history.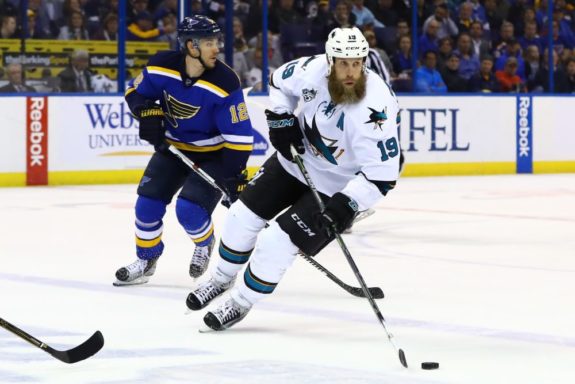 This season, how DeBoer manages Thornton will matter. It's not fair to assume Thornton can't be Thornton again. But it is fair to say the odds are against it. Does Thornton even belong on the top line or top power play? The ripple effects of changing Thornton's role are not that of a pebble tossed in a pond, but of a boulder careening down into a puddle. The impact falls across the Sharks line-up. Every line will change and the character of the offense will change with it. How will DeBoer manage the best player in franchise history? The ramifications are enormous for this team and DeBoer has to play this hand well.
DeBoer's Youth Challenge
DeBoer has a good reputation for handling older players. One can't say the same for developing younger players. DeBoer can improve his reputation with younger players this season. Doug Wilson suggested San Jose could have five or six rookies competing for spots in the Sharks lineup. While I believe Wilson used the term 'rookie' outside of the NHL's official definition, there are plenty of players with little or no NHL experience in the mix. Ryan Carpenter, along with the aforementioned Heed and Ryan, is among the top candidates. Danny O'Regan and Marcus Sorenson, who both played a bit for the Sharks last season, are also good candidates for everyday jobs.
But the youth list goes well beyond this. Among younger players with modest NHL experience are Chris Tierney, Joonas Donskoi, Timo Meier, Barclay Goodrow and Kevin Labanc. Of the ten players mentioned, I'd expect a half-dozen to have a major role for the Sharks. All can improve their games.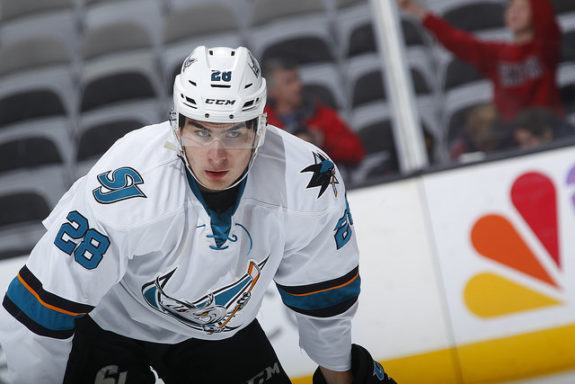 What can DeBoer do to help these players to take the proverbial next step? To date, it seems DeBoer is more of a 'prove it' coach. Give players the chance and let them find their way. Challenge them. If they don't succeed, take away ice time. In order to succeed this season, he'll need to help players develop their games. DeBoer seems adept at pushing buttons to get players more motivated, but player development is a trickier challenge.
The league has seen what a strong development-oriented coach can do. Pittsburgh's Mike Sullivan has effectively incorporated developing players into his line-up and "coached them up." This has been critical to their result – back-to-back Stanley Cups. Jake Guentzel, Bryan Rust and Conor Sheary are among the players Sullivan coached up. Even some younger veterans showed unexpected progress under Sullivan, including Justin Schultz and Carl Hagelin.
DeBoer will need to do more than motivate the lower tier of the Sharks roster, he'll need to help them become fundamentally better players.
DeBoer's Veteran Integration Challenge
Two veterans DeBoer struggled to integrate last season were the two Danes, Mikkel Boedker and Jannik Hansen. Both are proven NHL players. Boedker was especially frustrating. The talented skater and scorer had a miserable first season in teal.
Hansen, a gritty veteran acquired at the trade deadline, was hurt just a few games into his tenure with the Sharks. Though he returned to the lineup during the regular season, it didn't appear he fit as well as hoped. Integrating a trade deadline acquisition is somewhat hit and miss, clearly Hansens' injury didn't help matters. While he wasn't a miss, he wasn't a hit either.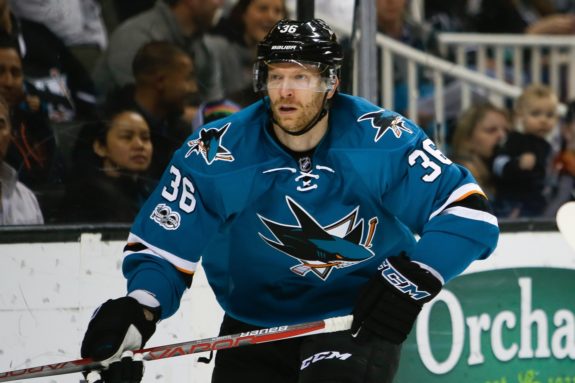 DeBoer needs more from both players. A full training camp and preseason may help. Both players showed much more with their prior teams (mostly Arizona for Boedker and Vancouver for Hansen). They can be valuable players for San Jose if effectively integrated. This process is on both the players and the coaches. It didn't work well enough last season.
DeBoer's Situational Hockey Challenge
San Jose has had historic success in two areas which became troubling liabilities last season. The power play posted just 41 goals, the lowest figure in franchise history. This coming off the 2015-16 season where they posted 62 power play goals, tops in the NHL.
The Sharks also took a step back in the face-off circle. They were under the 50% mark for the first time since 2005-06. The 48.1% mark was the lowest for the franchise since the 1998-99 season. In the seven seasons prior to DeBoer's arrival, it was an area of strength. From 2008-2015, the Sharks were always above 51.9% for the season and averaged 53.5% in those years.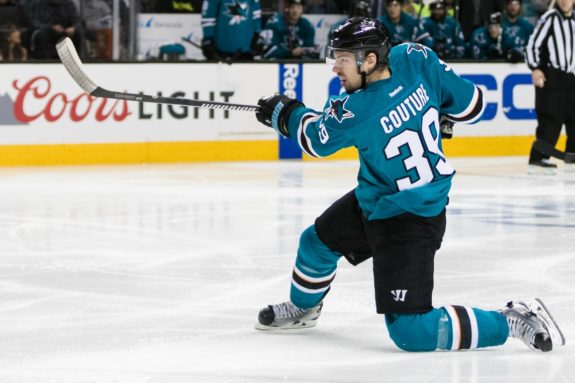 It'll be especially helpful to win face-offs against Anaheim and Edmonton. The more shifts Connor McDavid and Ryan Getzlaf spend defending instead of attacking, the better the Sharks chances.
Turning these areas around is both critical and challenging. Again, the Thornton injury factor looms large. Can he contribute on face-offs and power plays as he has in the past? DeBoer will need to get more in both areas, even if a key player might contribute less.
DeBoer's Challenges
The list of challenges for DeBoer is long. Several involve a choice between continuity and change. To date, DeBoer seems to favor continuity. Importantly, DeBoer can make changes over the course of the season. Decisions he makes for opening night can change at any point during the season. It is about how the Sharks finish, not how they start.
He may not need to be perfect against this list, but he'll need to be very good. Along the way, we'll learn if he is the right coach for the Sharks.
Zeke's Notes
As we get ready for the hockey season, I thought I'd add some reminders of what makes Sharks hockey so much fun. Here and in the next few articles, I'll add a video of a great goal scored by the Sharks. We'll start with this one from 2013, a 5-on-3 beauty by Dan Boyle against the Minnesota Wild and, in particular, Ryan Suter. Enjoy!